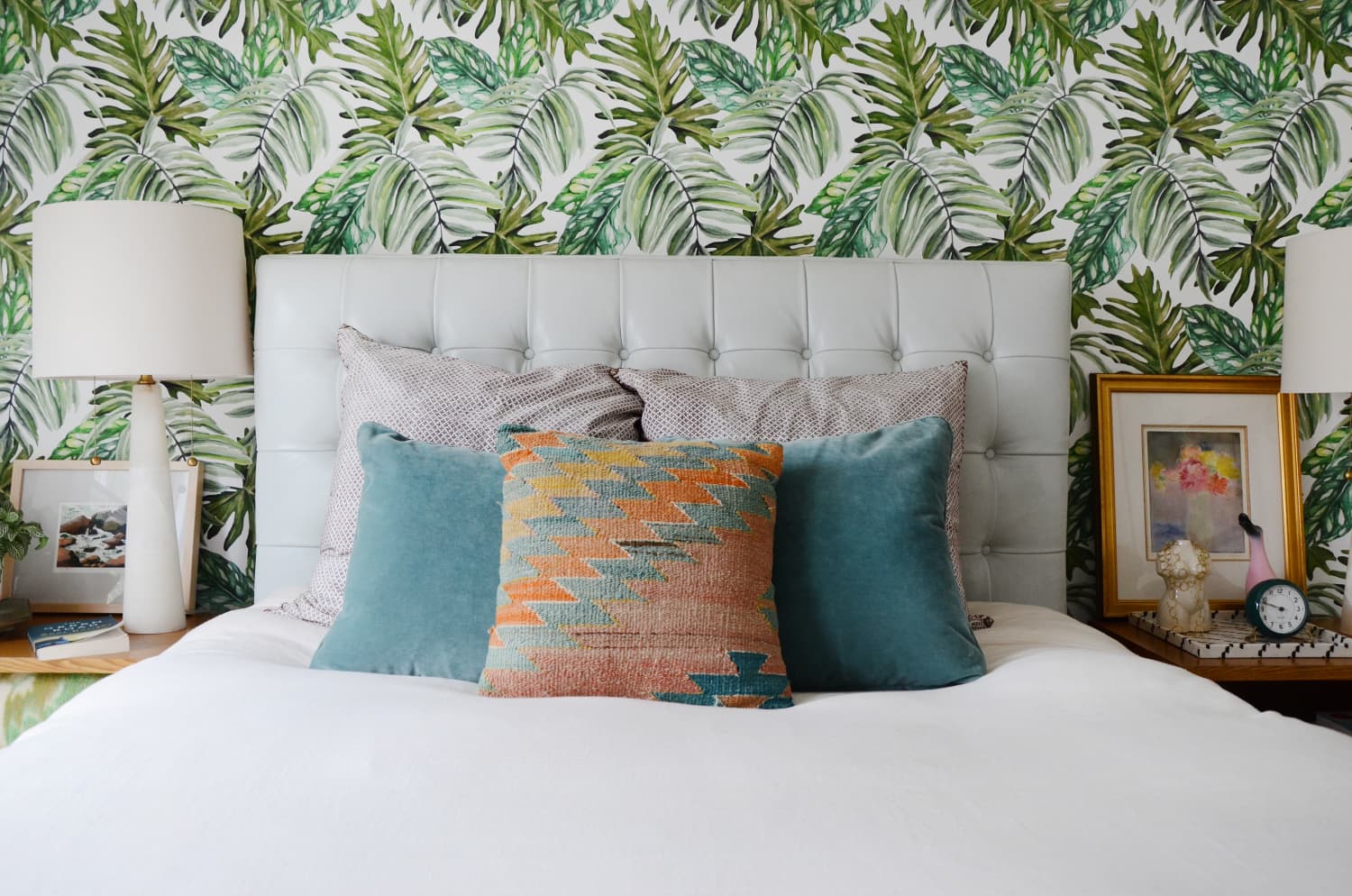 When most people picture a serene bedroom, they envision solid white walls, crisp white sheets, and maybe a fuzzy rug and a plant or two. But if you're a color lover, you can absolutely still create a calm, comfortable sleeping space. Just take a cue from the bedrooms below that do an excellent job of making sure that color doesn't equal chaos.
Allow a tapestry or special art piece to do the talking by keeping additional decor to a minimum, as seen in the above space. Hanging a favorite piece of art over the bed is an excellent way to bring color into a room without going too crazy (think excessive knickknacks and throw blankets). Matching sconces and coordinating bedroom furniture keep the overall look cohesive.
A cheery yellow bedspread, framed portraits of loved ones, and beautiful rattan accents make this space feel positive and welcoming. Candles bring added softness and comfort.
Thoughtfully arranged art, a fun nightstand, and blue and green bedding evoke calm without being boring. Blues and greens are always extra soothing and provide a relaxing, beachy touch (no matter where you're located!).
Grayish blue walls are a great way to keep things simple while still going beyond traditional white paint. Additionally, there is a difference between ensuring that a space is well decorated and stuffing it full with furniture — giving furniture and things breathing room keeps this bedroom looking zen, not zany.
Wallpaper in a tropical print evokes faraway hotel vibes. Creating an accent wall like this one adds tons of life to the space. Hanging wallpaper solely behind the bed still packs a punch — covering an entire room can sometimes look too busy.
To us, this bedroom looks lived in and cozy. Patterned throw pillows, posters, and a few other pieces of decor keep things light and fun rather than stuffy and serious. Mixing textures and colors is totally working in this space.
Architectural details like sloped ceilings and an exposed brick wall automatically make a room feel extra cozy. Play them up by keeping additional decor to a minimum and plopping down an eye-catching rug for added warmth.