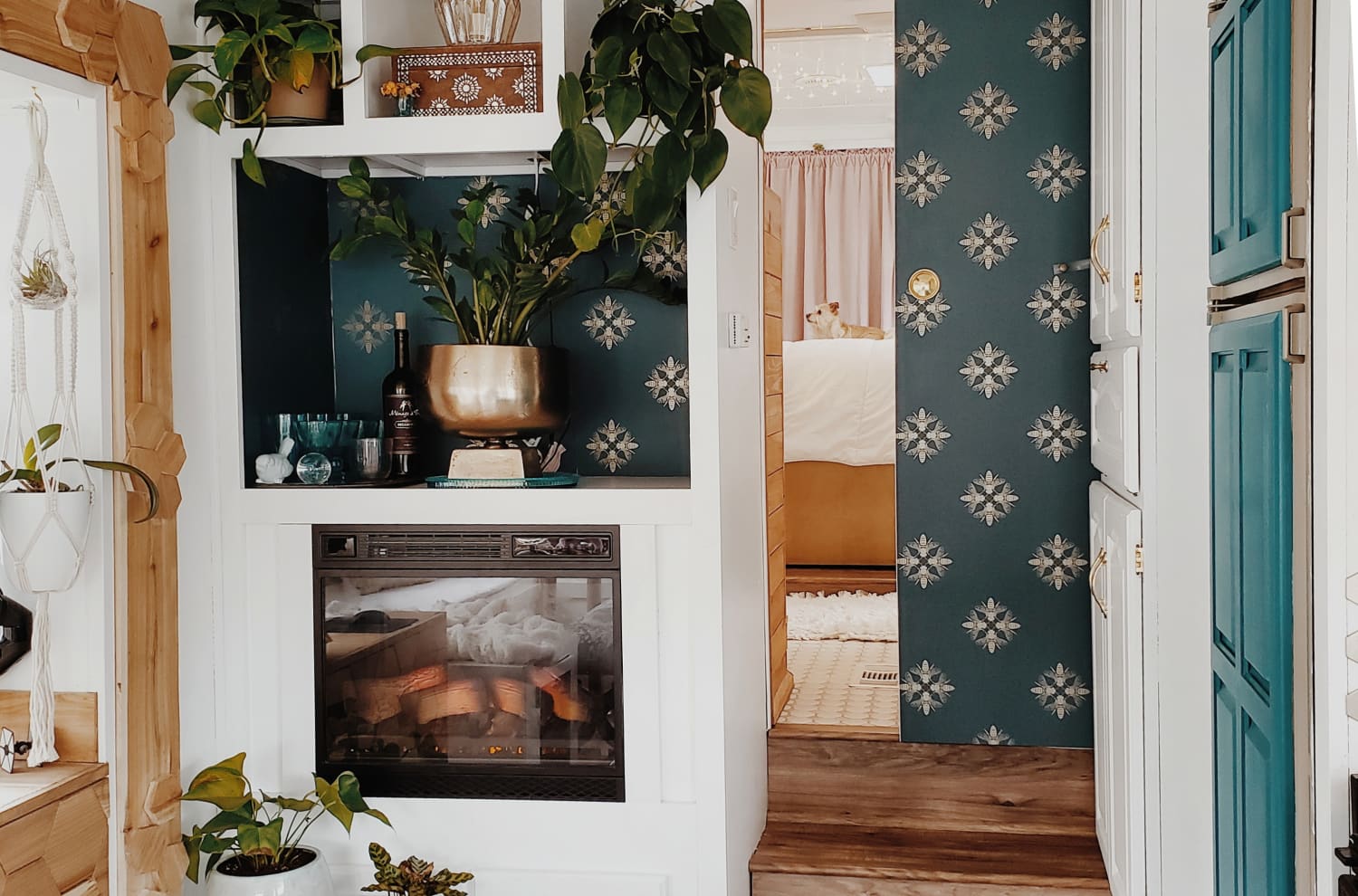 Name: LeeAnn Mathus, Jordan, my boyfriend, and our sweet pups
Location: Currently residing in Tillamook Oregon, however our home is on wheels!
Type of home: RV
Size: 188 square feet
Years lived in: 4 months, owned
Tell us a little (or a lot) about your home and the people who live there:
I renovated a 2002 Keystone Cougar Fifth Wheel with my significant other, Jordan. We first decided to start the tiny living experience when we found out we had to relocate to the Oregon Coast for Jordan's work. Jordan brews beer for de Garde brewing and I am a dental hygienist. We renovated our rig over three months on the weekends. Basically we gutted the entire trailer, including the green carpet and floral window treatments. It was a lot of hard work, but every moment of frustration was so worth it! We are now living in our 188-square-feet dream house on the coast with our three dogs, Hazel, Maizy, and Obi. I feel blessed to have my own place filled with plants and dogs and the freedom to do whatever design elements I dream up!
Describe your home's style in 5 words or less: Bohemian glam with botanical elements
What is your favorite room and why? Well, because we live in a camper the whole thing is pretty much one room! That being said, I love cozying up on the built-in window nook we designed for me to have my own space. I can sit there and see our whole home. I love seeing all my plant babies thriving in the natural light that comes through from all the windows and seeing my pups snuggled up. It's the best seat in the house!
If you could magically change something about your home, what would it be? I think it would be the best thing ever if I could magically add on another slide out for a sunroom/porch that I could use for a greenhouse!
What's the last thing you bought (or found!) for your home? The last thing I bought for my home were pot clips that allow you to mount your pots onto a wall. I created the living wall in my bedroom with these clips and terracotta pots! Such a transformation and it was cheap and easy!
Any advice for creating a home you love? The best advice I can give anyone on renovating or creating a space they will love is to design with your heart. It is easy to get caught up in what's trending on Instagram or Pinterest. If you feel like that is happening then take a step back and do what makes you smile when you look at it, not what will get you "likes." At the end of the day, you're the one that has to live in your space, better make it something that makes your heart happy.
*This submissions responses have been edited for length and clarity.