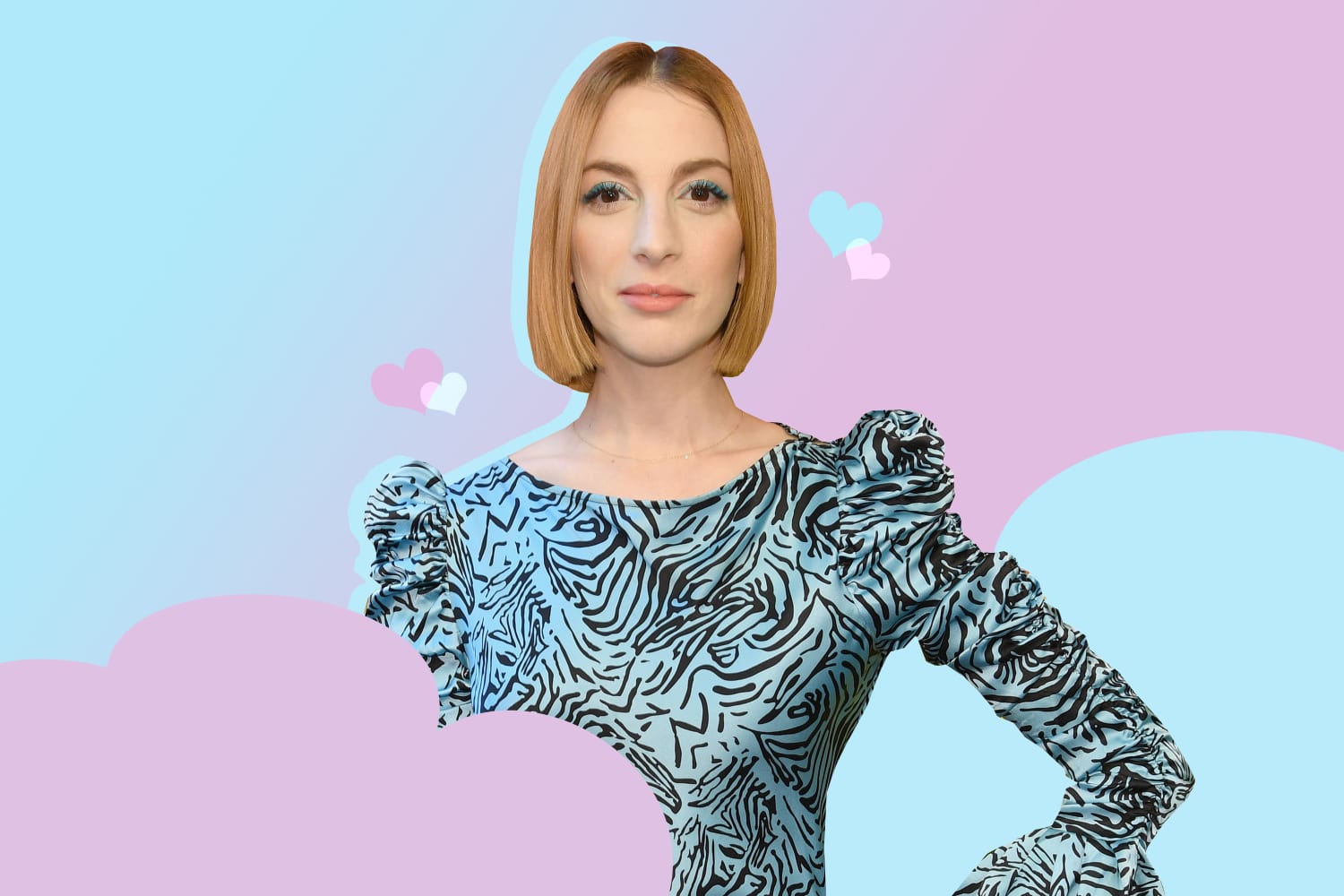 Perfect Night In is a series where we ask actors, artists, entrepreneurs, and beyond how they'd spend the ultimate luxury—a blissful evening at home.
I'm putting this truth out into the universe: my life changed for the better after watching the first episode of TV Land's "Younger" (season 6 premieres tonight, June 12). Since 2015, I've watched the charismatic (yet very real characters)—they could be my neighbors—thrive in the hustling and bustling boroughs of NYC. Molly Bernard's Lauren Heller is no exception, a young social media-obsessed New Yorker who continues to kill it in the publicist game.
Bernard is a New Yorker herself, sharing her Brooklyn apartment with her partner Hannah and dog Henry. In fact, she gave us a tour of her space back in January.
While her home is serious inspo, we wanted to know a little more about how she spends her time inside her sanctuary. See below for our chat with Bernard on setting the scene for an ideal night in, which perhaps you can perhaps recreate for the season premiere of "Younger" tonight.
And for those die hard fans like myself, Bernard says this season has "so many more twists and turns than in our previous seasons—fans are going to go crazy." *Internally screaming*
Describe your perfect homebody scene in five words: Candle, Henry (my dog), Hannah (my partner), Thai food, TV.
Are you alone or with someone else? With someone else—Hannah my partner and Henry my dog.
What's your night-in uniform? I'm wearing a worn-down cotton dress that I now wear inside for emergencies to walk Henry.  
What two people, dead or alive, would you let crash your night? Oh my god, Ruth Bader Ginsburg, obviously, and probably FDR.
Favorite cozy product: I love the throws on my couch, and I'm really obsessed with this toner by REN. I feel like it's a very well-kept secret.
TV or a movie? I used to be a movie person, but now I'm a TV person.
What are you watching? Right now, my partner and I are really behind the times, we're doing "Game of Thrones" for the first time. I'm on season 2, and I think it has to be GoT until we're finished.
Silence or music? Music for sure. Sylvan Esso, Lizzo, a little bit of Beatles, little bit of Sam Cook, some jazz.
E-books or the real deal? The real deal.
Board games: yay or nay? Yay! Rummikub is my favorite game, and currently Hannah and I are playing Monopoly Deal, it's a card game. You can play it in 10 or 15 minutes.
Order in or cook for yourself? Oh, probably cook for ourselves.
What are you eating? We make really delicious homemade pad Thai, and this radish, snow pea, avocado salad that we like to make. It's really hot outside now so we've got to cool it down. 
What drink are you pouring? Probably a rosé.
What's for dessert? I would just have a few bites of dark chocolate after, and Hannah would probably have some berries.
Late-night snack? Oh, always. I'll do a gluten-free cracker.
Do you have a self-care ritual? Oh, yes I do. I double-cleanse my face, I use a toner and a serum, and I have PM face oil I rub on my temples and my jaw. I like to have a little bit of reading beside the bed at my night table, either the New Yorker or that book "Sapiens" is nice to read before bed. I'll usually snuggle with Henry. One thing I also like to do before bed is trot around the apartment and just make sure all of the cups I've used throughout the day, like mugs or glasses of water, go into the sink or the dishwasher.
What do you try to avoid at all costs? Probably all invitations to loud parties.
Candles: yay or nay? (if yay, what's your favorite?) Yay. Anything sandalwood.
Face masks: yay or nay? Nay, not on my perfect night in.
Bubble bath: yay or nay? A bath, yay! Bubbles, not necessarily. I do eucalyptus, peppermint, and lavender.
Chores: yay or nay? Yay, it brings me so much joy to bring chores. I'm doing a little vacuum sweep of the house and I'm doing surfaces. Honestly, I recently got one of those Dyson vacuums, the stick vacuums, and I'm obsessed. It makes vacuuming so much easier. 
Ideal bedtime? Probably midnight. I want to get some good TV in, some cuddles.
Thanks for chatting with us, Molly! 
We independently select these products—if you buy from one of our links, we may earn a commission.