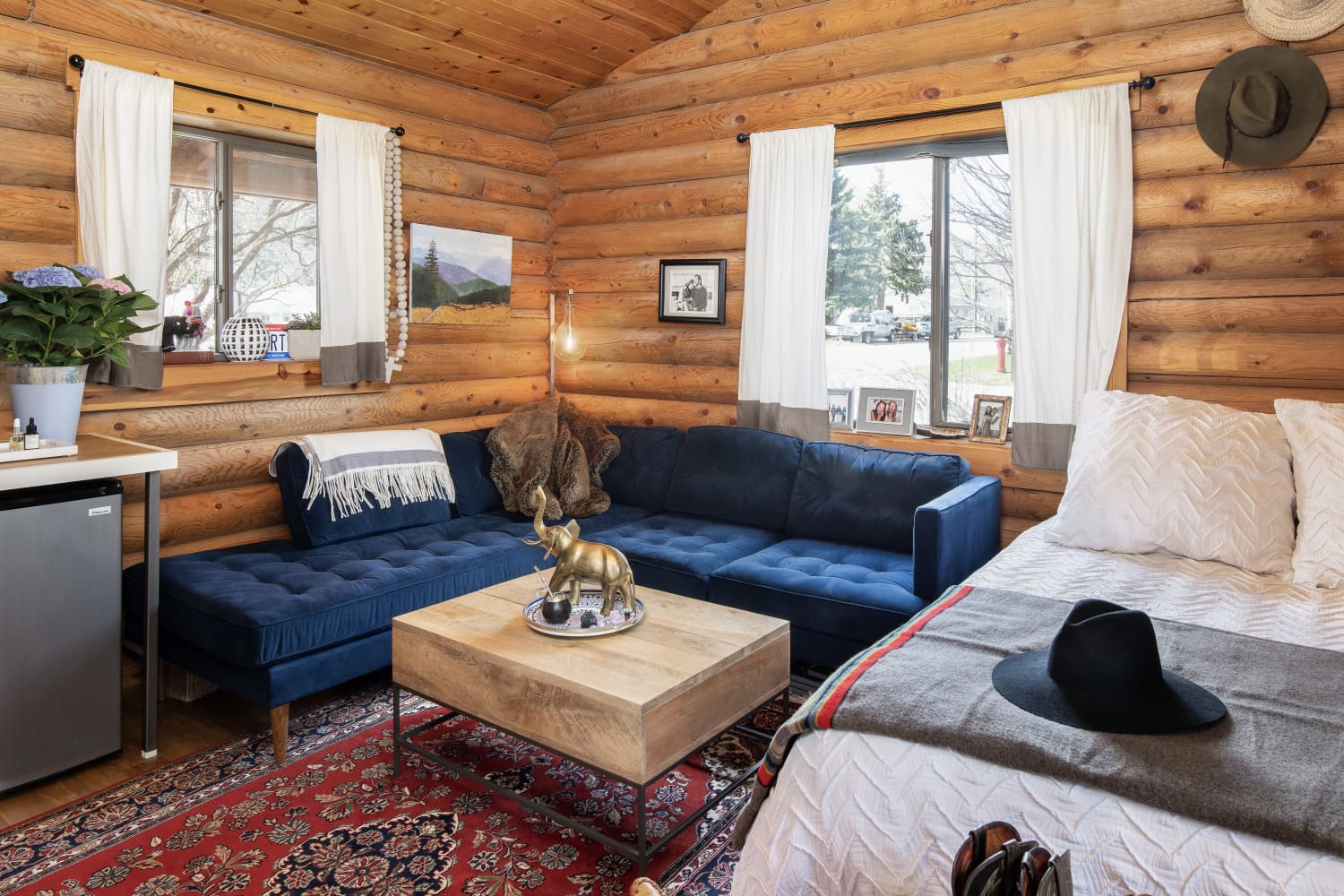 Name: Meagan Murtagh
Location: Jackson Hole, Wyoming
Size: 196 square feet
Years lived in: 3 years, renting
Lifestyle blogger Meagan–Meag the Egg–is living the tiny log cabin dream in Jackson Hole, Wyoming. Smaller than 200 square feet, her one-room rental cabin is a part of a mini-community of eight cabins, which used to be a motel. And while living tiny has its challenges, Meag's done a beautiful job of making her small home ultra livable and lovely.
She made some smart updates to the space when she moved in. The biggest changes came with the kitchen DIY, where she took out a big cabinet that was bulky, put a fresh coat of white paint on everything, and added open shelving. The effect was opening up not just the kitchen area, but the whole one-room cabin, as well.
Everyone's familiar with one of the biggest challenges of tiny-space living: storage. For Meag, she gets around the lack of storage space by simply displaying stylishly some of her things instead of trying to store them away! Hats hang on the walls, cowboy boots are lined up on a bright red trunk, and shoes live on a shelf right next to the ceiling.
A small living space hasn't meant having to go without the kind of furniture she wants, either, as evidenced by the gorgeous blue velvet couch in the corner that's perfect for curling up on. A convertible coffee table with a lift-up desk (a similar one can be found at West Elm) is a double-duty furniture solution, turning the living room into an office.
And though the small cabin isn't filled with too much stuff, Meag's made a point to find room to display her travel finds, like a painting from Cuba that hangs above the bed. Her decor plus the cabin's log walls all combine together to create what she calls "Mountain Modern" style.
We independently select these products—if you buy from one of our links, we may earn a commission.