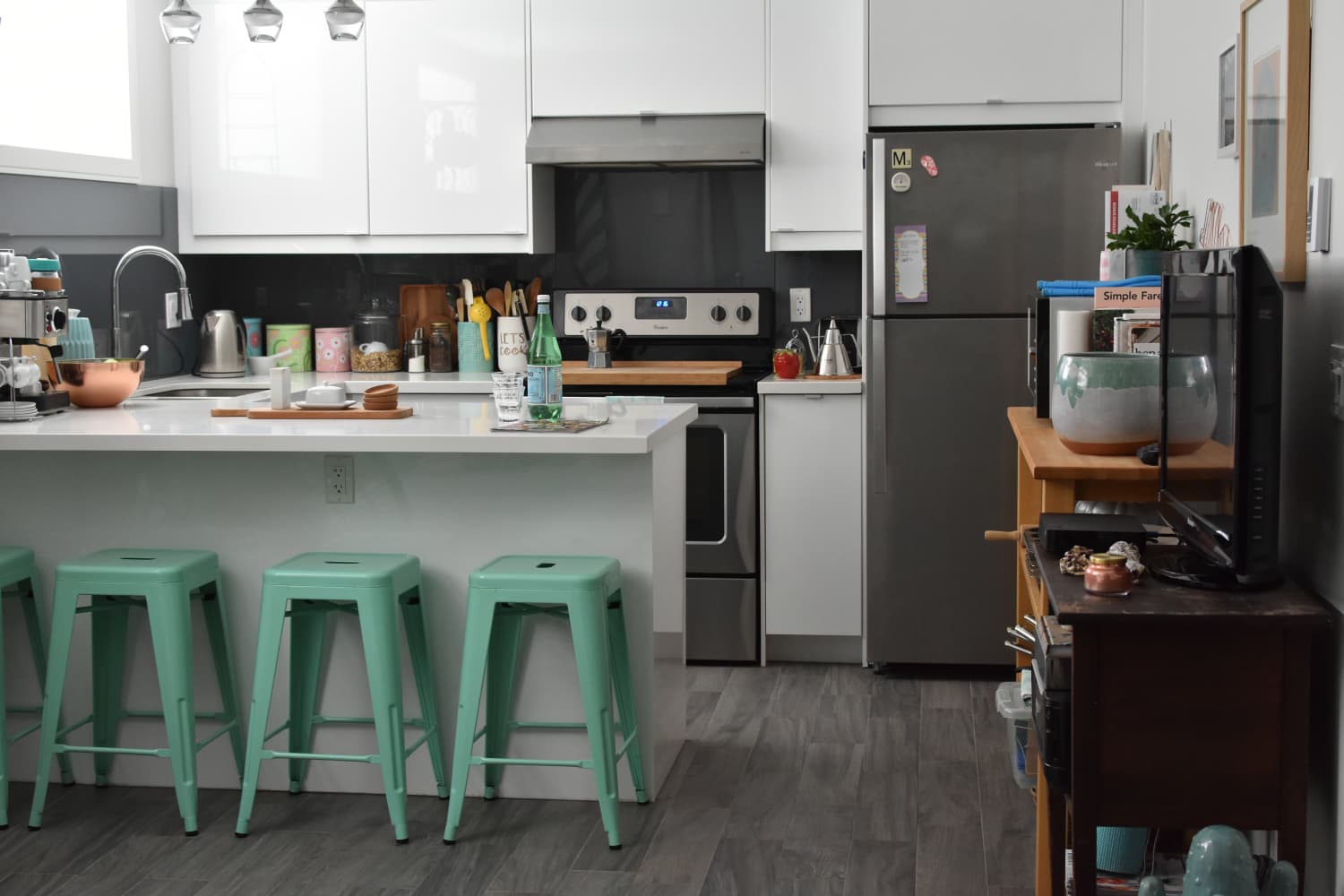 Name: Melanie Hillier
Location: Little Portugal — Toronto, Canada
Size: 500 square feet
Years Lived In: 1.5 years, renting
When I returned home to Toronto after living in a seaside city in New Zealand for four years, I had a very clear idea of how I wanted my apartment to look.  I wanted to bring the beachy feeling of New Zealand home, but still have it feel like a big city apartment, not a beachside shack. I was after soft colors and coastal tones, with a bit of city shine and sparkle.
During my search, I expected to find an old apartment building with white walls and wood floors that I could make my own. But when I finally found this little gem in Toronto's Little Portugal neighbourhood, I knew I had to have it.
This apartment is the smallest one I've lived in, but it has a smart layout with lots of storage. I never feel like I'm going without anything and I like how it forces me to be creative about how I use and fill the space. It's a basement apartment, which I never imagined I'd live in, but with large windows and lots of reflective surfaces, I hardly notice a difference from an above grade space (except that my bedroom is delightfully dark and cool for a great night's sleep).
What I love most about my apartment is how soft and cozy it feels. It took me almost a year to find this place–the rental market in Toronto is tough–but it came with almost everything on my wish list, including a tub, a dishwasher and ensuite washer and dryer (score!).
It feels as though this apartment almost decorated itself. I already had most of my kitchen gear and some other furniture that I pulled out of storage, as well as shells and other special mementos from New Zealand. Along with the apartment's clean lines and shiny new surfaces, before I knew it, this place felt like home. I've been here now for about a year and a half.
I still need to finish decorating my bedroom and really want to put down soft fluffy rugs and hang more photos. But I love the calm feeling I get when I come home each evening. It feels like the perfect mix of my love for the ocean and the excitement of living in a big city.
It's the smallest space I've ever lived in, but the perfect size for me. While I love having people over for drinks and laughs around my breakfast bar, I spend most of my time here happily alone relaxing, baking up a storm, or watching Netflix. It's right in the heart of the city, but is my own quiet little spot to relax and recharge.
Apartment Therapy Survey:
My Style: While I live for a dark dramatic moment, I tend to live in spaces that are light, airy, and colorful. I want to feel happy when I walk through the door.
Inspiration: I came home to Toronto after years of living near the beach in New Zealand, so I definitely wanted to bring that feeling to my apartment, but without ignoring my city location entirely. I wanted a mix of city and coastal.
Favorite Element: The large tilt and turn windows that let loads of light in, even though it's a basement. Oh! And my aqua green counter stools.
Biggest Challenge: Being in a basement, I worried the space would feel dark and cold. But in fact, it's just the opposite. The walls are painted light gray, and the kitchen is outfitted with light, reflective surfaces which bounce in a lot of light. I warmed up the space even more by adding lots of wood, pillows, throw blankets, and hopefully soon, some soft, fluffy area rugs.
Proudest DIY: Not exactly a DIY moment, but I was thrilled to find this Ikea stackable bed that I use as a couch, with the option to accommodate my friends and family when they stay over. When I first moved in, I custom-ordered a beautiful sectional couch that, when delivered, didn't fit down the stairs! I was heartbroken. Despite the small spaces most people living in cities have these days, furniture stores continue to stock large pieces. So, when I came across this solution, I was so relieved! Plus, I can take it with me when I go.
Biggest Indulgence: The custom-made couch that had sadly to be returned.
Best Advice: Let the place you rent dictate how you decorate. Before I found this place, I had a very specific idea in my head of how I wanted my apartment to look. Then I quickly realized I had to work with what I had been given, take advantage of its features, and create my style from that.
What's your best home secret? My best home secret? Treat your rental like your own home, and commit to making your space beautiful, no matter how long you plan on staying. Time flies by and you'll likely end up in a space longer than you expect. Don't you want it to feel like you when you come home each night? Trust me, it makes a difference when you put effort into where you lay your head.
We independently select these products—if you buy from one of our links, we may earn a commission.