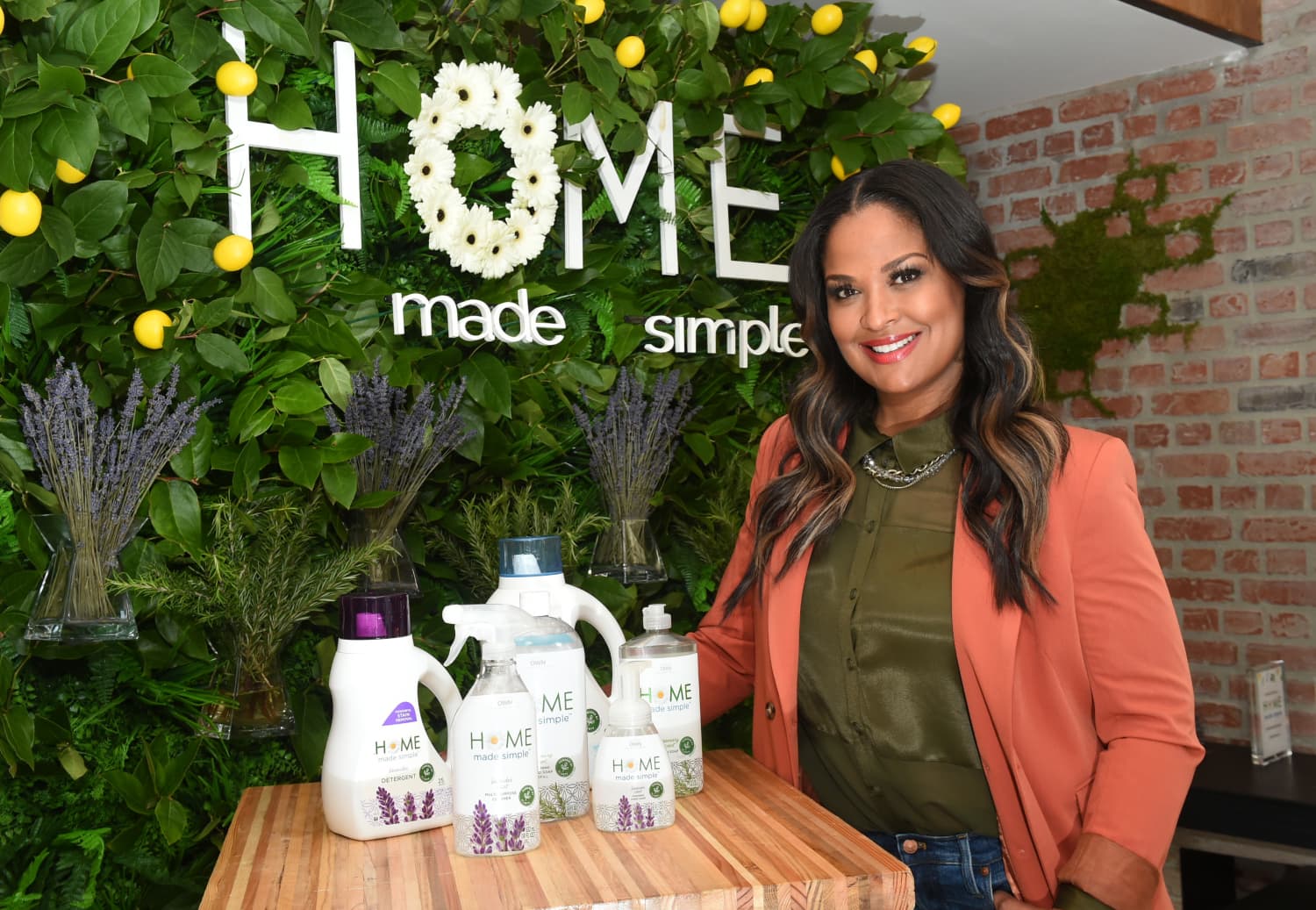 Welcome back to My First Apartment! Whether it's your first studio, a four-bedroom deep in the city shared with a handful of roommates, or even an entire house (lucky you!), there's something special about moving into the first place that's truly your own. In this series, we'll showcase actors, artists, entrepreneurs, and beyond—asking them to revisit that oh-so-sweet nostalgia of newly-found freedom.
One of the downsides to growing up, settling in, and having your own family? You're likely to accumulate a lot of clutter along the way—and it becomes harder to keep track of. Take, for example, having one place-setting that needs cleaning after every use. In your early twenties, this sounds (and feels) terrible. But for those past their 30s: Wouldn't it be a little… freeing?
Though Laila Ali is thankful for the success she's had, she says she wishes she didn't have as much stuff. "I need two large moving trucks when I move!" she says.
In a post-Marie Kondo age, Ali's yearning for less is easily relatable. As the years go by, you're likely to accumulate more and more items that spark joy—even if you're being very thoughtful about it.
Simplicity may also be top of mind for Ali as she just launched a new line of plant-based cleaning products with "Home Made Simple" (Ali hosts the brand's show on OWN). And though she loves her family, she has to admit: With more people comes more things—and more time spent cleaning up around the house. While she's always been a stickler for cleaning and feels most at home when things are organized and put away, it's harder to do this with two kids running around.
So who could blame her for missing her first, no-frills one-bedroom apartment in Marina Del Ray? She could come and go as she pleased—and the only mess she ever had to clean up was her own. What the space lacked in character, it made up for in freedom. It was the perfect space for Ali to learn some crucial life lessons that went way beyond cleaning and design.
"It was my first opportunity to see how I was going to do in the real world," she says. "I did a good job. I was proud of myself."
Read on as Ali reminisces on her first apartment's un-proportional furniture, accent wall faux-pas, and overabundance of plastic bags:
My First Apartment: Laila Ali
City: Marina Del Ray, Los Angeles
Size: 800 square feet. Single.
Rent: About $850 a month.
How you paid your rent: I had a nail salon that I owned and operated, Laila's Nail Studio.
Notable features: I had a window facing out to the courtyard that had a lot of trees and really nice landscaping.
Why you decided to live there: It was a pretty much brand new building in a familiar neighborhood not too far from my mom's house. It was close to work, too. I remember driving by it before I moved out [of my parents] and thinking, "Man, I want to move in there." And that's where I went!
What you did on the first night: Back then, I didn't have nearly as much stuff as I have now. So I just moved in my few boxes, some clothes, and kind of put everything in place. I was in a hurry to put everything where it went and get situated as soon as possible.
Set the scene in three words: Comfortable, beach-y, and organized. There's just a different vibe when you're living in a beach city.
Three things on your wall: I didn't really have anything on the walls, maybe one large mirror. I wasn't thinking about the walls. I was thinking about furniture. I was young and not that into decorating yet.
Design faux pas: I had a oversized, overstuffed couch that was too big for the space. I wasn't really measuring. I would just say, "Oh, I kind of like that!" and buy it. It took up too much of the living room—but it was comfortable! It was a warm tan color. Back then everything I bought was tan.
Worst idea you ever had in the apartment: I painted an accent wall a teal that was really, really dark. I didn't like it and had to paint it back white again—that wasn't fun!
Uninvited strangers/pests?: No, no, no. Absolutely not!
Neighborhood haunt: There were a lot of good restaurants and a bowling alley right across the street on Marina Del Ray and Lincoln Boulevard! I would also go to Coffee Bean and Tea Leaf every day for iced blendeds.
Thing you hated most about living there: The size of it. It had four levels, a lot of units, and a big ol' parking structure. I spent a lot of time going up and down the elevator and walking to my car. It was kind of a process to carry my groceries up to my apartment.
Thing you loved most about living there: It was a perfect area. Really close to the airport. Really easy to get into the city. Minutes from the beach and the marina. It was so close to everywhere I needed to be.
One feature you'd never live with again: How far the laundry room was from the actual apartment. After that, I always looked for apartments with a washer and dryer.
Smell that will always remind you of it: The smell of the beach and the ocean. You could definitely smell it in my apartment.
On your nightstand: A couple pictures of my family. Back then you'd have a phone. Probably some jewelry. I have a habit of taking off my jewelry at my bedside.
Favorite piece of furniture: My mom gave me a wooden bed she had in storage. It was really nice and had beautiful carvings. It may have been antique. But it was heavy and really hard to move around. Back then I didn't do much for bed styling—just really plain white sheets and a white comforter for that beach-y feel. I was 18 years old, so I wasn't spending extra money on down comforters!
What you had too much of: Grocery bags. You go to the grocery store and for some reason keep saving them. They really add up! I kept them in a drawer, but every time I'd open the drawer they'd all pop out. So I'd just stuff them back in. I don't know why! I should have just gotten rid of them!
What you had too little of: Character [in the space]. It was just very cookie cutter. But at the time, that's not what I was looking for. When you're 18, you want something that's modern, up-to-date, new, and clean. I didn't realize that was a dime a dozen.
Thing you wish you knew back then: Bigger isn't always better. There is value in knowing who your neighbors are and living somewhere that doesn't have so many people coming and going.
Happiest thing that happened there: I really started growing my business when I was living there. I went from doing nails in someone else's shop to opening up my own shop. I was becoming successful in what I had set out to do.
Why did you move out?: I wanted to move closer to another area in L.A. where I could get more space for my money. I ended up renting an older duplex with hardwood floors where I had the whole upstairs for just $50 more.
Did you get the security deposit back?: I think so. I'm a pretty good tenant. I took care of my place. I didn't do anything I wasn't supposed to do. I painted the wall back white. I didn't have any issues!
Check out other My First Apartment features: