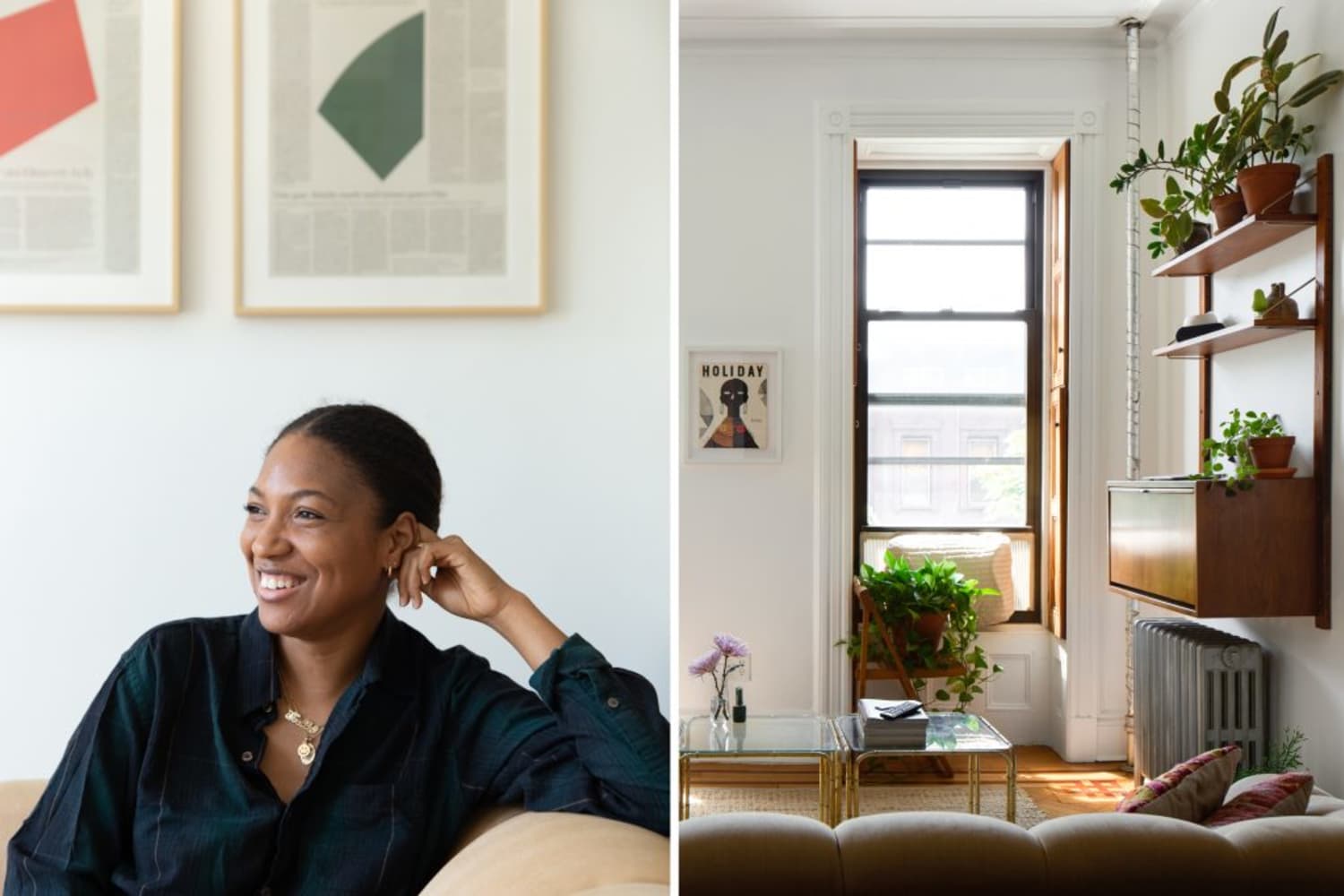 Name: Noelle LaCombe and dog Taco
Location: Bedford-Stuyvesant, Brooklyn
Size: 400 square feet
Years lived in: Rent, 1 Year
Noelle lives with her dog Taco in a quaint studio apartment in the historically black neighborhood of Bedford-Stuyvesant, Brooklyn. She adores the tree-lined blocks of brownstones and the sense of community in Bed-Stuy. And as the Photo Editor of WSJ. magazine, Noelle has a strong interest in interiors. "I can't help myself from meticulously curating every aspect of my home," she says. Everything from silverware to her couch was purchased with intention and this particular apartment in mind. She "vowed to not introduce any items into my home that didn't serve a purpose and fit my vision."
Noelle says that her job can be hectic, and that it was important to her to create a calm and comforting home atmosphere. The apartment's petite size also played a huge part in the home's design. "The space is quite small, so my design choices are meant to optimize. For storage, I have laundry, jeans, and underwear tucked into African baskets, and put bins under my bed, which are hidden by my bedskirt. To keep things calm, amber bottles in my kitchen and bathroom replace loud soap, shampoo, and conditioner labels. I also opted for a loveseat instead of a full-sized couch and a full-sized bed instead of a queen."
Noelle didn't let weird architectural quirks get in the way of her design. "My high ceilings allow me to get creative with wall space," Noelle explained. "There's a wonky electrical box in the middle of my living room wall, but I didn't let it deter me—instead, I hung artwork around the space to help bring the eyes up! Aesthetically pleasing storage units and shelving are another way I've taken advantage of the height."
And while her small but serene home is at a cozy, happy place, there's room to grow. "Because I enjoy making changes and seeking inspiration, my apartment is a constant work in progress! But I have to say—so far, so good in creating a space that reflects me."
Apartment Therapy Survey:
My Style: Cozy minimalist with Danish modern (mid-century) influences.
Inspiration: I'm mostly inspired by vintage furniture catalogues and interior imagery from the '50s and '60s. Light, airy rooms that incorporate teak-wood elements and crisp white textiles are really my jam. I particularly enjoy the work of Donald Judd, Alvar Aalto, Poul Kjaerholm, and Hans Wegner to name a few.
Favorite Element: My favorite elements of the apartment are the pre-war stripped shutters and original floors. It was love at first sight and truly the selling point for me.
Biggest Challenge: In case you forgot, this is a very small space! Making sure it didn't feel cluttered was a big challenge. There is also absolutely no storage, so I had to get really creative. For example, since I don't have a closet I got a cheap metal clothing rack and bought natural cotton hanging storage bags from the Container Store to put my clothes in. I didn't want all of the different colors and patterns of my clothing to be distracting.
What Friends Say: My friends love it! In fact, my friend is the one who put me up to do this house tour. Through her I realized that I actually have a lot of tips for creating a spacious, serene home in a very busy city.
Biggest Embarrassment: I was so excited about my DIY mirror and so eager to get it up that I didn't fully think through what would be the most secure way to hang it. I used, like, 100 Command strips and it fell immediately. To my dismay, a portion of the mirror cracked. I was so disappointed with myself! I should have just called my handyman to hang it from the beginning. Take your time, do it right!
Proudest DIY: My "bedroom" is very small and I wanted a mirror to make it feel bigger. I read David Lucido's interview in ​Architectural Digest​ where he mentioned Canal Plastics and how you can go there and have mirrored plastic cut to any shape that you want. He had made one that was inspired by Ellsworth Kelly and I loved it so much I made one of my own. I did a Google search of Ellsworth Kelly art and found a shape that I liked. My designer friend mocked it up to the proper dimensions. I emailed it over to them and within a day it was ready for pickup! It's a no-frills shop, so don't expect any hand-holding through this process, but you pay a fraction of what it would cost to make a custom mirror.
Biggest Indulgence: My biggest indulgence is the credenza. It really ties the whole room together and sets the tone. I found it on the @adaptationsny Instagram page and immediately DM'ed them to check on price and availability. I knew I needed something that was elegant, had personality, and was also multifunctional. I display my novels and photo books in it, but I also use it as my TV stand. I'm not a fan of centering the living room around an electronic, so I didn't want the television to be the focal point of the room. By putting it on the credenza, it blends in and is there when I need it and out of eyesight when I don't.
Best Advice: Live in the space, get to know it a bit. Don't rush to fill it up. Also, don't worry about things matching. Buy what you love and it will work out!
We independently select these products—if you buy from one of our links, we may earn a commission.