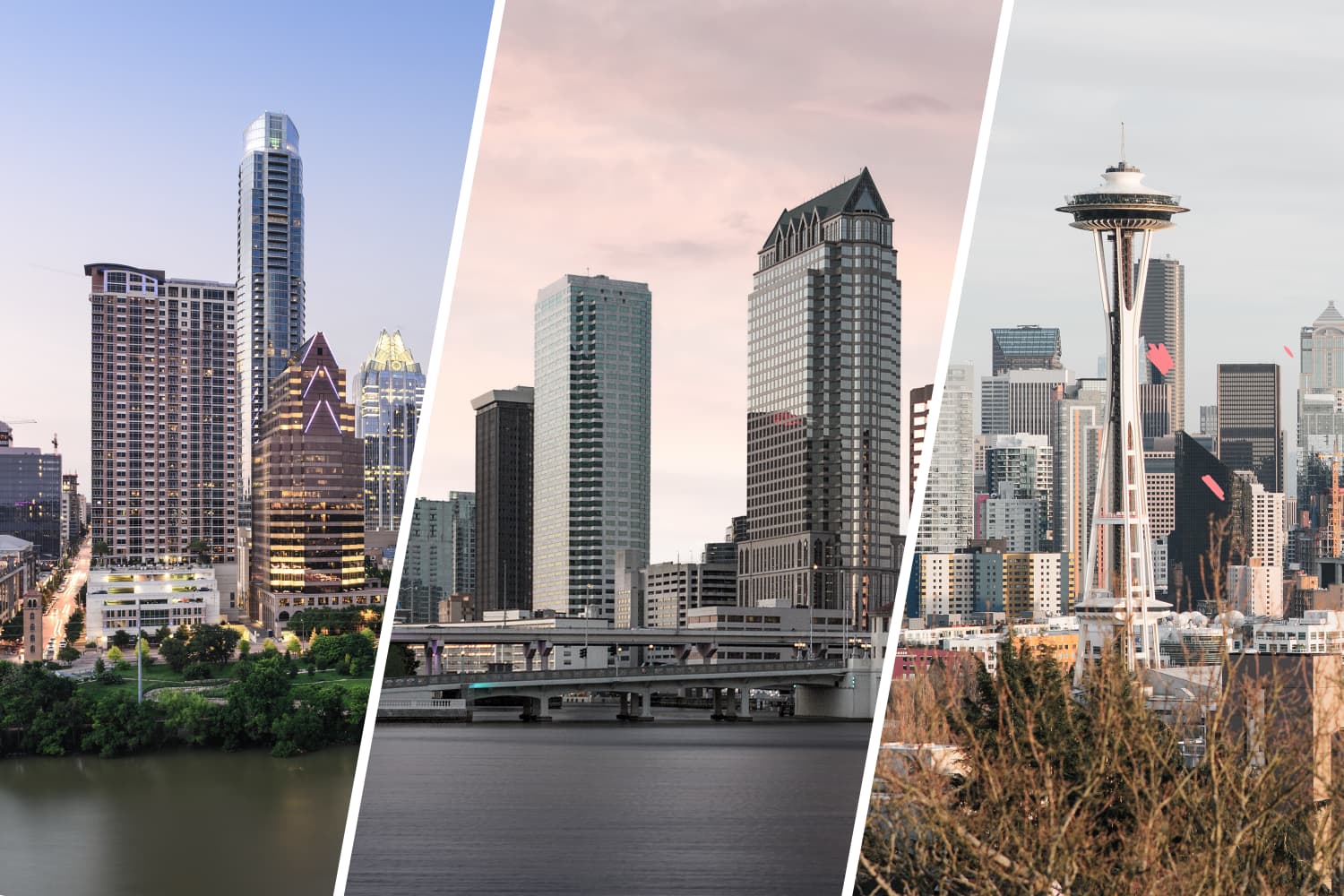 It's hard to resist the allure of big-city life: the dining, the culture, the social life! But as many urbanites can attest (and detest), rising housing costs have led many to question if living in mega-sized places like Los Angeles and New York City is still even worth it.
But you don't need to abandon your dreams of city life—just scale it down a bit. In recent years, many small- to mid-sized cities have evolved drastically, improving their city centers, public transportation, and all-around amenities to lure new residents.
It's working: According to the Brookings Institute, young adults are migrating to these "up-and-coming cities" in large numbers, in turn creating cultural scenes (and job opportunities) that rival those of the urban monoliths. But with so many choices (there were 34 metro areas on the list), how do you know which one is right for you?
We decided to break it down by birth order because—whether you'll admit it or not—where you fall in your family's line of siblings can have an impact on your personality and worldview. And, well, it's just plain interesting (and fun!). Here are our suggestions:
Note: For twins and multiples, we recommend looking at the overall place within the family order, per this 2019 Verywell Family article.
Traits: achievement-oriented, responsible, competitive, performs well in school, thrives in leadership positions (according to a 2015 HuffPost article).
Cities: Charlotte-Concord-Gastonia, North Caroline-South Carolina metro area (#6) and Seattle-Tacoma-Bellevue, Washington metro area (#4)
Why: Elder children have the most type-A personalities of the bunch, so they may be laser-focused on their careers. Thanks to the presence of mega-corporations in Charlotte (e.g. Bank of America, Lowe's) and Seattle (e.g. Boeing, Microsoft, Amazon), they won't have to compromise their careers for smaller city life. Climb that corporate ladder, kid!
Traits: agreeable, loyal, sociable, faithful in relationships, good at relating to both older and younger people (according to HuffPost).
Cities: Tampa-St. Petersburg-Clearwater, Florida metro area (#25) and Minneapolis-St. Paul-Bloomington, Minnesota-Wisconsin metro area (#14)
Why: If you've ever heard the phrase "Minnesota nice," you'll understand why agreeable middle children would fit right in there—they're basically Hufflepuffs. Plus, the Twin Cities and the Tampa Bay area are both great places to raise kids for those whose relationships lead to families. And, let's face it, when you're living in Florida—the retirement and the theme park capital of the U.S.—you're bound to encounter people both young and old wherever you go.
Traits: creative, rebellious, attention-seeking, social, outgoing (according to HuffPost).
Cities: Austin-Round Rock, Texas Metro Area (#5) and Las Vegas-Henderson-Paradise, Nevada Metro Area (#13)
Why: Youngest children can let their freak flags fly—as they are wont to do—in both progressive, eccentric Austin and over-the-top, exhibitionist Las Vegas. Those seeking attention, in particular, can find it in various entertainment jobs in Sin City or the Live Music Capital of the World. The thriving social life in both cities is enough to satiate every youngest child's social butterfly tendencies.
Traits: creative, confident, well-spoken, detail-oriented, often perform well in school (according to a 2018 Parents article.)
Cities: Portland-Vancouver-Hillsboro, Oregon-Washington metro area (#7) and Atlanta-Sandy Springs-Roswell, Georgia Metro area (#11)
Why: Portland encourages and embraces individualism, so creative, confident only children will feel right at home. Creative types will also find plenty to inspire in Atlanta thanks to the area's thriving cultural scene and non-stop events schedule. Detail-oriented, well-spoken high achievers will also appreciate the many career opportunities at Atlanta's major corporations, like Coca-Cola, The Home Depot, Delta, and UPS.
What do you think? Think you would thrive in one of these cities? Still feel a bit too big? Try moving to one of these roomier, often-cheaper, and admittedly just as cool suburbs!
More great Real Estate reads: