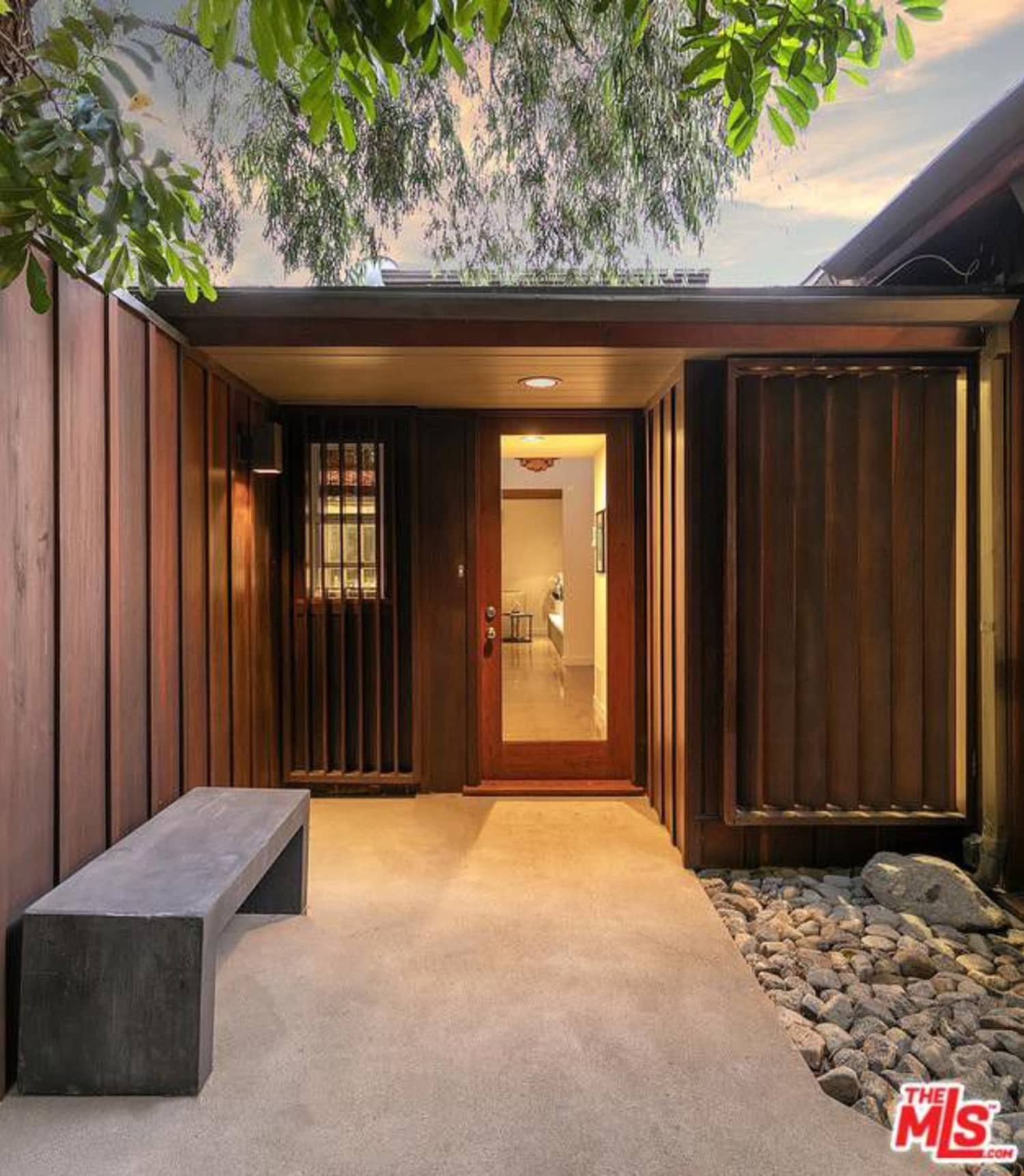 It's a long way from District 12 to Laurel Canyon, but Josh Hutcherson has made the move. The actor, known for his role as Peeta Mellark in the "Hunger Games" trilogy and on the Hulu series "Future Man," just listed his mid-century modern home in the Hollywood Hills for $3.5 million, realtor.com reports. But this isn't just any Los Angeles celebrity bachelor pad—its keys have passed through enough famous hands to be considered Hollywood royalty.
Built in 1951, the two-bed, two-bath house is a real testament to Los Angeles mid-century design. Tucked away behind gates on a half-acre lot in the middle of a sycamore grove, the property welcomes guests up brick stairs that leads to the entryway. Measuring 1,861 square feet, the home is filled with glass walls that provide a scenic hideaway surrounded by nature. Filled with natural textures and materials, you'll find unique contrasts like polished concrete floors and wood-beamed ceilings throughout the home.
The living room has a cozy fireplace tucked into a white brick wall, with several sliding glass doors that open directly outside. The kitchen features top-of-the-line appliances and plenty of counter space, while a small dining room has cathedral-style beamed wood ceilings. A comfortable office space is the epitome of sleek design, with doors that open out to a grassy patch in the yard. A spacious master bedroom features a large walk-in closet, and a huge walk-in shower that will make you feel like you're showering… right in the middle of a sycamore grove.
The home is really a treasure for anyone who embraces the indoor/outdoor aesthetic, thanks to the 2,500-square-foot outdoor deck that's bigger than the home itself. (One look at that, and you'll understand why this property is often nicknamed the "Tree House.") The deck overlooks the treetops of Laurel Canyon, and comes equipped with an outdoor grill and open-air screening room with a retractable projection screen, perfect for curling up and catching a flick on a warm summer night. 
According to the Los Angeles Times, the home has been owned by several famous faces, including furniture designer Guy Chaddock, Heath Ledger, and Ellen Degeneres. Hutcherson, who bought the home back in 2012 for $2.5 million, has taken off for Silver Lake, but we'd certainly "volunteer as tribute" to move in and take his spot.