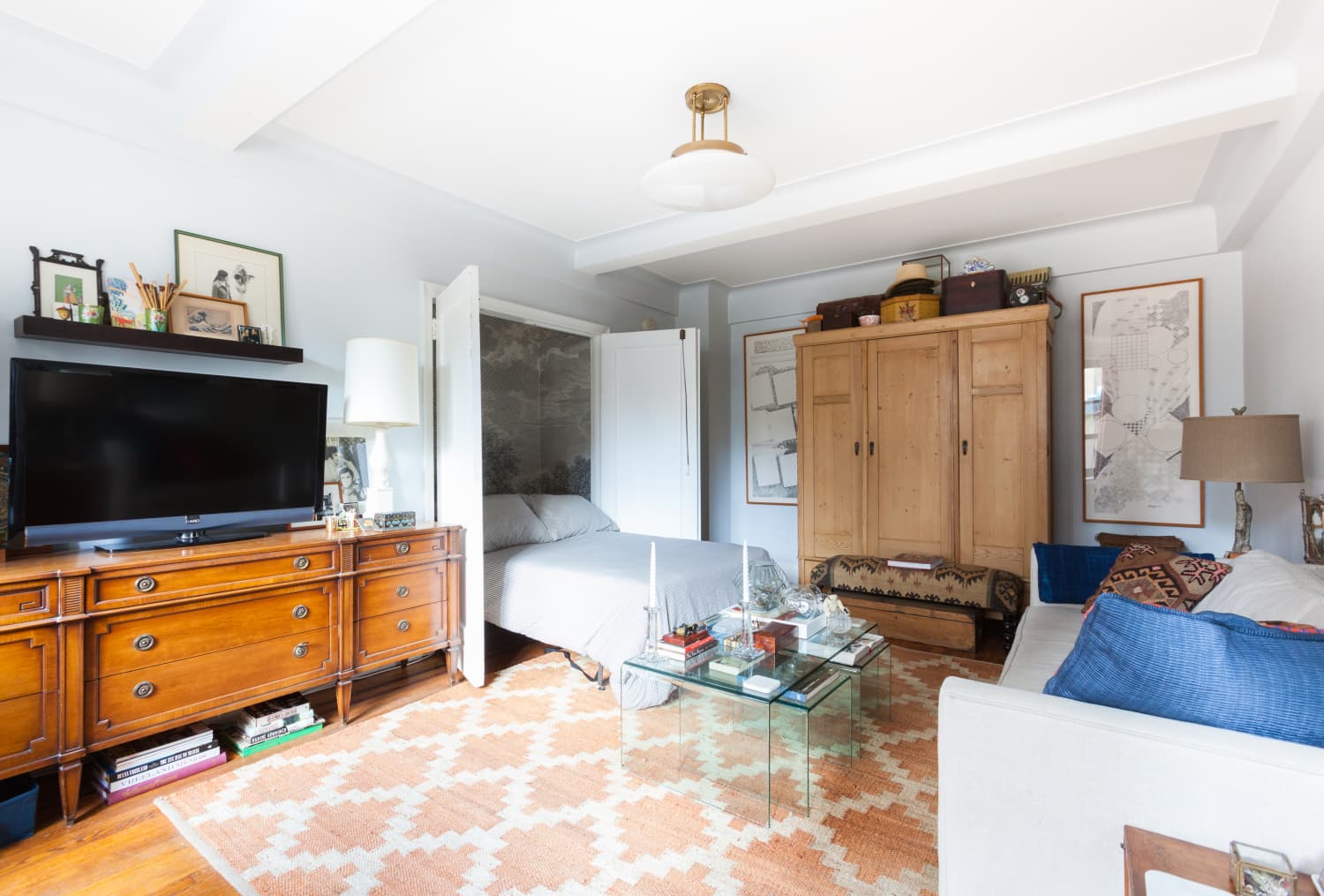 Running out of floor space and ideas to maximize your square footage? It might be time to call on the tried and true space saver: the Murphy bed. 
Whether you're looking for some extra drawers to store your off-season sweaters, or simply need the floor space to make your small home functional, today's ingenious reincarnations of the classic Murphy bed will actually complement your current decor, rather than stick out like a sore thumb. 
Below, we've found versions that masquerade as armoires, shelving units, and even more compact shapes like small dressers. They come in a variety of price points, too, so you're likely to find one that suits your style and wallet.
When you think of Murphy beds, you generally envision a towering piece of wood that stretches from floor to ceiling. This attractive—yet, completely functional—option looks like a dresser in disguise, thanks to the complementary, folding mattress and pullout drawers underneath. 
Hosting some friends or family members over for a few nights? We found just the piece for you. At first glance, this sofa from Urban Outfitters looks like any other couch. But lo and behold: It reveals a compact mattress. Sure, you'll still need to pick up a mattress but at $429, it's one of the most affordable options on the market.
In what could easily be mistaken for an antique chest hides this queen-sized memory foam mattress. The cherry wood finishes and nickel handles complete the look. Best of all? It takes up about 10 square feet of floor space.
Leave it to IKEA to bring a Scandinavian sensibility to the hidden bed game. This affordable find has not one, but four difference purposes: A sofa, single bed, double bed, and some extra storage space. We don't mean to play favorites, but this might be the best $300 you've ever spent.
This stylish mobile Murphy bed could easily be placed in your dining room or kitchen and moonlight as a hutch or sideboard. We love the rustic antiqued paint, black knobs, and matching wheels for easy transport to wherever you or your guests would like to sleep. 
This entertainment center-cum-Murphy bed is the perfect solution for your main living area, den, or family room. Described as a "landscape" bed, it includes an integrated TV stand that can be moved aside when transitioning the unit into a sleeping space.
For those looking for a sleek alternative to traditional Murphy beds, this option is free of any predictable handles, rails, or knobs. The clean, glossy facade will complement any modern decor. 
Want to study, then snooze? This smart all-in-one desk, bed, and storage drawer includes thoughtful touches like an outlet with a USB charger and a memory foam mattress. It's freestanding and comes in your choice of stains and finishes.
This sophisticated wall unit will not only look impressive, but it performs several functions, too. It houses a full-sized mattress, sports three sizeable storage drawers, and includes several adjustable shelves and clothing rods, as well.
We independently select these products—if you buy from one of our links, we may earn a commission.