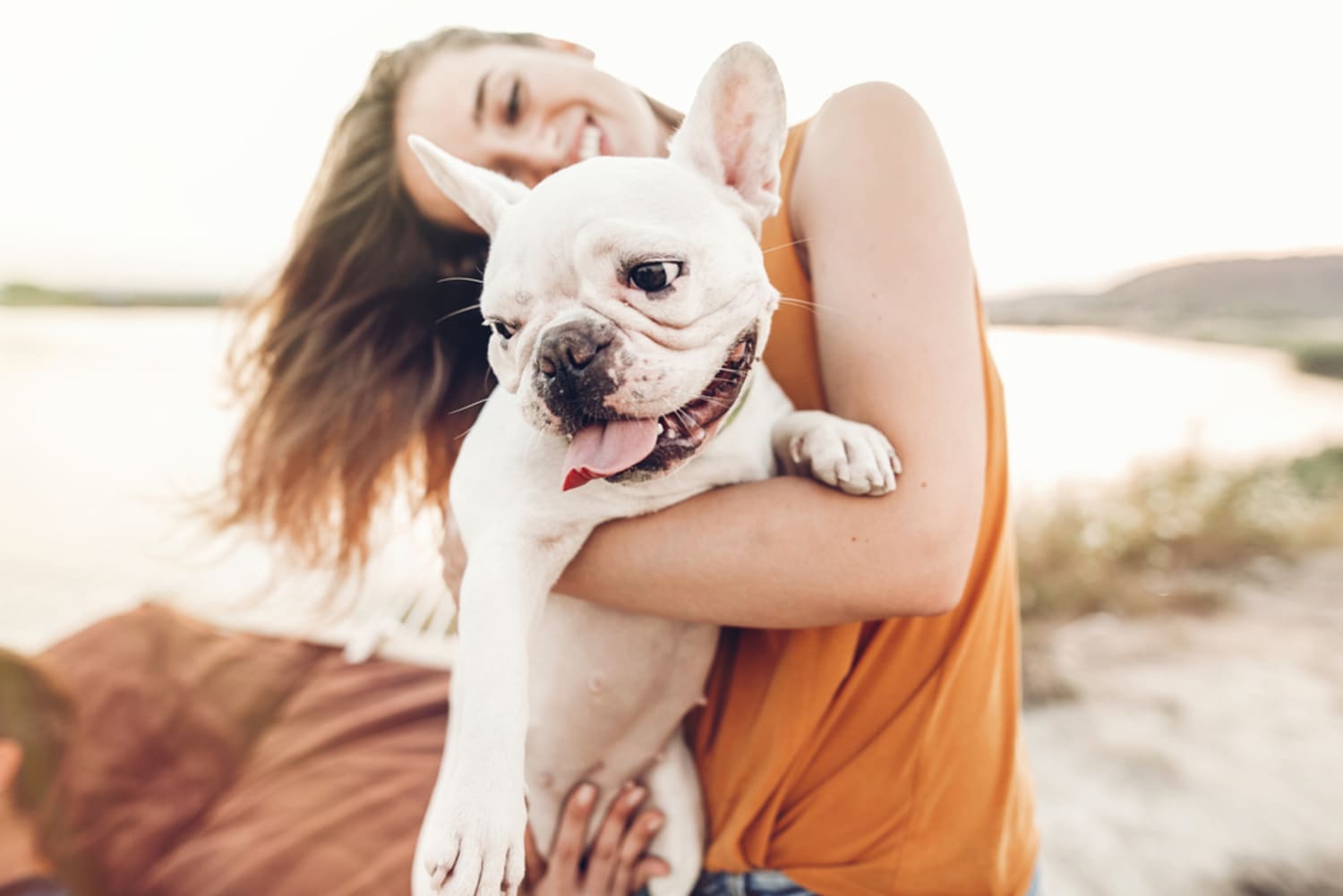 When you get a dog, you buy the essentials: a leash, a crate, food and water bowls, and tons of toys. All set, right? Not exactly. Over time, you come to discover the other must-haves of dog ownership—the less obvious but totally lifechanging dog products you didn't consider at first, but suddenly can't live without.
In honor of National Dog Day on Monday, August 26, we rounded up some of the best dog products that make pet parenting a breeze. If you're a dog owner, see if there are any you haven't tried before. And if you don't have a dog, remember this list the next time one of your friends brings home a new pup.
1. FURminator Undercoat Deshedding Tool
First thing's first: pet hair. If your dog sheds a lot, and even if they don't, you're going to want to get a good deshedding tool. FURminator has been the go-to name in deshedding for years, and with good reason. Brush your pup with a FURminator a few times a week and you'll notice fewer piles of hair on the floor plus a shiner, healthier coat on your dog.
Buy: FURminator Undercoat Deshedding Tool, $20.29 $19.18 for Medium
2. Evriholder FURemover Pet Hair Removal Broom
This broom is like a bunch of products in one. Its rubber bristles expertly sweep up dog hair from carpet, plush fabric (think: dog beds), and hardwood floors. It's also great for sweeping up tracked mud and tiny spills, and has a squeegee for wiping up spilled water bowls and cleaning nose prints off windows.
Buy: Evriholder FURemover Pet Hair Removal Broom, $13.45
3. Dexas MudBuster Portable Dog Paw Cleaner
4. Kurgo Dog Harness and Seat Belt Tether
5. Kurgo Dog Hammock Car Seat Cover
Now that your dog is safely belted in, let's talk about protecting something else: your car seats. No amount of creatively draped bedsheets or towels will keep the dog hair off your car seats, but this hammock does the trick. You can modify it to cover the entire backseat or just half, and don't worry—it has flaps so you can easily buckle your dogs in.
Buy: Kurgo Dog Hammock Car Seat Cover, $64.99 $42.71
6. COMSUN Collapsible Dog Bowls
There are certain products that make you wonder, "Why didn't I think of that?" These collapsible dog bowls fit that bill. They're so simple, but so unbelievably convenient. Take them to the park, on a hike, or on a road trip—basically, any time you leave the house with your dog, throw one in your bag just in case. It WILL come in handy.
Buy: COMSUN Collapsible Dog Bowls, $9.99 for set of two
7. KONG Wobbler Treat Dispensing Dog Toy
8. Aquapaw Slow Treater Treat Dispensing Mat
9. KAMTRON Wireless Security Camera
There are quite a few pet cameras on the market with features like treat tossing and two-way video conferencing. And all of them cost at least $100. If you're looking for a simple camera that lets you check in on your dog and speak to them even when you're not there, this one will do the trick for a lot less money.
Buy: KAMTRON Wireless Security Camera, $53.99
10. NomNomNow Fresh Dog Food Delivery
Say goodbye to hauling heavy bags of dog food home. NomNomNow delivers healthy, fresh dog food made from restaurant-quality ingredients (and formulated by veterinarians) directly to your door. Each serving is perfectly portioned based on your dog's age, weight, and activity level. They'll love eating it, and you'll feel good about feeding it to them.
Buy: NomNomNow Fresh Dog Food Delivery, prices vary
Happy grooming, cleaning, playing, and eating!
We independently select these products—if you buy from one of our links, we may earn a commission.