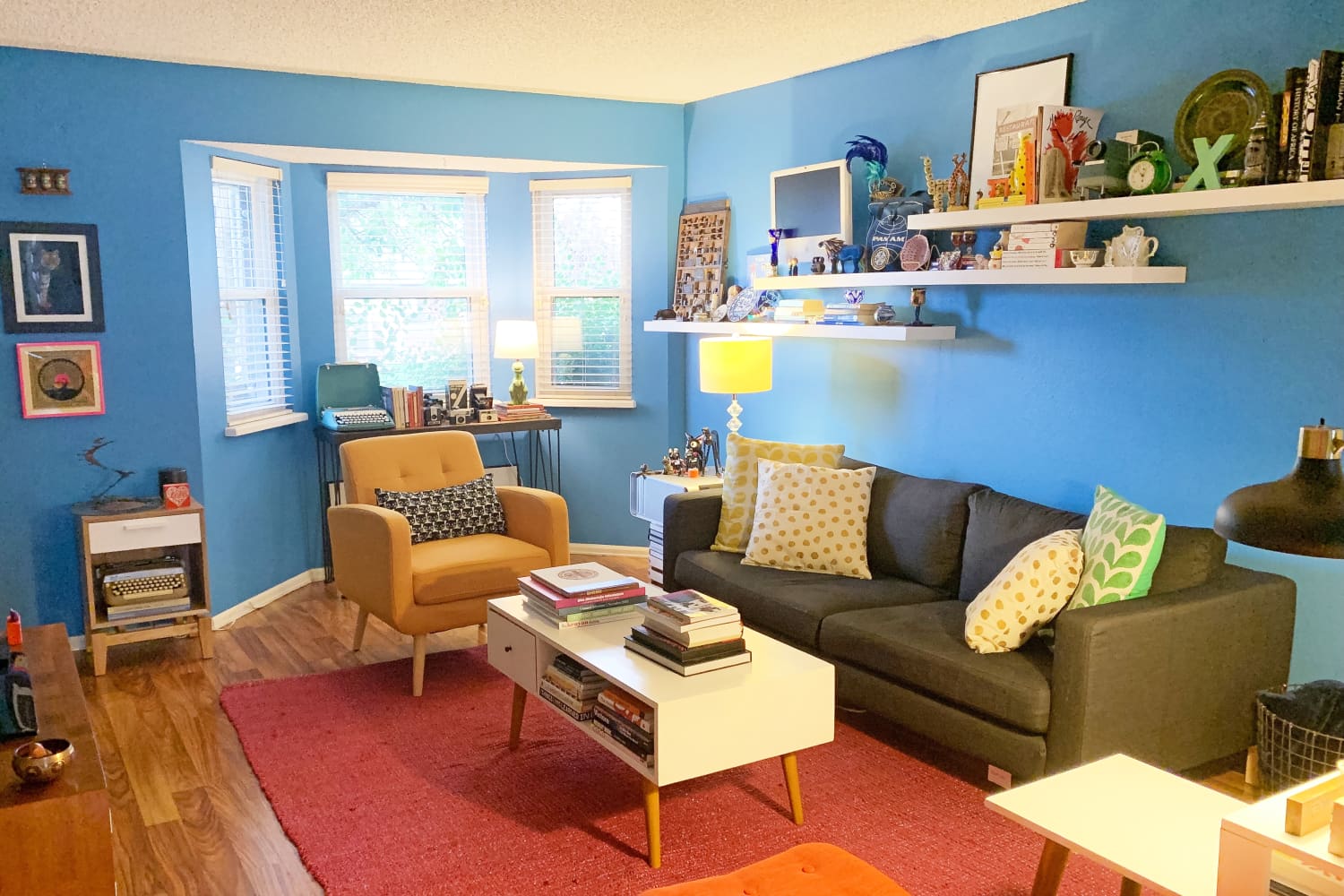 Name: Noel Dolan and my cat, Macbeth
Location: Colorado Springs, Colorado
Type of home: Townhouse
Size: 1,100 square feet
Years lived in: 9 years, owned
Tell us a little (or a lot) about your home and the people who live there: The two most important things in my life (aside from family, friends, and all those sentimental things) are design and travel. My home is my tribute to those things. It is filled with bold colors, kitschy accessories, modern design, and treasures from my global adventures. I consider it the most intimate insight into who I am. When I was little, I wanted to live in Whoville. I loved Dr. Seuss's wildly colorful world, and I couldn't think of a better place to call home. As an adult, I think I've brought part of my childhood love of Whoville alive into my home. The bright colors and whimsical details pay tribute to Dr. Seuss.
But, my love of design comes through in the clean lines of my mid-century-inspired furniture, typographic accents, and prints I've collected from some of my favorite graphic designers. My home is my constant work in progress. I see it as a living canvas that is always changing. Besides the colors, the thing that makes my house the most "me" are my travel souvenirs. I've been lucky to visit 30 countries so far, and I always make it a point to buy something for my house whether it's a piece of pottery or painting or wood carving. I had boxes of treasures waiting for a home when I lived in my parents' basement, and the first thing I did when I moved in was install shelves to display them. I share my house with my devilish black cat, Macbeth. I've had him since he was a kitten, and he's nearly 15 now. He has helped make this house a home, and I can't imagine sharing it with anyone else.
Describe your home's style in 5 words or less: Mid-Century Dr. Seuss
What's the last thing you bought (or found!) for your home? I updated the chairs in my living room. I used to have some basic chairs from IKEA, but I wanted to get something more mid-century in style and in bright colors. Adding the orange and the yellow really warmed up the room. The Valmy Lounge Chair and the Canyon Vista Lounge Chair and Ottoman are all from Wayfair.
What is your favorite room and why? I love my living room the most. It has built-in shelves that hold the majority of my travel treasures. Whenever I've had a long day, I like to gaze at my shelves and remember the beautiful places I've visited and people I've met. It's very relaxing. The blue color is really soothing, and all of my furniture has warm colors, which makes it cozy and inviting. All of the best memories in my house happen in my living room, whether it's hanging out with friends or having family over. It's the place where I get the most joy, and it gets a lot of sunlight, which makes it cheery.
If you could magically change something about your home, what would it be? I'd love a larger kitchen. I love to cook, and I wish I had an island with a lot of counter space to make it easier. I also desperately want a walk-in shower with a bench in the middle, a rain shower from the center, and jets on all sides. The ultimate luxury!
Which fictional character would be most at home in your place? Cindy Lou Who, or any other resident of Whoville for sure. Year round, Cindy would feel right at home with the bright colors, but I really go wild with decorating for Christmas. I think I actually rival Whoville in how much I decorate!
Any advice for creating a home you love? Throw out the rules. Do what YOU want to your house. The first year I lived in my house, I was scared of "ruining it" in terms of resale, looking like a responsible adult, etc., so I didn't do any painting. I hated it. It wasn't me. Why should I live in someone else's idea of a beautiful house? I work hard and pay a lot for my mortgage—it should be what I want. If and when I get to the point of wanting to sell, then I can repaint. But, I'm not going to waste the years I live here based on unknown future plans. I know my style isn't for everybody, but it's perfect for me, and that's what makes me excited to come home every day.
This submission has been edited for length and clarity.
We independently select these products—if you buy from one of our links, we may earn a commission.