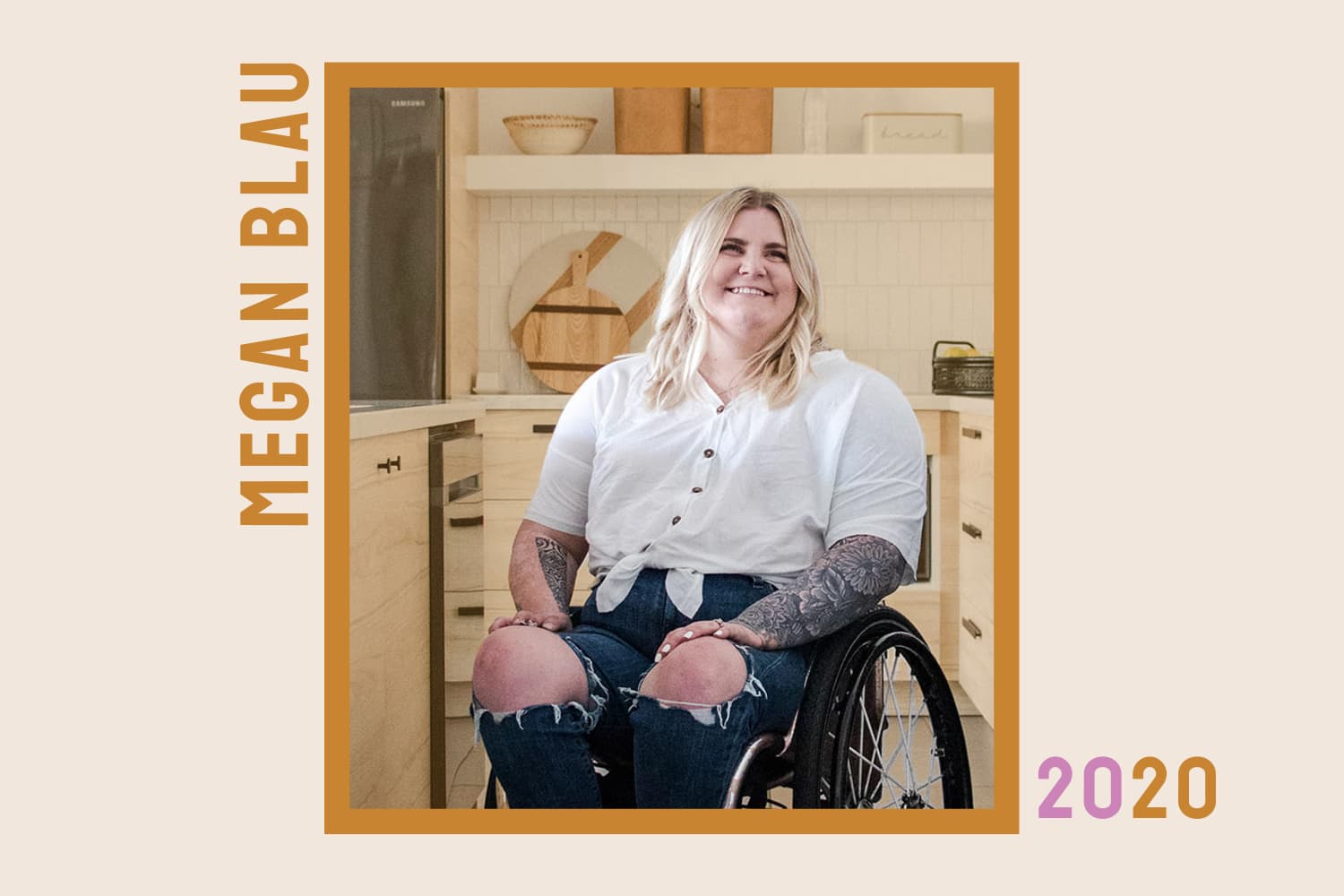 Apartment Therapy's Class of 2020 Design Changemakers is a specially-selected group of the 20 people in the design world everyone should know about by next year. We asked experts (and you!) to tell us who they think should be included—see the rest of the nominees here.
Why Maegan is part of the Class of 2020: "Accessibility is something we should all be talking (and learning) about more in the design community. Most homes and spaces we see aren't designed with disabled people in mind, and I'm excited to see designers like Maegan Blau working to talk about accessibility, advocate for it in public (and private) spaces, and to show us beautiful examples of accessible design through her design work. Maegan's work opened my eyes to just how powerful a tool interior design can be to make everyone feel included and welcome at home." —Grace Bonney, founder of Design*Sponge and author of "In the Company of Women"
Maegan Blau started her interior design company, Blue Copper, four years ago after buying and renovating her first home. "I'm in a wheelchair and I bought my first home knowing that I needed to do some renovations," says the Arizona-based designer. "So I hired my good friend who's a contractor, and he told me what was possible in terms of changes in my home and helped get things going. But as I was going through the process of renovating, I really found that I had to be an advocate for myself. Because it was important to me that my home didn't look like a hospital, or even like a wheelchair person really lived there, and that it was just a home." As the project wrapped up, her friend told her that she had really done the work of a designer, and should look into it as a career, which piqued her interest enough to seriously consider it. After researching the field of interior design, she had a lightbulb moment and realized not only was it the right fit for her, but she had a unique perspective she could bring to the table—especially in Arizona.
"People definitely move here from all over the country with all sorts of disabilities, just because the city is a great spot to be in, as the weather is great with not having to deal with cold or snow. So I definitely found my market here," she says. And for Maegan, working with her clients means knowing that a not one-size-fits-all approach is extremely important. "ADA requirements are great. But they're not all the time necessary for people's homes," she says. "They're great in commercial spaces, they're great in public spaces, but when it comes to people's homes, I personally don't need grab bars, or I don't need all of the specifications, but I might need something different. So I'm bringing that custom aspect to my clients and my designs."
One look at Maegan's mid-century-modern-meets-Southwest-cool designs and it may not come as a surprise that she aims to pay homage to her surroundings when she's designing a space. "If we're up in the mountains, I want it to feel like a mountain home. If we're by the beach, I want it to feel coastal," she says. "It doesn't need to go all the way into a theme. But for me it's like a little out of place for a cabin to be in the desert, or a beach home to be in the desert, or something like that." We spoke to the designer about designing beautiful spaces that are custom-tailored with accessibility and comfort in mind (and certainly look nowhere close to a hospital), the future of the design world, and how Arizona has influenced her design style (hint: she makes desert-style look really good).
Apartment Therapy: What do you remember as being design inspirations growing up? What is your inspiration now?
Maegan Blau: My grandpa started a furniture chain here in Arizona, I think before they closed they had five stores around the valley. All of my aunts and uncles worked in the store, my mom worked in the store. My parents actually ended up owning a branch of the store. He specialized in all-wood furniture, and then they would stain to whatever stain people wanted. So I definitely have a love for handcrafted pieces. And then on the flip side, my grandma was a great entertainer, and her house was always immaculate, and she always paid an homage to Arizona and Southwest design. I know for a lot of people, old school Southwest is not really their jam. But I find a lot of inspiration and a lot of beauty in it.
I think now I do get a lot of inspiration from that classic Southwest design, but definitely modernizing it. So mixing it with other designs, I mean mid-century is great with a Southwest design. Just because those two styles are linked really well, especially with Frank Lloyd Wright having a lot of inspiration from Arizona and everything. Beyond that, I do kind of like the California Casual style that's coming up. There's a lot of really big, a lot of really inspiring designers for me in the Southern California area. I pull a lot of inspiration from other designers, and they seem to be coming from that region. So I think there's definitely a way to blend that style with desert-style too.
AT: What's your favorite project you worked on in 2019 so far? (and why?)
MB:  My favorite project is not done. It's called the Homey Project—it's a living room, a dining room, and kind of a little bit of a kitchen project, just lighting and that sort of a thing. Why is because one, my clients are awesome, and awesome clients make awesome projects. So they're very concise and understanding of the process. And their taste matches their budget, which is awesome. I love their style and they've been really awesome to work with. From a professional side, I guess it's been the biggest learning curve for me, so that's also why it's my favorite. I've learned probably the most on that project so far. Because I was much more comfortable with construction and specifying in tile and fixtures, and a little bathroom remodel, as opposed to a furniture job. So just learning a lot more about the furniture side of design has been awesome.
AT: Is there a specific piece or design of yours that you think is particularly indicative of who you are or what you're trying to do?
MB: I would say my own personal home. That's been the most extensive project I've had. I know it's mine, but obviously that's just the one that hits home. Kind of my laboratory too, I feel like I experiment all the time.
AT: What three words would you use to describe your work or style?
MB:  I would say innovative, and I would say natural in a way. I love using as many natural elements in a design as I possibly can, or as my clients will let me. And also I would say comfortable. It's probably the most important part of the way I want my home to be, and I like to give that to my clients as well, so whatever that means to them.
AT: What makes you feel at home in your own space?
MB: I would say being comfortable, and that for me means knowing that everything in my house represents me in some way. Knowing that everything has a place, and organization is really huge for me. So when my house is clean, I feel the most at home. I could be home in my messy house, and I don't feel home there. So making sure everything has a home. There's a lot of forethought into how can I be most comfortable in my home, so down to the chairs I have, and the sheets I have. And that's the service that I like to give my clients as well.
AT: Any big plans for 2020 or beyond you can share with us?
MB: My gosh, I don't have any specific plans. I have a lot of business goals. I want to increase my profits by 50%, but who doesn't? And I would love to start kind of leveling up my business, I suppose, with scales of projects. And my goal for 2021 is to hire my first employee. So kind of getting to the position this year where I can take care of myself, my business, make sure all of my processes and procedures are down. So that I need to start 2021 with an employee, would be great.
AT: What three words would you use to describe where you see the design world going in 2020?
MB: I feel like it's going to be much more attainable, for one. I think a lot of people are finding value in a well-designed home, no matter what their budget is. Second, I know that neutrals are always amazing, but color I think is definitely coming into play in very creative, very specific ways. Everyone is always going to love light and bright, but colors are great too. For a third one, I see a lot more vintage pieces being mixed in to create that modern feel. And I don't think that idea is new, but I do think that it's going to become a lot more prominent. So whether it's just a vintage coffee table or even vintage accessories, I think we're going to see a lot more of.
AT: What legacy do you hope to leave?
MB: Making design an inclusive experience for everybody. Obviously my biggest passion is adaptive design, accessible design, and designing for people with specific physical or mental needs. But also budgetary requirements. I love the idea that interior design does not have to be a luxury service. Now, there's absolutely nothing wrong with that. But just making it more inclusive. Because I think at the end of the day, what design and what designers bring is a well-functioning home that looks and feels beautiful, and that people want to come home to. And I think that's important for everybody to have. So creating that legacy and also bringing light to adaptive design. That it doesn't need to look like a hospital. It doesn't need to look like a handicapped bathroom at the mall. It can definitely be just as beautiful and just as customized as everybody else's house.