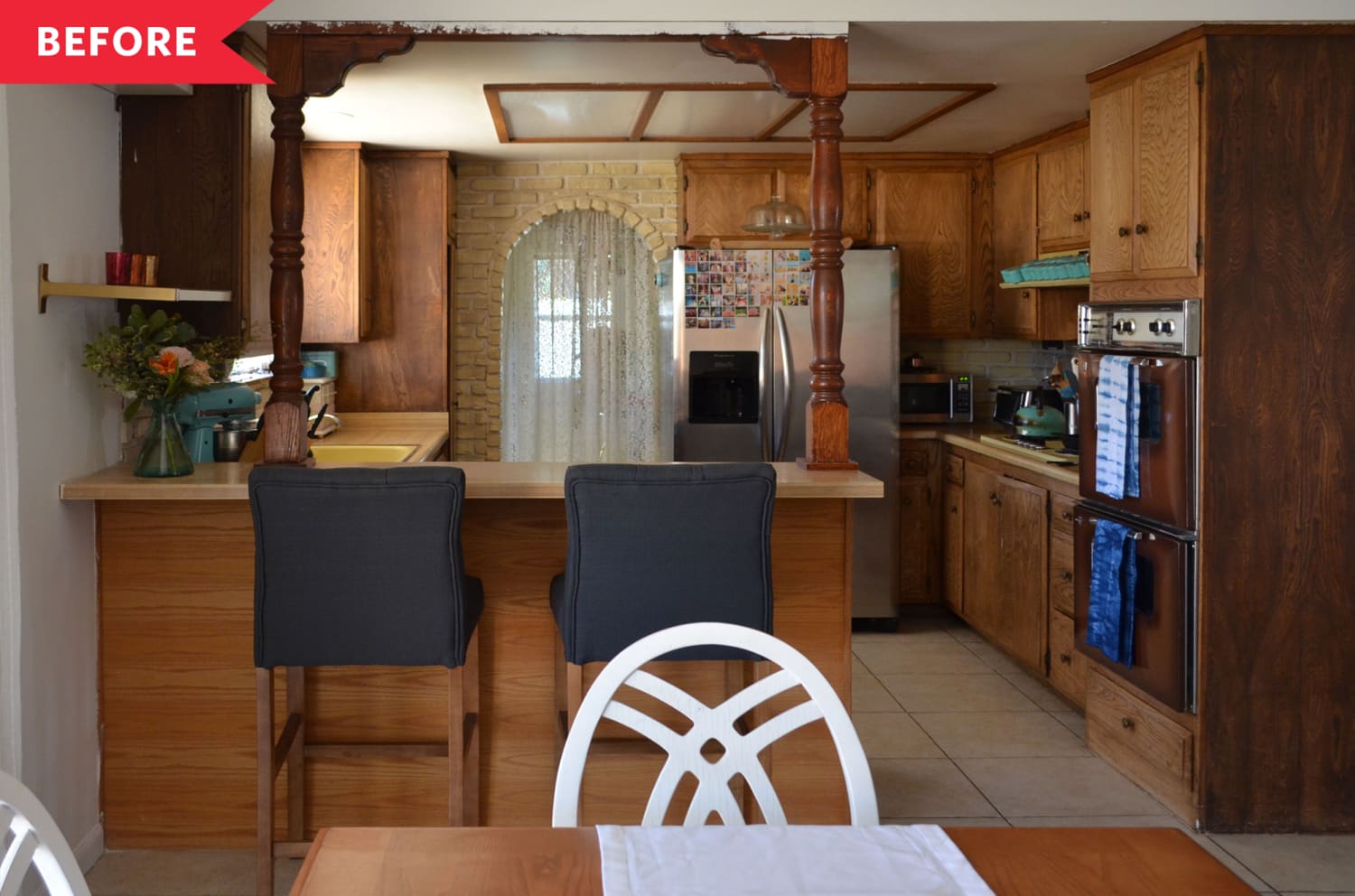 We independently select these products—if you buy from one of our links, we may earn a commission.
Name: Jessica D'Itri Marés and Tyler Marés
Location: Thousand Oaks, California
Size: 1494 square feet
Years lived in: 4 years, owned
When Jessica and Tyler Marés began the process of buying their first home, it wasn't easy. The LA market was tough, and they were having a hard time finding the unique home of their dreams. "Growing up, we both had our hearts set on a more rare or unique home, but there were not many options for us in the LA market in the price range that we wanted to stay in. Sometimes I pinch myself when I remember how hard it was to get into our house!" Jessica says. A software engineer (Tyler) and graphic designer (Jessica) who met as video game testers, this creative couple knew they wanted a space that was different. "We wanted a home that we could live in and update as we went, and we really wanted a home with a kitchen that needed replacing, not one that was simply not our style," explains Jessica. "We wanted a home that had enough potential to become something lovely and comfortable and allow us to express a bit of flair."
Eventually, they landed on the idea of a fixer-upper they could modify into the home of their dreams, and found the perfect canvas in a tract home in Thousand Oaks, near Malibu. They were poised to begin renovations when a busted drain line took out the rest of their savings, delaying the process while they rebuilt their budget. But that didn't stop Jessica from getting to work, if only in her mind. The graphic designer began dreaming up plans for her dream house, and taught herself 3D design software to map it all out. The delay gave them plenty of time to live in the space and get a feel for every need, and Jessica incorporated functionality into her plans down to the tiniest detail. Within a few years, they were able to get to work turning her designs into reality, one room at a time, doing the work themselves and learning as they went and documenting the process on their blog and Instagram along the way.
Apartment Therapy Survey:
My Style: English Country meets California, with a hint of Japan. Or, my east coast Italian grandparents meet my California hippie grandparents. Eclectic. 
Inspiration: Video games, Disneyland, Museums, local landmarks, old paintings, movies… I think people overlook inspiration like this because they don't exactly scream "accessible design," but there are small details in places or media like this that you can incorporate anywhere. Sometimes it's just a feeling or mood that I am after. I have been gathering and cataloguing details that have sparked "I want that in my house" since I was a child, and I have never thought "that's too grand to have in a house," I have just tried to let that be an inspiration that I can interpret in a way that works in a house. 
Favorite Element: It might be my pantry, because it was previously the least pleasant space in the home, and now it is our utilitarian jewel box! 
Biggest Challenge: Our biggest challenge was maintaining a positive attitude both while working and while working together. But treating each project like an adventure, with expected setbacks, and fumblings, helped lighten the mood and make the work fun. Is this your first time gluing down hardwood flooring? Remember that sometimes you don't know what you are doing, but you are going to find out! Let your failures build to your success, and keep going.
Proudest DIY: If not the whole kitchen, then the broom cupboard pullout, hands down! It was pure imagination that dreamed that up, and I'm still shocked sometimes that it came out exactly how I imagined it.
Biggest Indulgence: Definitely our Sierra Pacific Doors and windows. They are aluminum clad wood, double-paned, divided light, black ext. and so so gorgeous. Totally worth it. Perhaps also the integrated fridge, although we got an awesome deal and it wasn't over budget in the end. 
Best Advice: The opposite of what real estate agents say; don't think about resale value. Nothing great has ever come from trying to appease everyone. You don't need a bunch of people to be simply not offended by your home to buy it. You need one person to LOVE IT. 
Also, HAVE FUN. Is there something that inspired you at a museum or a public place before? How can you incorporate that appropriately in your own home? Don't overthink the amount of time something might take to accomplish, enjoy the process as much as the product.
The responses in this submission have been edited for length and clarity.
More great House Tour reads: