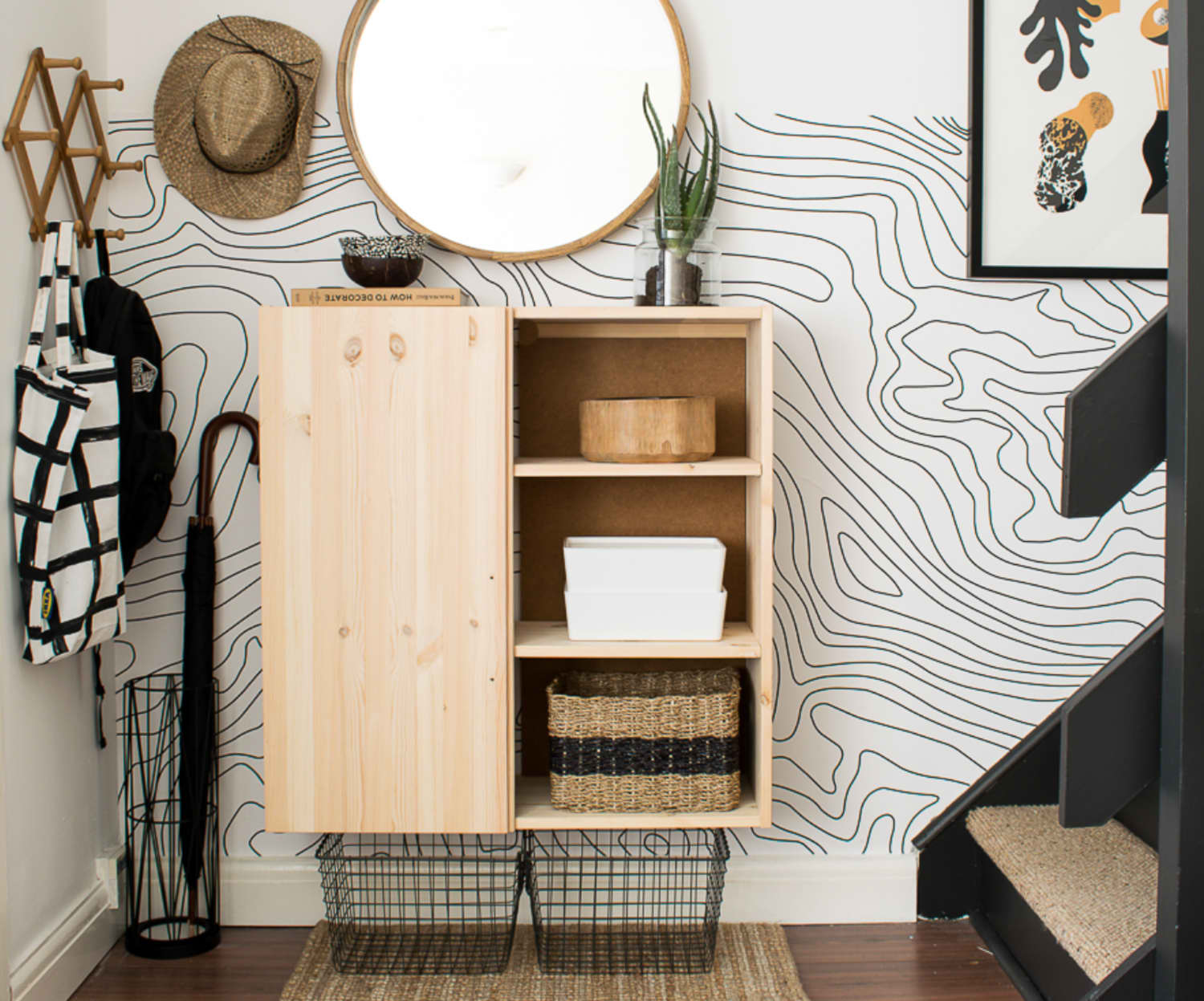 We independently select these products—if you buy from one of our links, we may earn a commission.
Your entryway is the first thing you see when you enter your home, so it needs to be beautiful. It's also the last thing you see when you run out the door, so it should also be stocked with your everyday "grab" items—shoes, hats, keys, purses and anything else you might need when leaving your space.  
The key to organization is having a place for everything, so if you have a huge entryway with a separate built-in mudroom that contains designated spaces for each person's accessories, that's awesome. But what if you have a tiny entryway, or even—dare we say it—no entryway at all? These entries—or blank walls turned into entries—take the cake when it comes to optimizing tiny spaces and maximizing on organizing potential. Read on for clever tips on how to make the most of the entry space in your home.
Take advantage of the versatility of a pegboard
There are so many ways to use a pegboard to stay organized, why not have one in your entryway? This board's bold color makes it entryway-worthy. Styled by Pin and Peg Home, this entry has a spot for everything you might need on your way out. We also love the "outside of the box" element of hanging your hat and tote on the pegboard instead of giving them a separate spot on the wall.
Maximize a little blank wall space with a hall tree
Ashley Basnight of Handmade Haven saw the potential in a blank wall and made this hall tree bench from scratch.  This particular bench not only has a space underneath for baskets and shoes, but the design also leaves extra space up top to either use for decoration or to store other small grab-and-go items.
Think outside the box with secondhand finds
Repurposed lockers make for totally chic, organized storage space. Kendra Dand of Homespun Cottage wanted to find a way to maximize her small entry for her family in a fun, decorative way.
"When we found these old metal lockers on Facebook Marketplace, I couldn't resist their charm and functionality," she says. "They tuck perfectly inside our front door and offer an incredible amount of storage for such a small footprint." The lockers only cost $50, and a new coat of paint made them look like they have always belonged in their home.
Hack IKEA's Moppe for small-stuff storage
Pati Robins of Style Squeeze knows how to glow up an IKEA Moppe unit or two.  She keeps small items that would otherwise end up in a kitchen junk drawer—like pins, batteries, and sewing materials—in the small drawers of this unit. "The longer drawers, which have also three faux library pulls installed, hold some of my camera accessories. Now everything has its own place," she says.
Install slim shelves to hold sunglasses
Not everything has to be tucked away to be "organized."  These floating shelves and hooks are a perfect example of organization on display. While this tiny blank entry wall might have been ignored by some, to Caitlin Sirianni, owner of NEAT Method Philadelphia, it screamed potential. She said while working on this client's home, storage space was limited, so she had to get creative. "Floating shelves and hooks are a great way to combine storage and decor," she says. "Not only is it functional—if you can see it, you'll use it—but it also transforms the client's collection into artwork."
Employ multiple types of storage so everything has a place
This entry by Medina of Grillo Designs pretty much checks all boxes on the organization front: hooks for bags and hats, a spot for umbrellas, a mirror to check yourself, enough baskets to categorize your accessories and even have a designated outbox—plus a door to close in case you sometimes lose track of your organization.
Think thin when it comes to narrow entryways
Another win from Pati Robins of Style Squeeze: Since this one-meter hallway is so narrow, she says she decided to ditch the traditional front entryway bench and install these narrow IKEA shoe cabinets. "You can be surprised how much you can fit in these," says Robins.  It's currently holding her household's shoes, dog collars, harnesses, and leashes.
Go even smaller for extra-tiny entryways
I mean, this is a tiny entryway. Like Robinson, Julie Christiani of Ikea Hackers uses an IKEA shoe cabinet in her entryway—but in a smaller form to accommodate the smaller wall space. She glued hooks to the inside and hangs her keys, and uses the inner compartment to sort her mail, too. The small ledge on top allows her to keep a bowl for loose change, and the addition of the mirror and plant takes this from a basic IKEA shoe cabinet to real entryway.
Make things simple with labeled shelving
"I wanted a more streamlined way to manage the entry to my house and found that by creating specific homes for items that seemed to constantly create clutter on the first level, it has made a world of difference in keeping me organized in such a heavy traffic space," says Ashley Hatcher, closet designer, owner of Neat Method DC and Northeast Regional Director of Neat Method. She says the top row houses the items she might grab on her way out (umbrellas, sunglasses, headphones and/or chargers), and on the bottom row, she's created a system to manage incoming mail and paperwork.