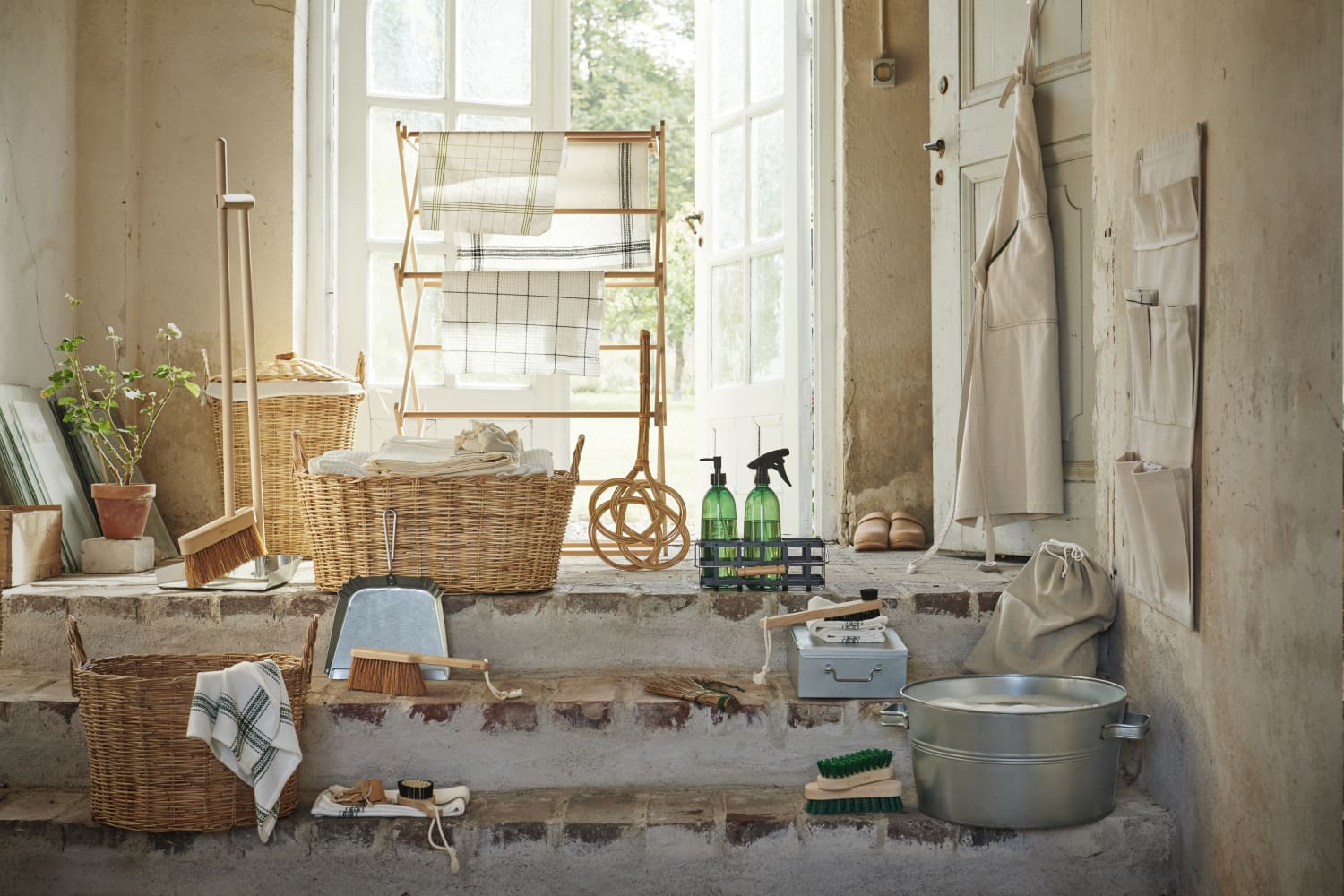 Whether you're in the middle of our January Cure program, or you're just looking ahead to spring cleaning, IKEA's new collection is meant to tidy up your home in no time.
Called BORSTAD—which means "brushed" in Swedish—the limited line features functional cleaning tools made from materials such as hardwood, cedar, rattan, metal, and canvas. The pieces, many of which are throwbacks to traditional ways of cleaning and maintaining our homes and wardrobes, are meant to be "rustic" and "eco-conscious," while making cleaning "easy and elegant," according to a press release.
Here's what you can expect to see from the BORSTAD collection, coming to U.S. stores in February 2020:
The greenest cleaners are the ones you make yourself, and the collection has bottles to for mixing your own. They come in pump or spray for $2.99 each (they're made of plastic and not glass, FYI), as well as a steel basket ($9.99) for carrying your products around.
You can't go wrong with classic rattan baskets. Handwoven and clear lacquered, the BORSTAD options range from $24.99 for the round one with handles to $39.99 for the lined and lidded laundry hamper.
If your closet is musty or moth-prone, these cedar squares ($4.99 for 9) can help protect your clothes.
Brush your shoulders—and everything else—off: skip your hair and take this brush ($4.99) to your clothes, which should prolong your wardrobe between dry cleanings. Or at least make your Mr. Bates cosplay more believable.
IKEA's take on a traditional carpet beater ($5.99) is not only beautiful and takes up less room than the vacuum, but also gives you an upper body workout (and gets out any aggression) in the process.
Among the laundry supplies (which include both a standing foldable drying rack and a wall-mounted version, both $34.99) is this handy little hanger ($6.99). Hook it over your shower curtain rod, and let your hand-wash only items drip dry directly into the tub.