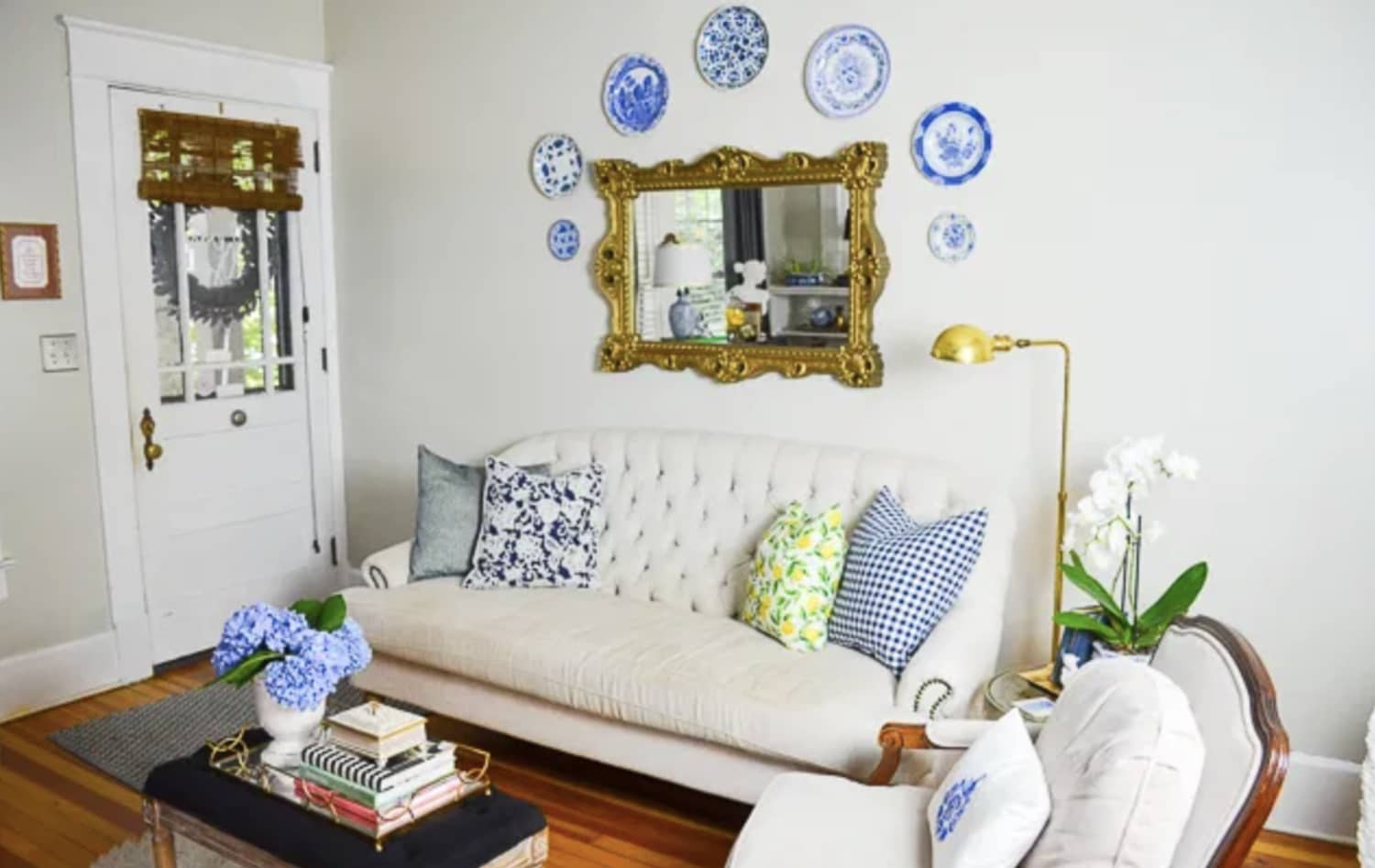 If you're in the market for new lighting, you can't go wrong with a pharmacy lamp. It's classic yet versatile, meaning that whether your style leans traditional, slightly modern, or somewhere in between, you can 100 percent incorporate one into your space.
It's easy to add a pharmacy lamp to almost any room, given that most are adjustable, have a small footprint, are relatively lightweight, and come in a variety of sizes and finishes. While they bring a definite vintage vibe to any space, pharmacy lamps are still bright enough to read under and look lovely when paired with more contemporary furnishings. Below, we're sharing a few of our favorite ways to style pharmacy lamps throughout the home. Scroll down and get inspired!
Blogger Jordan Kahn designed a cozy reading nook in her living room that looks even lovelier with the presence of a pharmacy lamp. Though Jordan enjoys switching this area up to reflect seasonal changes, the brass lamp remains present all year long and complements a variety of colors, pattern, and textures. If you have an arm chair, a lamp like this is makes for a perfect pairing pretty much every time. This combo is a great solution for filling an empty corner, too.
Alaina Kaczmarski, a blogger and co-founder of The Everygirl, included a rounded pharmacy lamp in her family room, which adds an elegant touch of brass to the otherwise neutral space. Given that the room features a large pendant light, the petite pharmacy lamp is an ideal choice to layer in, adding extra warmth without being too bulky or flashy.
Blogger Christy of 11 Magnolia Lane fell in love with her pharmacy lamp from the moment she spotted it at an estate sale, and it looks delightful in its new home. She notes that her lamp's eyeball-style shade swivels to direct light where needed and also features a dimmer. So if you find a new version of these old school lamps, you don't have to compromise the conveniences of modern technology.
I was fortunate enough to score the brass pharmacy lamp pictured above for free on Facebook Marketplace last year, and, much to the excitement of my friends who also love the style, I've even spotted a few others while thrift shopping. The area pictured here was actually part of a lofted, attic-like space in my former apartment, so lighting was at a premium. The small lamp brightened up the room without detracting from or interfering with the large sconce on the opposite wall. Plus, I loved how the brass complemented my storage trunk-turned-coffee-table without being too matchy-matchy. At their best, these lamps really do just recede into the background and play a more decorative supporting role. But they're great when you feel like your living room or even workspace is missing something, and you just can't put your finger on it.
My friends and I love pharmacy lamps so much that my friend Chris and I chose to feature one when redecorating our friend's living room this past summer, as shown above. The lamp is right at home with other classic pieces including a jute rug, ginger jar lamp, and nautical prints.
As you can see, it really doesn't matter whether you style skews more traditional or you love a more boho, eclectic mix. A pharmacy lamp can add a little bit of brightness to your space and reinforce an accent color—or material—already in use in your space. Or it can introduce an entirely new finish. The elegance of its curved neck adds a graceful, interesting shape anywhere you put it. And the best part—no wiring required, and you can move your pharmacy lamp as much as you want, whenever you want.