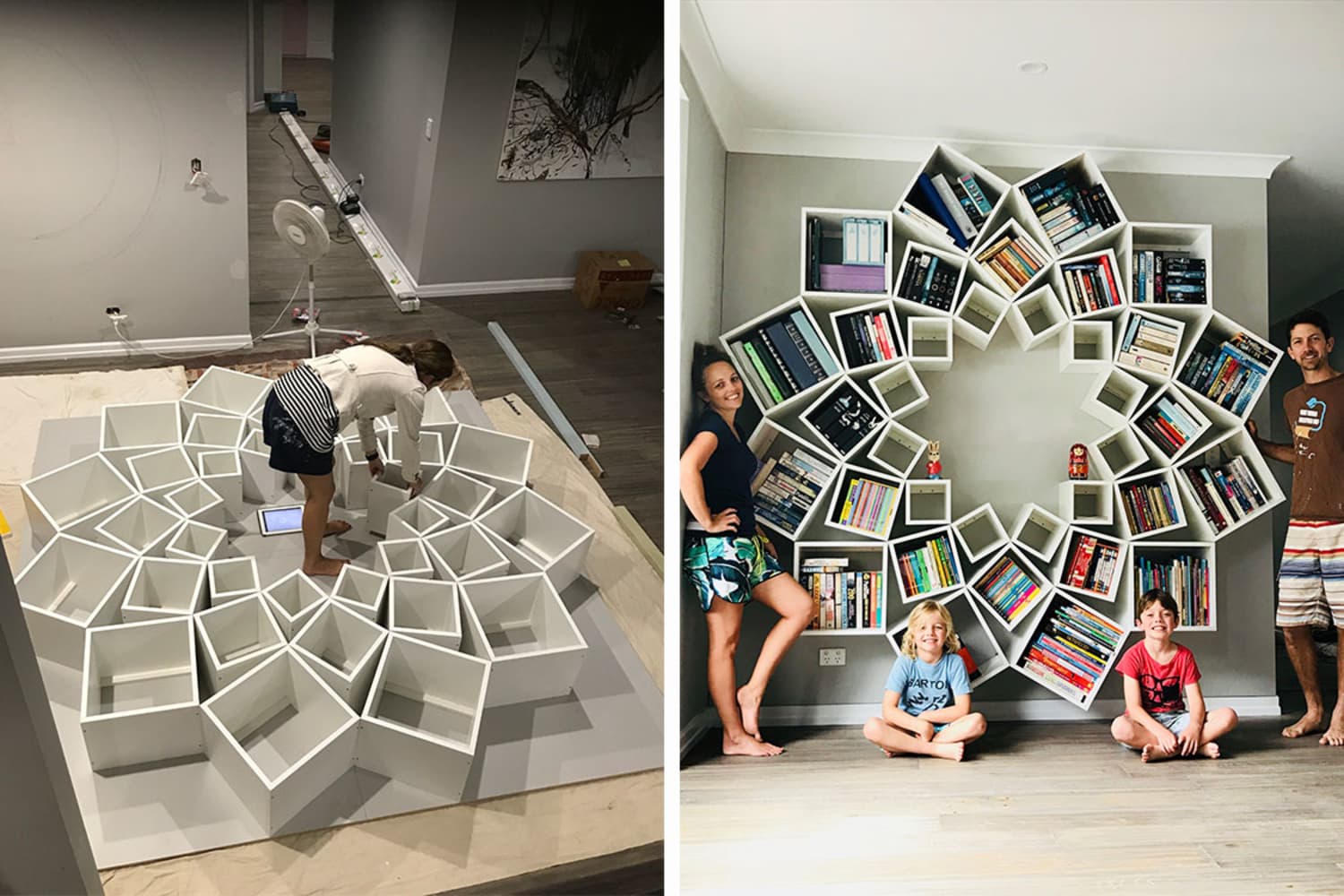 When you see an impressive DIY project, sometimes it's enough to admire it from a far. But there are instances when the homemade creation sparks a fire inside of you, and the only way to put out the fire is to make it yourself. With enough willpower, anything is possible, and high school sweethearts Jessica and Sinclair Breen proved that to be true with their bookshelf made of boxes.
After the Australia-based couple finished building their home, Jessica stumbled upon a photo of the DIY bookshelf and immediately knew that it was worth attempting to build. "When I showed Sinclair he almost had a heart attack," Jessica told the Daily Mail. "We knew we had to try it." And with Sinclair's profession as a builder, they knew that skill was on their side from the beginning.
The first step was figuring out if it was doable with their wall space. The couple measured their empty wall, then handed over the dimensions along with a photo to a graphic arts teacher that Jessica worked with. Just like magic, the teacher was able to inform them of all the panel sizes they needed, and to the manufacturer they went. 
$900 ASD later (which is about $621), and they had all the pieces needed to construct their dream bookcase. All they had to do was…build it.
They started one morning at 8 am, first constructing all the boxes, and then screwing all the boxes into place. The Breens wrapped up the process at around midnight that night, and even though it was a big project, they managed to finish it all in 16 hours. 
"My boys love the seating area and bookshelf," Jessica said. "The books along the bottom of the bookcase are all theirs—so they are quite happy to chill for a bit there, read and hang out."
So next time you doubt whether or not you can tackle that ambitious DIY project, remember the Breens' story. And maybe get a helping hand or two.