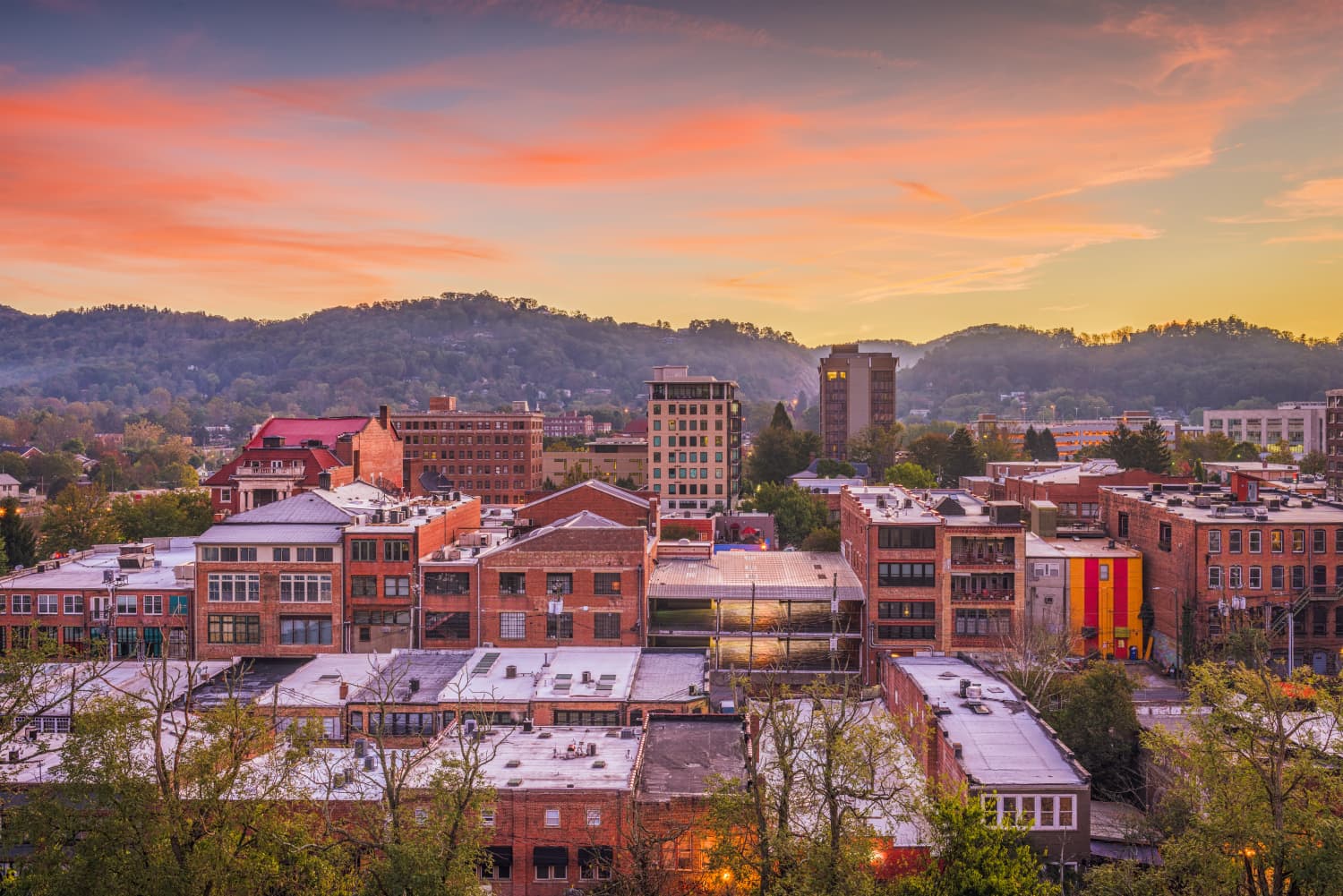 Known for its beautiful setting in the Blue Ridge Mountains, Asheville, North Carolina, is a charming metropolis for those seeking a mid-sized city to call home. Aside from abundant natural beauty and a temperate climate, Asheville offers a lively arts and music scene, plus diverse cuisines and more breweries per capita than any other U.S. city. (Its unofficial nickname? Beer City USA.) It's also a place where median home values hover in the $300,000 range, and median rent clocks in at $1,600.
If you're drawn to the area, Asheville isn't the only worthwhile spot to go house hunting. There are a number of small towns surrounding this North Carolina city that are just as cool. Check out these 14 nearby small towns that give Asheville a run for its money.
About 50 miles outside of Asheville, Sylva has a population of just 2,500 people, lending it plenty of small-town charm. Sylva is home to the historic Jackson County Courthouse, which was built in 1914 and is widely considered to be the most photographed courthouse in North Carolina.
Known as the "Land of Waterfalls," Brevard has more than 250 of them to explore. It's also home to a large population of white squirrels—and you can even adopt one, if you're feeling charitable.
If you love to hit the slopes on a regular basis, the classic ski town of Banner Elk is for you. It offers a relaxed vibe in a beautiful setting, not to mention lovely mountain views.
Located just 10 miles outside Asheville, Weaverville has a quaint downtown area and plenty of natural beauty, including Lake Louise Park and Main Street Nature Park, for when you want to get away from it all.
Come to Waynesville for its proximity to the Great Smoky Mountain National Park, and stay for the quirky shopping experiences.
As its name implies, Hot Springs is rich with natural hot springs, filled with pure mineral water. The famous Appalachian Trail also cuts through this small town that was voted the Best Small Mountain Town from Georgia to West Virginia by Blue Ridge Outdoors Magazine.
Aside from Asheville, Hendersonville has the largest downtown area in the western part of North Carolina. That means there's a lot to do. Christmas is an especially festive time in this town, as its Home for the Holidays event celebrates all things merry and bright.
Maggie Valley offers plenty of ways to explore the great outdoors, ways in which are not limited to skiing, snowboarding, tubing, fishing, and hiking. The town's Wheels Through Time museum has the nation's best collection of rare American vintage motorcycles, while the Elevated Mountain Distilling Company is the spot to sample premium, small-batch whiskeys and spirits. 
Morganton is the site of Fort San Juan, the oldest known European inland settlement in the United States. (Believe it or not, the Spanish fort was built 40 years before the English settlement at Jamestown in Virginia.) Beyond history, there's plenty of hiking, biking, and fishing in this outdoors lover's paradise. Stop by the stately Historic Burke County Courthouse to learn all about the area's roots.
If lake life appeals to you, the "crown jewel" of North Carolina boasts its very own beach. After a swim, be sure to check out the aerial views from the top of Chimney Rock.
One of the more affluent towns in the area, Highlands is a popular place for vacation homes, thanks to the surrounding Nantahala National Forest. At an elevation of 4,118 feet, you'll feel like you're on top of the world.
Asheville is just an hour east of Bryson City. Take in the Nantahala River, Fontana Lake, and the Great Smoky Mountains National Park here, then hop on the train for a scenic railroad excursion.
10 Affordable Cities Near Asheville