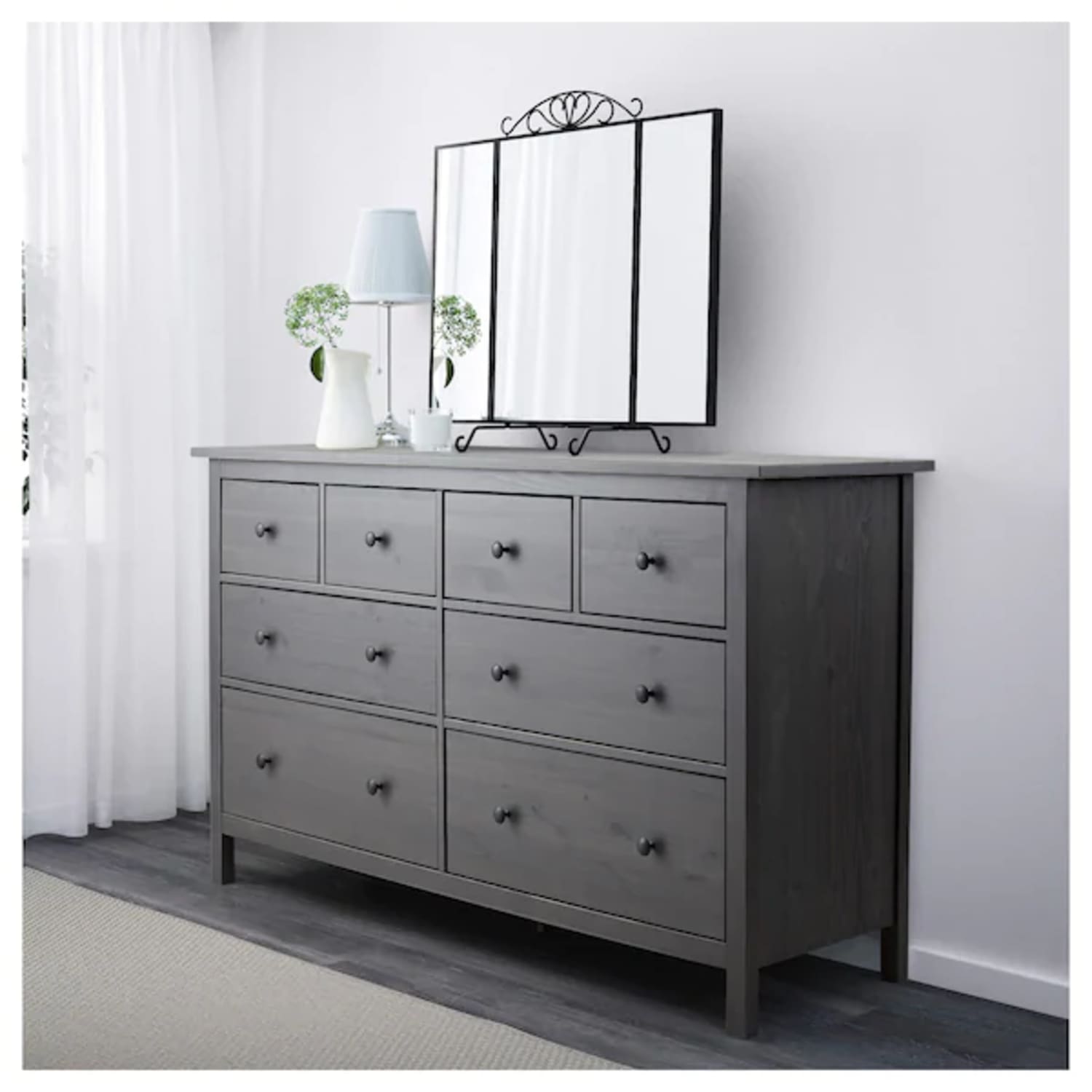 There are a few pieces of IKEA furniture that are so universal, just about anyone could pick them out of a lineup—the BILLY bookcase, the LACK tables, the POÄNG chair, and, yes, the HEMNES dresser. 
These models are popular for good reason: They're affordable, basic enough to work in just about any space, and—because they're made of solid wood—they're easily hackable so you can add your own personal touch. 
In fact, sometimes all it takes to make these simple pieces feel high-end is a little bit of reconfiguration, new hardware, or a coat of paint. Skeptical? Check out these mind-blowing IKEA hacks for the HEMNES dresser and its cousins, the HEMNES three-drawer and six-drawer chests.
Satin-y paint, a stained top, and new hardware
Three low-cost upgrades make this dresser appear much more custom. First, a fresh coat of French blue paint and a stained top distinguishes the piece from the traditional all-white, -brown, or -natural options IKEA offers. Then, affordable hardware (less than $10 for the set!) pulls the look together.
Cane webbing with sleek pulls
Though this clever hack requires a bit more DIY know-how, it renders the HEMNES almost unrecognizable as an IKEA piece. The finished product is perfectly suited for a sophisticated bedroom or a beachside bungalow.
A colorful ombre paint job
Gradient shades of pretty pink paint turn a basic dresser into a sweet and ultra-feminine focal point that looks just as at home in a nursery as it would in a living room. The look can easily adapt to different paint shades, too.
Matte chalk paint with cool modern legs
Paint, stain, and mid-century style knobs
After sanding and a fresh coat of stain and white paint, this two-toned dresser has a mid-century modern vibe that's reminiscent of a much more expensive piece you'd find at a mid-century-style store.
If you can cut contact paper to size, you can pull off this sleek DIY project in less than an hour. And because contact paper comes in such a wide-range of options, from patterned to wood, it's easy to adapt it to your own aesthetic.
Nailhead trim and textured wallpaper
The HEMNES is nearly unrecognizable, thanks to textured wallpaper and decorative nailhead trim. Though it does require a bit of patience, this project is relatively simple and very affordable.
Clever DIY custom legs (and a standout paint color)