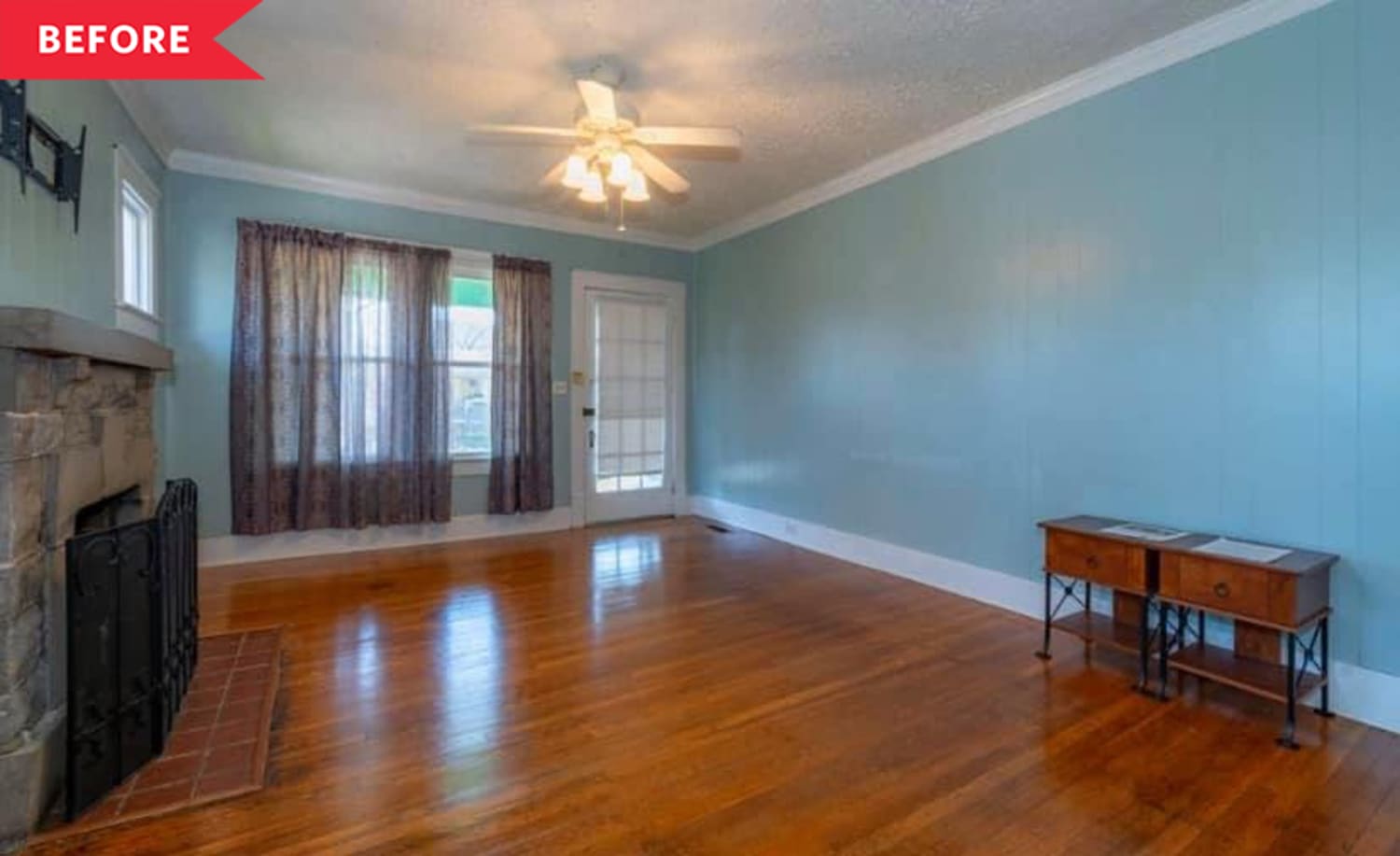 We independently select these products—if you buy from one of our links, we may earn a commission.
Paint can make a huge difference in the look and feel of a room. And while some colors are go-tos for a reason, others might not showcase a space in the best light. Take this living room, painted a powdery blue when Krista Stooksbury, her husband Blake, and their two young kids moved in. The dingy color dragged the whole room down, even though there were plenty of likable features—including nice hardwood floors, big windows, and a cute little fireplace. "It just needed some love, and my personal favorite, white paint!" Krista says.
With the help of family, Krista and her husband Blake repainted the blue walls crisp white; then, they filled up the few holes in the fireplace with mortar and painted its natural stone black (Sherwin-Williams's Tricorn Black). After that, Blake hung new sheer linen-blend curtains in a pretty blush shade.
Since the old ceiling fan felt too clunky for the space, Krista and Blake decided to swap it out. Their first pick, a multi-armed statement piece, wasn't quite right—even though they liked the look, it seemed too big for the room. Their new pick, a simple flush mount, looks way sleeker than the old fan and makes the room feel bigger, too.
(Yes, the horseshoe over the door is upside down, Krista says: "We hang it that way so that luck falls on anyone that walks through the door." So sweet!)
The sectional—an IKEA find—was from Krista and Blake's old house, but Krista didn't feel like it fit the new space pre-makeover. "We bought our sofa to work with the layout of our last home and I hated the way it fit when we first moved in, but now I actually like it," she says. Adding blush-toned art above helps tie it in with the rest of the room. An accent chair by the fireplace, from Target, is another affordable piece with major style.
Now, the living room—where the family spends most of their time together—feels so much more welcoming, says Krista. And good thing: This was the first project of many in the family's new digs. "It was important to have a room that really feels like home while we work on remodeling the rest of our house," says Krista. "It's bright and functional, minimal, yet cozy." A true dream space!
Inspired? Submit your own project here.