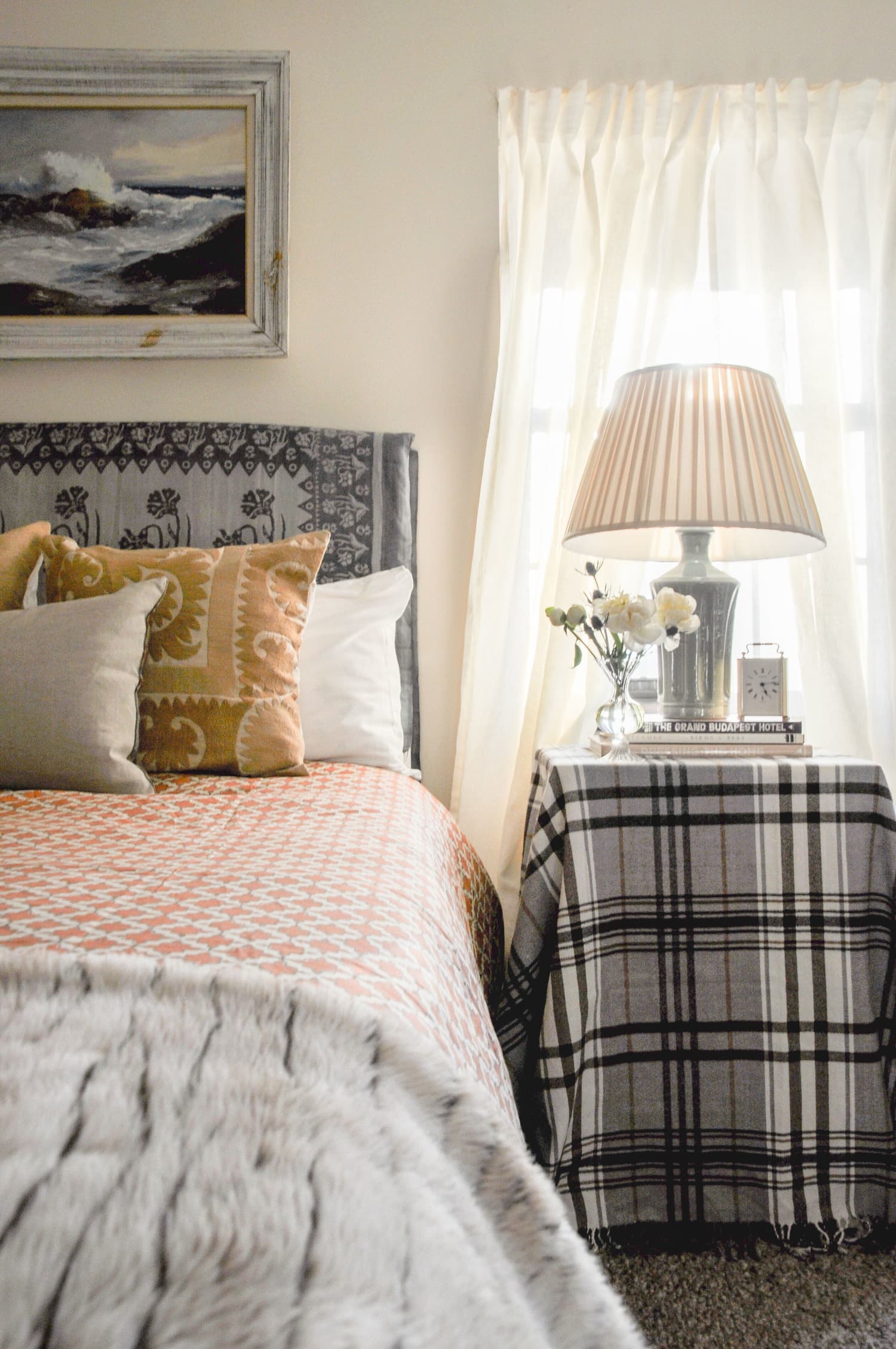 We independently select these products—if you buy from one of our links, we may earn a commission.
Old school items I never thought I would see again like chokers, fanny packs, and Dad sneakers are back in style, proving that anything can be trendy again. But home decor trends don't move quite as quickly as fashion, so I was legitimately surprised to see something come back that I thought would never resurface: furniture and sink skirts.
And even though they've been the subject of derision since their heyday, I'm on board with them, because when done well, skirts can look as chic as the plaid nightstand situation you see in the bedroom above. But there are a few things you should keep in mind for rocking this trend in your room, this time around.
First, as a stylist, I know the right skirt can elevate your look and flatter your figure. Well, guess what? Skirts that wrap sinks, beds, tables, and benches can add color and dimension to a room while serving a legitimately useful purpose—hiding stuff you don't want on display. Think about it: If you have a pedestal sink in your bathroom with no cabinet space or shelving for things like toiletries, you can totally wrap a skirt around your sink as shown above, and stash cleaning products under that baby.
Meanwhile, a bed skirt is a way cheaper option for camouflaging things like out of season clothes, suitcases, and other miscellaneous items than a new bed frame with built-in drawers, for example. On the whole, furniture skirts are a relatively inexpensive, almost scrappy, way of adding storage to your space. And they're a great solution for upgrading pieces of furniture and hand-me-downs, too, The trick is making sure what you choose doesn't feel stodgy and straight out of the '50s.
If you decide to bring one of these skirts or a piece of skirted furniture into your home, I have a few pointers. First, with kitchen sink and bathroom skirts, it's best to avoid busy patterns because they can draw attention to the very area where you are trying to secretly store things. Also, you can eep it simple with a neutral or subdued stripe, or play up the modern farmhouse aesthetic further with homespun linen. 
For bed skirts, we suggest choosing one that lies flat and close to the mattress for a streamlined, modern look. If you want something with a bit more style, trim is an option. A simple ribbon trim has a preppy, hotel vibe, while fringe and macrame, like the Serena & Lily bed skirt above, bring boho flair. Introducing pattern here is tricky, but it can be done. Whatever you choose has to work in tandem with with your bedding, so bear that in mind. 
Also—and this might be an unpopular opinion, but hear me out—when it comes to skirt material and silhouette, try to avoid the voile, ruffles, lace, and puffy pleats of yesteryears. That is, unless you're all in on having an ultra romantic space (and if so, get after it). A sweet floral can certainly work, if the above kid's room is any indication. But this time around, skirts are less shabby chic and more tailored.
Don't be afraid to go for a skirt! They're a great way to add personality and squeak out a little extra storage in your space—your grandparents would be very proud!