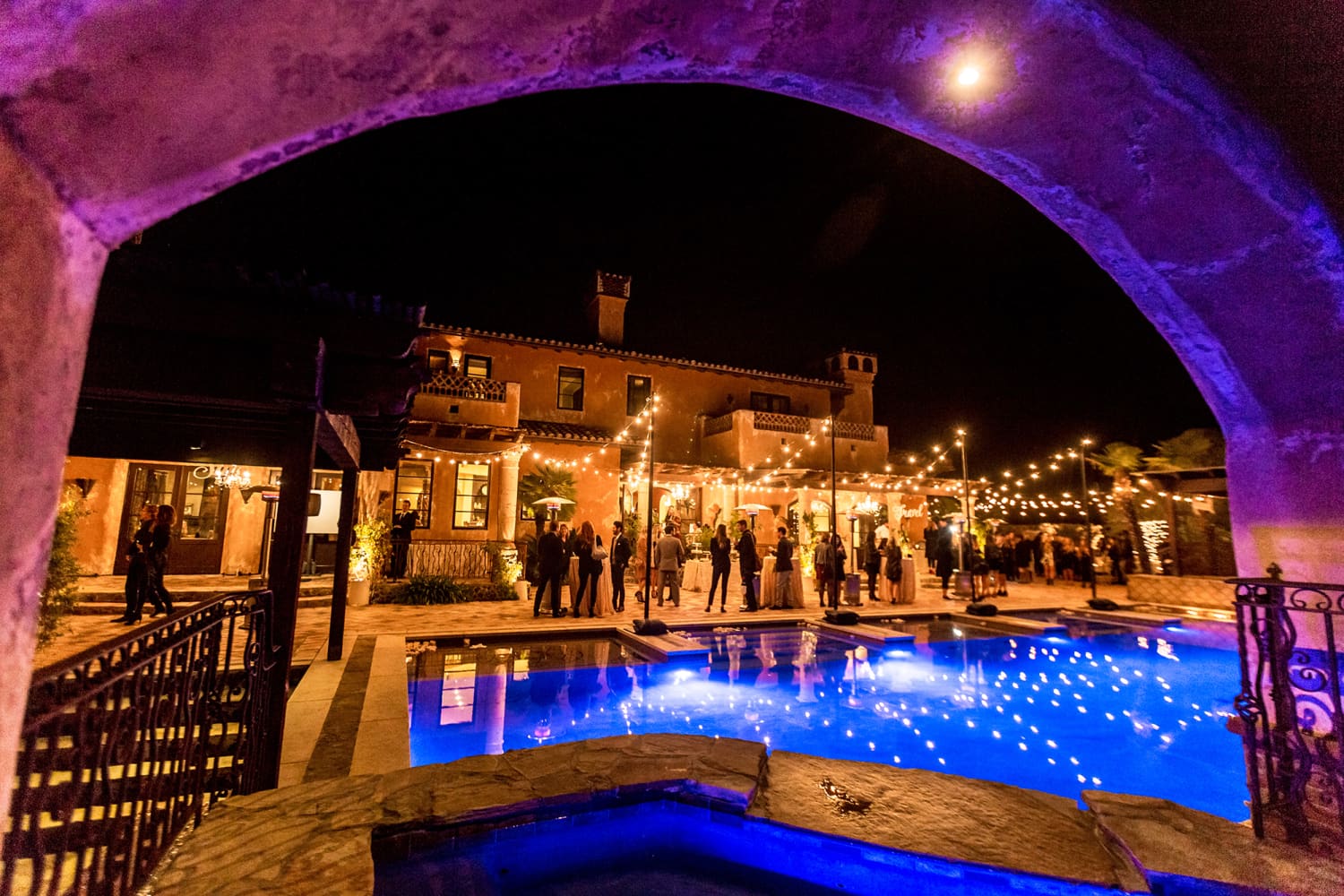 Ashley Iaconetti cried there. Corinne Olympios napped there. Nick Viall showed up there. And then he showed up again. And again. 
The Bachelor mansion's stucco walls have seen some things. But beyond that, its archways, dramatic landscaping, and sky-high ceilings make it a shoo-in for the best house in reality TV history. 
Playing the dual role of Cinderella's (or Prince Charming's) castle and isolation cabin, the Mediterranean-style home in the Santa Monica Mountains has enjoyed courtside seats to countless make outs, breakups, and ill-advised one liners for more than a decade. Over the years, America's most over-the-top love fest has played out in its more than 10,000 square feet of glittering grandeur—and by its jaw-dropping pool that's perfect for staring into and contemplating the trials of the heart.
Officially named Villa de la Vina, the chandelier-dotted manse is as much of a character in "Bachelor" nation as rose petals and Chris Harrison himself. Plus, like everyone associated with the franchise, the mansion has its own Instagram.
Reality television is incredibly formulaic, and the houses contestants set up shop in for a few months are rarely just sites of convenience—they are often crucial to the plot itself. Beyond shows like "Extreme Makeover Home Edition", "Big Brother", and "Property Brothers", which revolve around real estate by design, programs ranging from "Are You the One?" to "America's Next Top Model" benefit from getting a group of (often) volatile, (always) fame-seeking people under one roof and seeing what happens next. 
Whereas the Real Housewives' opulent homes are an immediate proxy for their wealth, and "Survivor" contestants' self-built shelters underscore the challenges they face, the scenic splendor of the Bachelor mansion cements the notion that fantasy can turn into reality. Sure, many television homes have standout features—the black and white tiles in the Kardashians' foyer and the "Real World" fish tanks are undeniably memorable—but none are as iconic as the Bachelor mansion's shimmering driveway, where each journey begins. 
Plus, the place is gobsmackingly massive, offering beautiful mountain and vineyard vistas that you just don't get from your run-of-the-mill "Top Chef" dwelling. And while the ocean views offered to "Below Deck" cast members wining and dining yachters are often unparalleled, a floating apartment hardly compares to the grand stone fireplaces and Spanish tile floors in the Bachelor mansion. And with access to a pool this stunning, it's no wonder that normally level-headed personal trainers, professional twins, and pantsapreneuers claim they can "see themselves falling in love" with a person they've spent a grand total of 14 minutes talking to. 
A family actually lives in the mansion in the off-season, moving out for six weeks at a time so a new group of people with perfect teeth can move in each year. ABC zhuzhes up the furnishings ahead of every season, and though the specifics change, the mansion's luxurious wood accents, always regal curtains and rugs, and excessive amounts of candles return year after year to manufacture romance. The "Jersey Shore" duck phone doesn't stand a chance in comparison.
What's more, depriving contestants access to the outside world is the perfect formula for combustion—and is an enduring trope of reality TV. The Bachelor mansion is not governed by time or reason. Rather, season after season, as cocktail parties and rose ceremonies stretch from night to morning, the overriding logic is an irrational quest for companionship that, at sun's first blush, doesn't seem so unreasonable after all.
A lot of shows use isolation as a catalyst for drama, but what makes the Bachelor mansion so effective is that its exaggerated grandeur is calibrated perfectly to the fantasy the show is selling. Everything is romantic, so although the rotating decor and insistence that each season is a fresh start are a bit uncanny, the mansion's trappings lull contestants and viewers alike into the belief that maybe—just maybe—a fairytale exists after all.