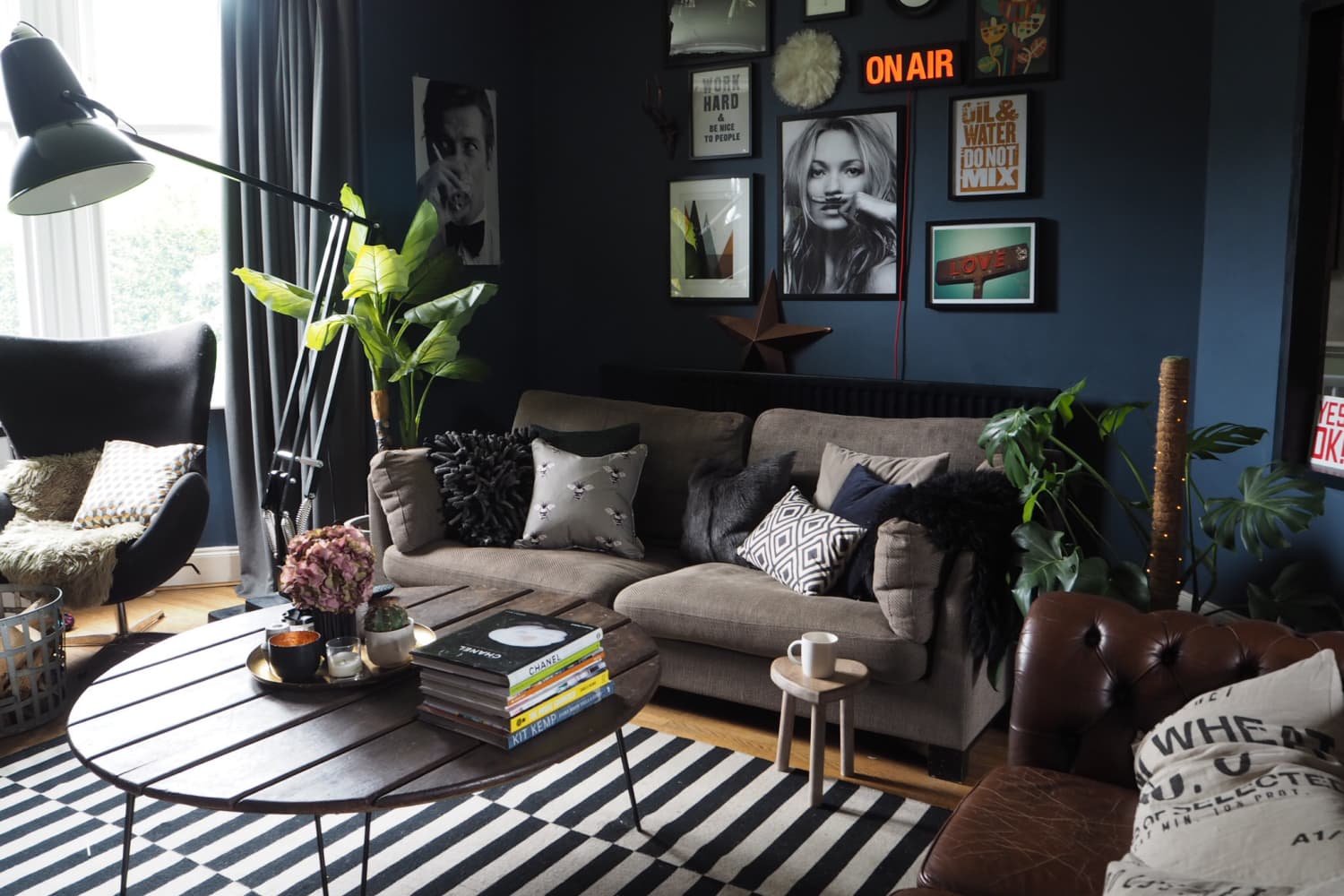 There's no denying the power of a good rug. It can instantly tie a room together, adding color and coziness in one easy flourish. You lay the right rug on your floor, and your room will suddenly look expertly styled—just like that. Of course, finding a rug that fits your color scheme, design style, and budget is no easy task. 
Oh wait. Yes it is. Because IKEA! The black-and-white broken stripe STOCKHOLM rug has made a lot of magic in the design world. With its neutral colors and simple but slightly different pattern of pieced-together stripes, the rug jibes in any space and adds just the right amount of visual punch. It's basic (but not too basic), gutsy (but not too gutsy), and it'll transform your room. Don't trust us? Take a look at these eight rooms that are designed around the STOCKHOLM rug. They're all wildly different, but they all look incredible.
This illustrator let her eye for color and graphics lead the way in her Montreal living room. The STOCKHOLM rug sits front and center—the furniture legs aren't even resting on it, giving it more weight as its own design element in the room. Wall art plays off the graphic look of the rug, and touches of mustard, blue, red, and green add color to the otherwise neutral room.
Artist and designer Molly Hatch designed this eclectic Massachusetts living room with her woodworker husband, and you can see their collective creativity in the mix. A rainbow of pillows adds cozy color to the space, and patterns mix and mingle throughout. The rug's stripes are echoed in the wall hanging, and somehow all the lines don't feel cold or too hard-edged. 
This kids' workspace took the black-and-white theme and ran with it. The large rug sets the color scheme, which is carried out in the bold but minimal furniture and decor. The only pops of color are touches of gold and blue from the lamps and desk supplies. We like how the similar but slightly different pet silhouette paintings play off the rug's design and give the kids another way to differentiate their desks.
If you were wondering, STOCKHOLM's modern pattern plays well in open spaces, too. I mean, you can't go wrong with black and white stripes, right? The rug's colors contrast well with the bold blue in the adjoining living room. A super light colored rug here might not have the visual weight to keep the two rooms in balance.
Who knew black-and-white could look so wintry? This post-holiday living room brings in tons of black and white graphic elements, from patterned pillows and blankets to a big chalkboard hanging on the wall. Everything's centered on the rug, and the scheme is warmed up a little by natural wood touches like ceiling beams and a wood top table.
Even interior stylists use this rug! But can you blame them? In this UK rental, STOCKHOLM provides just the right amount of punch to offset a gallery wall and pillows galore for a bona fide styling pro. If you find yourself worried about investing in too specific of a rug for your rental, STOCKHOLM might be the answer; you can use it in so many different types of rooms.
We love the modern-meets-retro vibe in this minimal living room. The brown leather couch and black-and-white photos bring a vintage, almost masculine feel to the space, but that's balanced by the modern STOCKHOLM rug and a few hits of baby pink. So much of this room is white and relatively blank, but it still looks super homey and fun. I think that has a lot to do with the energy that STOCKHOLM brings.
Didn't think this rug could look good in a dining room? Think again. This Scandi modern dining area keeps things simple with a marble dining table and curvy wooden chairs. The rug adds a playful pop of pattern that keeps the room from being full of only solid finishes.