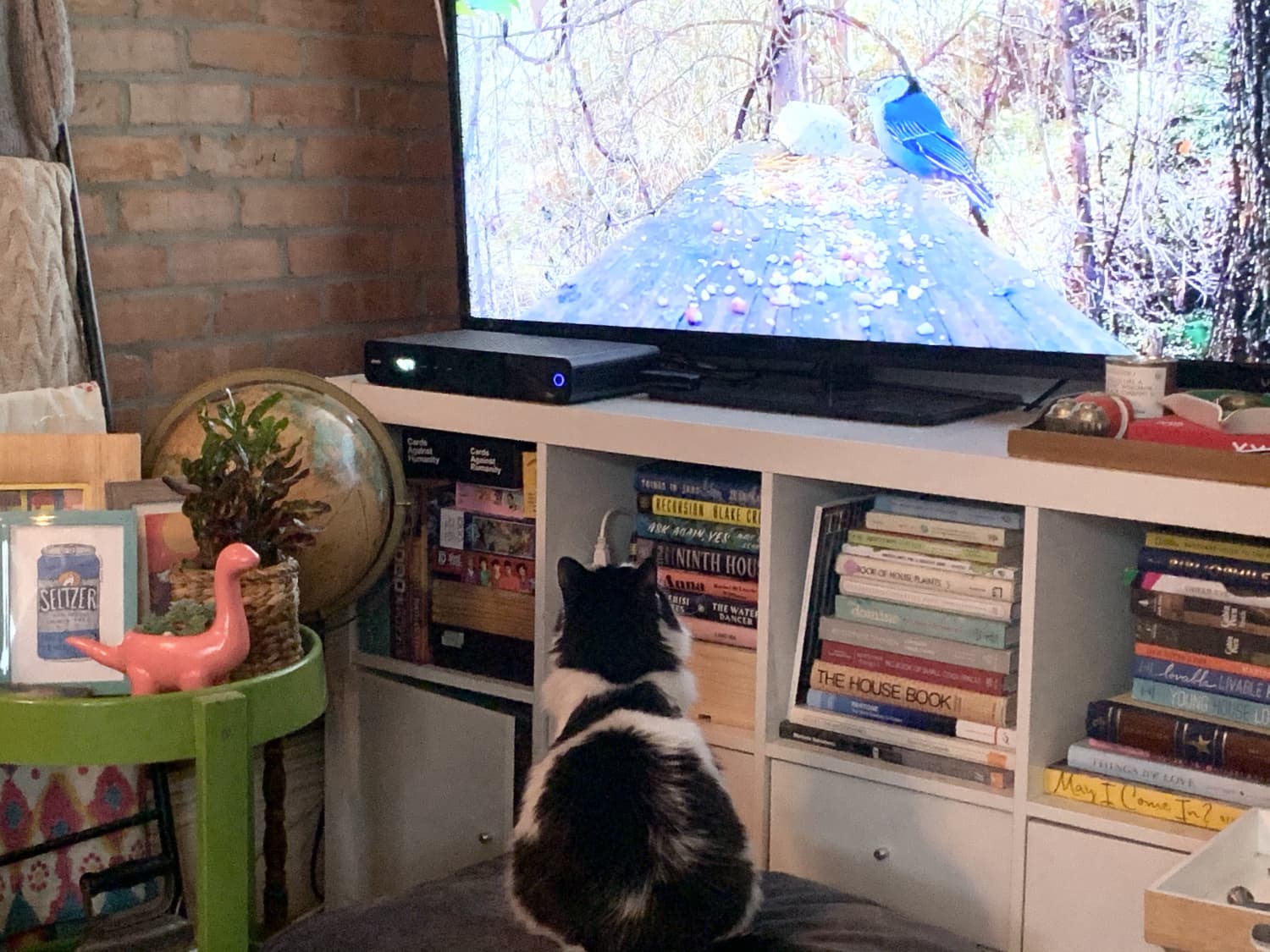 We independently select these products—if you buy from one of our links, we may earn a commission.
This week, I was introduced to the wonders of TV for cats by Design*Sponge founder Grace Bonney. She posted about it on her Insta Stories, showing a video of birds eating seed on a tree limb with the text, "Thoroughly enjoying this show that is 💯 made for cats. Literally. It's a feed of a birdhouse in the Smoky Mountains. I'm hooked. Bird drama!" Quickly, followers and their felines also became obsessed, tagging her in their screenings.
While there is some bird drama, overall it's pretty wholesome. The films in question are directed by an outdoor enthusiast called Backyard Birder and feature titles such as "Chipmunk versus Corn Cob," "Cooper's Hawk Hunting," and "Baby Robin's Day Out." The descriptions are just as earnest: "Against a beautiful deep forest background high in the trees Chipmunks take on a huge ear of dried corn three times as big as them—will they make it? Non-stop action with some natural 'jumps' to keep people and pets on their toes. Watch with the family. Kids and Pets will love it!" I don't have kids, but my cats were engrossed.
As you can see above, I just searched "cat tv" on my Prime account through my cable box. [Note that if you have Xfinity, it will not find cat TV through the voice search—you have to go to Prime first, and then search within Prime.] Most of the films run 20 minutes to an hour, or you can add them to a watchlist and have them play one after another. And you don't have to take my word (or my cats', or Grace's); most have over four stars on Amazon. Except for one entitled "Nocturnal Racoons," which as one review for three stars: "Yup—that's a raccoon eating seeds, alright." I mean, it delivers exactly what it says it will. A five star performance if I ever saw one.
While some say leaving the TV or music on for pets can help with separation anxiety, I'm usually working from home anyway; but I hope has some entertainment value for my city-dwelling indoor cats.