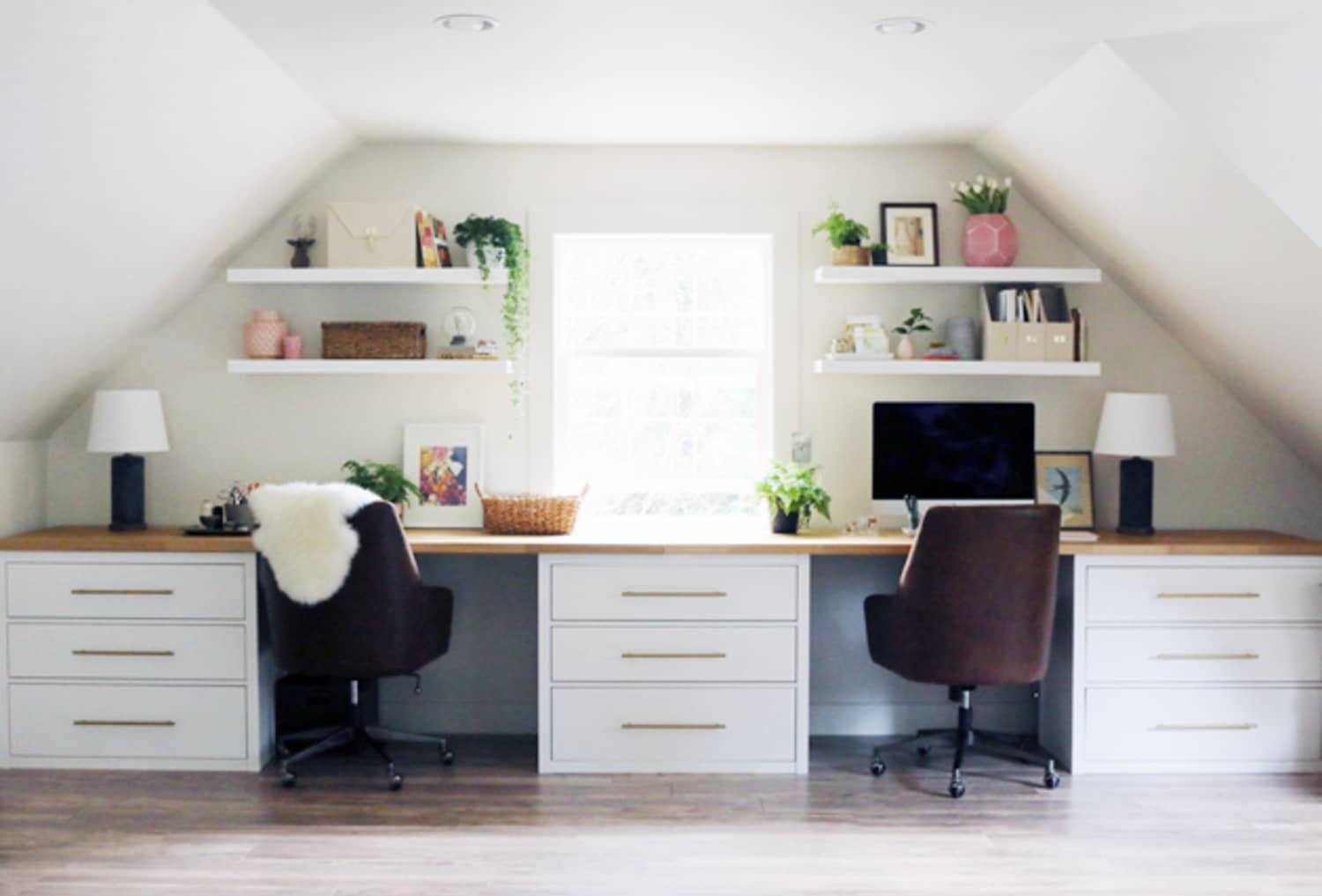 We independently select these products—if you buy from one of our links, we may earn a commission.
There's nothing like a plain, gray workspace to send your productivity levels plummeting. But you don't have to spend a fortune—or even make a ton of space—to make the most of your home office. Skip the motorized standing desk and the Herman Miller chair, and take a page from the IKEA hack handbook. That's right: You can hack your way to a more efficient and productive work space. These hacks prove that a simple trip to IKEA can equip you with everything you need to create an incredible desk that's both comfortable and practical.
Make a desk that fits two
To create a sleek workspace for two, Holly and Brad Lauritzen strategically spaced three gray ALEX drawer units and topped them with a beech GERTON tabletop. Organizational pieces—like white file folder drawers—and decor elements—like chalkboards—up the practicality factor of this desk.
A mobile desk for flexibility
The foundation of this desk is actually a dresser—not a desk. The blogger behind Addison Meadows Lane transformed the very basic piece of furniture into a sleek desk for her craft room with a little bit of paint and some new hardware, then adding castor wheels and a reclaimed wood and plexiglass topper.
A smart small-space desk solution
To squeeze a desk into a small space—like a studio or an already-crowded family room—follow this tutorial by Lauren Koster. She simply wrapped the shelf (which conveniently comes with two drawers built in!) in stained oak, then added hair pin legs.
A colorful no-paint-required option
To create this insanely inspired desk, Chelsea Foy, the blogger behind Lovely Indeed attached HILVER table legs to a LINNMON table top, then added a set of Micke drawers for storage space. But the next step is what really sets this DIY apart. Once the desk was fully assembled, Foy added colorful adhesive vinyl to each drawer to add cheer.
A storage-rich solution for max organization
This giant desk makes for an impressive statement piece in any home office, but the real draw is all of the storage space. To preserve floor space in a small room, Jennifer Flores took advantage of the vertical space by securing EXPEDIT bookcases to the wall above the desk.
A sleek desk with a built-in look
Emily Lex used three IKEA desks, a wooden countertop, and some pretty brass pulls to craft a desk for two people in a garage apartment. The result is a sleek and inviting workspace that looks custom-built.
A kid-friendly study space
Steph Bond-Hutkin combined some very basic pieces—a LINNMON desk top, a peg board, and BEKVAM spice racks—to serve as the foundation for an incredibly adaptable workspace for homework and crafts, then added a pop of mint green paint (Taubmans' Sweet Pea) to give the desk plenty of spunk.