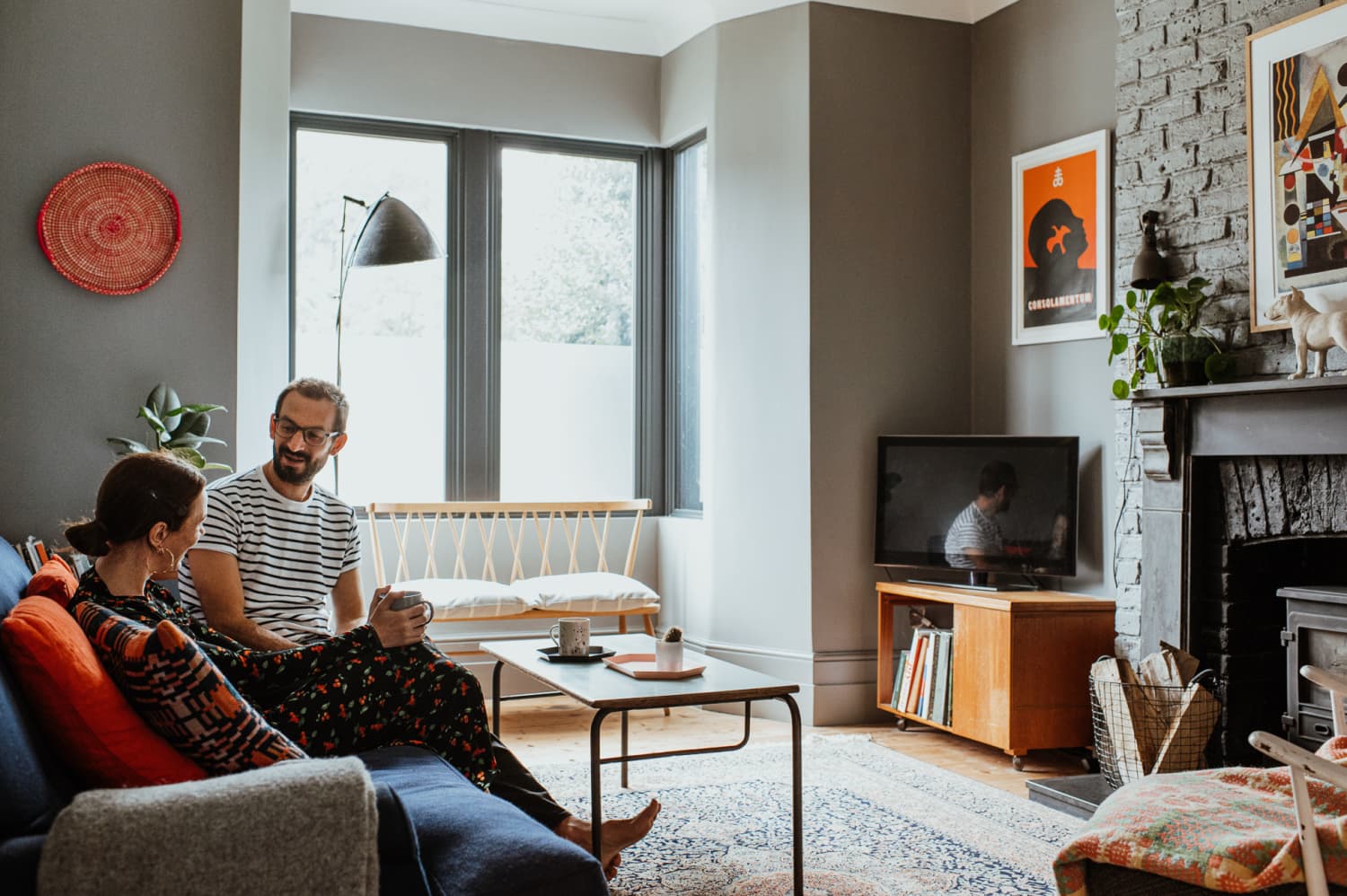 We independently select these products—if you buy from one of our links, we may earn a commission.
Name: Claire Brennan, a fashion stylist, and George Greaser, an automotive content strategist, with their daughter Lila, and dog Merv
Location: Leytonstone — East London, UK
Size: 1,800 square feet
Years lived: 7 years, owned
When Claire and George viewed their four-story Victorian semi, they knew it had the makings of their dream home: one that could balance the demands of modern living with traditional charm. The couple were drawn in by its four, even-sized bedrooms, high ceilings, and the huge possibilities it represented. But first it would need total gutting. "There's always a compromise when buying a home. This house needed lots of love, but there was room for expansion. We wanted to help it reach its full potential," say the couple.
When they moved in, Claire and George got sucked into renovations. "We did everything; rewiring, plumbing, plastering, we even replaced the staircase," says Claire. They then redecorated, bit by bit, over the next five years, deciding on a design scheme which referenced the house's history and their own modern alliances. "This used to be a service house for traveling railway workers, so we envisioned a robust industrial theme, but with warm Scandinavian undertones to bring it up to date," says George. 
As well as restoring original features like the fireplaces and woodwork, they added sympathetic touches like cast iron radiators, aluminum windows and brass door knobs. "We've also collected Victorian mirrors and other objects for some all important patina," says George. Plus, over time, found and thrifted furniture has been replaced by timeless investment pieces like their SCP sofa and HAY dining chairs.
The downstairs layout remained the same until 2017, when the couple began work on a single-story, single-pitch extension. The result is a stunning, light-filled open-plan kitchen-diner, with adjoined second living area, as well as a new utility area, downstairs shower, and WC. "We decided on the layout, and the architect came up with the overall proportions and shape to ensure it would flatter the house's exterior rather than look like an afterthought," says George. "He also suggested cool touches like a zinc roof and enclosed guttering—we think the details really pay off."
Renovating has been a slow and conscious process, which has made the extension the heart of their home. 'It's like our mini apartment," says Claire. "Once we come down in the morning we pretty much stay here all day. It was hard work but we are so happy we completed it," says Claire.
Apartment Therapy Survey:
Our style: Warm-industrial with a high-contrast Scandi twist
Inspiration: We wanted the house to reach its full potential in our hands, or at least get close. According to our longstanding neighbors who have lived in their house for nearly 60 years, it was built as a service house (an early type of Airbnb) in the late 1890s for traveling railway workers, meaning that visitors were coming and going all the time. The house had been a working home, so we decided to install a robust industrial theme but with warm Scandinavian undertones to bring it up to date. We also really like high contrast colors, so you'll find plenty of blacks and grays alongside whites and light blues. We wanted proper cast iron radiators too. We exposed or renovated as many of the original features as possible; floorboards, door frames, and fireplaces etc. The slate fireplaces on the ground floor came from George's parents' converted pigsty in Somerset!
Biggest Challenge: We designed the layout for the extension ourselves. The biggest challenges were getting our heads around the legals (BRegs, planning etc) and of course sourcing the right builder. Our daughter arrived just as we began the work too, which wasn't ideal, but luckily she's a tough little cookie.
Favorite Element: The design of the rear extension was the biggest transformation, and as a result the rear elevation of the house looks so much better. It's our favorite angle of the house. The windows transformed the house; out went the dated and fading PVC windows, replaced by narrow gauge aluminum picture windows in dark grey. They let so much more light in and are secure and draft free. The kitchen too, is very, very different to what was here before!
What Friends Say: We love hosting; we received a pretty decent response from most of our friends, but we host less parties now as we're far more protective over the house after extending it!
Proudest DIY: When we stripped the fireplace in Lila's room, I loved how the layers of paint looked like the sea floor. We wanted her room to retain the character and personality that we'd tried to create throughout the house.
Biggest indulgence: The sofa is our favorite piece; it's a timeless design by Matthew Hilton from SCP and is covered in Kvadrat fabric made from recycled plastic bottles. We took forever choosing the color, but glad we did, as we still absolutely love it.
Best Advice: If anyone asked me about whether to undertake a major renovation, I'd say go for it. It was hard work but we are so happy we completed it. Each step of the process took longer and was more expensive, but we were so thrilled with the results.
Thanks Claire Brennan and George!