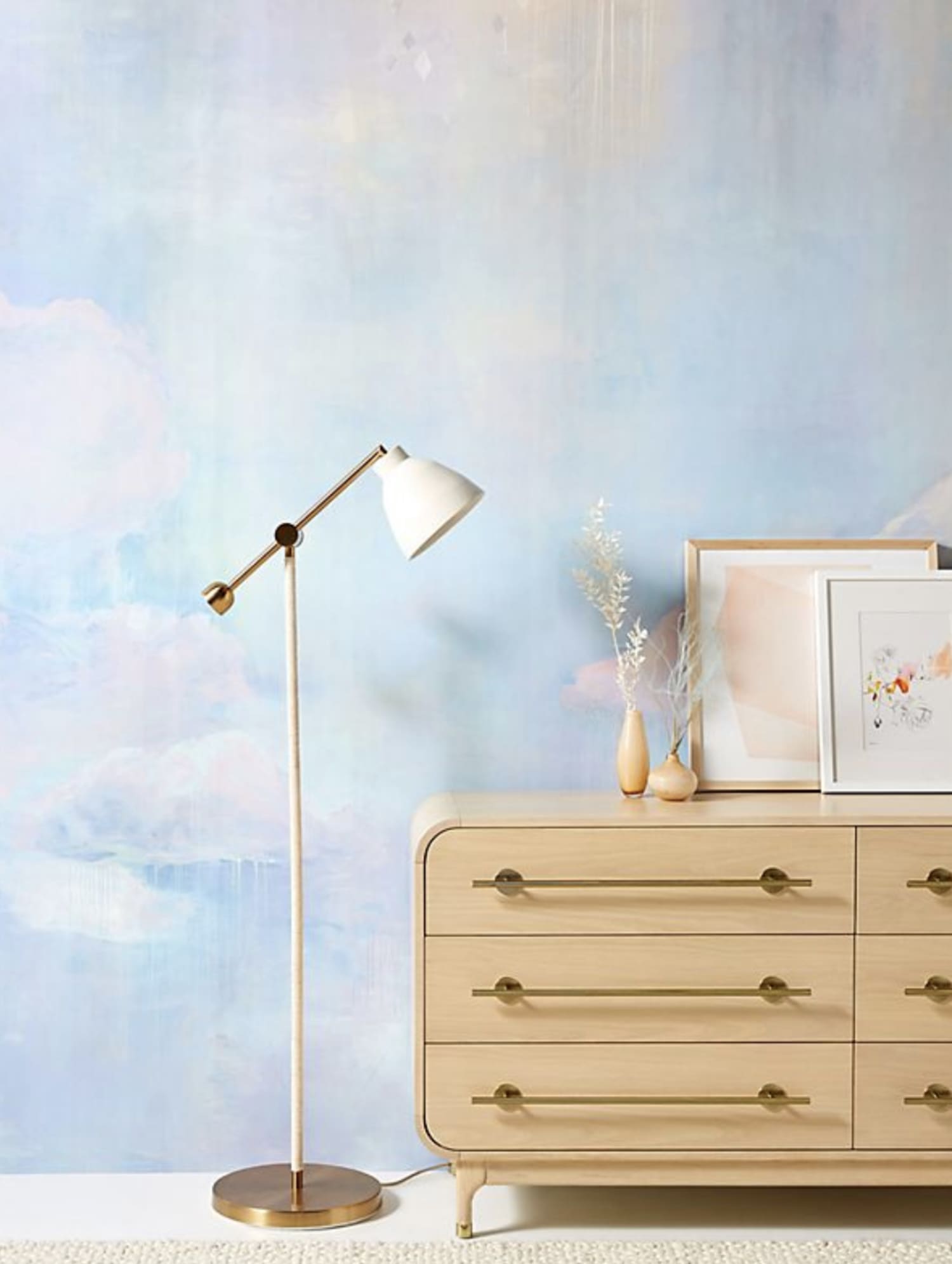 We independently select these products—if you buy from one of our links, we may earn a commission.
Anthropologie recently released their Spring 2020 home collection, and it's packed with so many goodies our eyes are about to pop out of our heads. As part of their new collection, Anthro released over 270 new wallpapers designed by some of the best interior decorators in the business. Some are even removable, so renters can get in on this goodness, too.
Yes, because Anthropologie is Anthropologie, you may have to drop a serious chunk of cash to cover an entire room with these wallpaper designs. However, if you're looking to paper a small space, or planning an accent wall, we absolutely give you permission to treat yourself to one (or several!) of the wallpapers below.
To see Anthropologie's entire new stock of wallpaper, head over to the site. But first, check out our faves to get inspired. 
Talk about pattern. Designed by Chris Benz, creative director of fashion label Bill Blass, the indigo-style Madison Wallpaper is inspired by Benz's "modern Brooklyn lifestyle." The natural-looking texture and white accents make us think of traditional Japanese boro patchwork.
Buy: Madison Stripe Wallpaper, Removable Roll $58, Pasted Roll $149
Cocorrina Planetary Magic Wallpaper
The celestial and moody Planetary Magic Wallpaper is a collaborative design between Cocorrina and Anthropologie. Corina Nika, the designer behind the Cocorrina brand, is based on a remote Mediterranean island and draws her inspiration from "unseen magic," "mystery of the unknown," and "the beauty of the moonlight."
That inspiration can definitely be seen in the Planetary Magic black-and-gold design. Sit in a room pasted with this wallpaper and you'll absolutely feel like brewing something up.
Camille Javal Dreamy Mural
Camille Javal, a Melbourne, Australia-based multi-disciplinary artist and designer, created this muralistic wallpaper for Anthropologie with the goal being to bring an etherealness to any relaxation space. In her art, Javal explores how color can "stimulate productivity, imagination, and positive emotional well-being," and focuses on creating happy, inspirational mural designs.
Belvedere Textured Wallpaper
Designed by the queen of modern farmhouse style, Waco, Texas-based Joanna Gaines, who may be best known as the co-founder of the lifestyle brand Magnolia and former co-star of HGTV's "Fixer Upper," this Belvedere Textured Wallpaper is actually wood veneer. The retro-look 3D effect tricks the eye and certainly adds interest into any space it's installed in.
Southwest Stripe Wallpaper
If simplicity is more your scene, check out the Southwest Stripe Wallpaper, available in three colors: taupe (pictured above), yellow, and green. Inspired by vintage wallpapers found in old farmhouses, the Southwest Stripe offers a bit of texture and warmth without going hog wild with color and pattern.
If you're looking for grandmillennial vibes, look no further. This floral wallpaper from House of Hackney, the "renowned London-based design house," includes iridescent turquoise details, traditional Jacobean-era patterning, and is basically a twist on classic British decor. It's modern, yet old-fashioned, and will stay in style for years (even decades) to come.