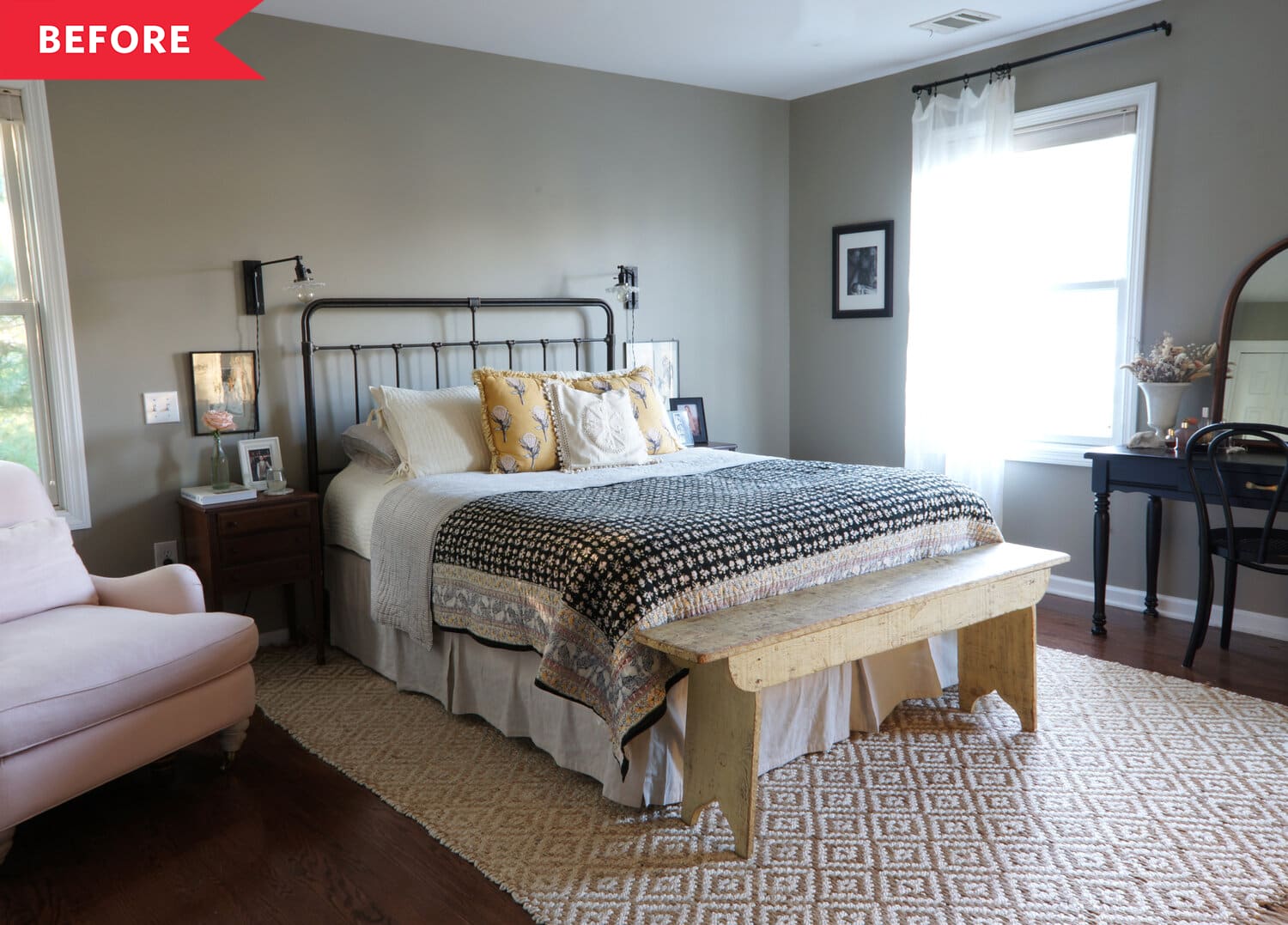 Sometimes your favorites from an old space just don't translate to the new one—furniture looks out of place, or colors have a different feel in the different lighting. That's what Dana Dubiny-Dore found when she and her family moved into their new home: The gray paint color they'd loved in the old place just didn't have the same feel in the new master bedroom. "In that room, it felt like wet cement," Dana says. "It was not inspirational, and the color made it feel dirty."
Not wanting to repaint, Dana started decorating around the paint, with mixed success. "I wanted to give my husband and I a nice retreat," Dana says. "We work hard, and our bedroom was not restful." But Dana wanted to be mindful of the environmental impact of a makeover, so she knew that she wanted to stick to secondhand finds wherever she could.
Dana used a piece of antique art as her inspiration for the new space; the floral painting, featuring warm browns and pinks, now hangs over the bed. For the walls, Dana ditched the old gray and installed board-and-batten wainscoting two-thirds of the way up the wall, painted in a warm cream (Ecos's Dried Grass). The white walls above make the wainscoting look extra effective. "That's my go-to trick for updating a home," says Dana. "I really wanted an old house but I knew it wasn't going to work for our family right now, so ours is newer. But wainscoting adds instant character."
In sourcing a bed, Dana scored big time with a beautiful wooden frame she found on Facebook Marketplace for just $25. It was colored with a yellowy shellac, but Dana saw the potential in the vintage oak piece (and was willing to put in hours stripping wood to get there). Antique sewing tables Dana scored for $10, also from Facebook Marketplace, make for adorable nightstands.
An antique three-fold mirror—bought for just $5!—gives the vanity table new life, as does a vintage Windsor chair. All together, Dana spent just $350 on fresh furniture and finishes for her space, reusing pieces wherever she could. "I wanted a relaxing, serene, vintage feel for my room," says Dana. "And my whole goal was to create an eco-friendly room by buying secondhand whenever I could. I feel like I achieved both!"
Inspired? Submit your own project here.