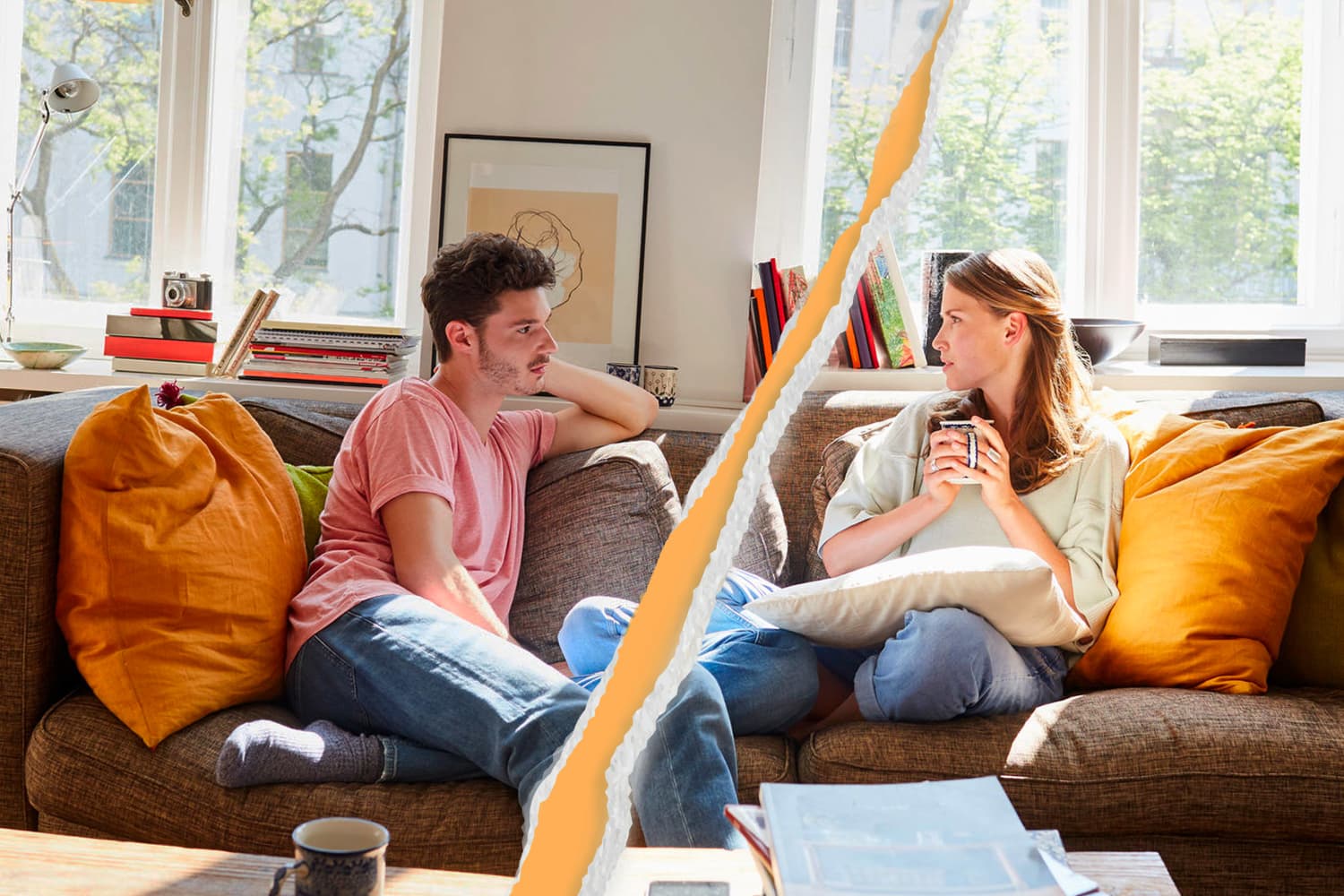 Marisa O. spent three months living in same apartment as her ex-boyfriend after they broke up. The two had been living together for two years in Boston at that point, and there were only a few months left in their lease. Once it was up, Marisa, then 25, planned to move to New York City—without him.
"It would have drained my savings to find my own apartment or take on the lease by myself," she says.
So, like an increasing number of millennials who've moved in with their partners, the two newly single folks stuck it out. It's a not-so-uncommon arrangement these days: In major cities where renters often have to shell out more than a third of their income for housing, bunking up with another person can relieve a huge financial burden. It's also less taboo than ever to live with a partner—according to a study from the Pew Research Center, millennials are more likely to live together unmarried than any other generation at the same stage in life. Is living together not unmarried, but uncommitted, a side effect of that?
"It seems reasonable that the more couples you have moving in together, the more likely you're going to have more people living with their exes," says Stefanie O'Connell Rodriguez, a personal finance author. "My husband and I were actually living with our respective exes when we started dating. Between not wanting to break our leases and the process of finding a new place to live, living with your ex for a while can just be a practical reality—like living with a roommate."
Marisa estimates she saved about $4,000 while avoiding moving costs, double rent payments, and lease-breaking fees. Another millennial, GG Hawkins, guesses her savings total around the same amount. Hawkins lived with her on and off boyfriend of five years in Brooklyn for just over a year, and continued living with him for two months after their breakup. For her, staying put just made sense.
"I was going through a big time of transition, leaving my job and figuring out what my next move was going to be," says the 28-year-old filmmaker. She says she was considering going back to school or starting a completely new career and didn't have the mental energy to throw moving into the mix.
"It would have been crazy to be paying for two apartments in New York City," she says. "To find a sublease, make it work, and move again? It's just so exhausting."
Marisa and Hawkins describe their arrangements as cordial. But making it work isn't always that easy.
"If you're still living with your ex, it's really hard to bring other people into the picture. There's a past with your ex that makes it pretty messy," says 26-year-old Janzen Vertner, who moved in with her ex-girlfriend outside Salt Lake City in the months after a breakup. It was in the name of convenience, she explains. The two remained friends after splitting up, but it wasn't a perfect situation.
"It's just so difficult in the middle of your busy life and in the middle of a breakup to find a whole new life and apartment," Vertner says.
Sarah Hughes, 30, lived with her girlfriend in Chicago for almost six months after breaking up.
"The normal post-breakup support from friends was hard to accommodate," she says. "For example, if I had friends over for a wine night, we would go to a common area in our building (which thankfully I had), and she would stay in the apartment."
Hughes estimates she saved around $7,000 by continuing to split the cost of rent during that time. 
Not wanting to drop thousands of dollars to move out of your place sure seems reasonable. The exceptions to that line of thinking, of course, are cases of emotional, physical, and financial abuse. 
"The bottom line should be your well being, and while money is a factor in that, it's not the only consideration," says O'Connell Rodriguez.
While Hawkins chose to cohabitate with her ex, she recognizes her situation wasn't an unsafe one.
"I had an emergency fund and I think this is very important for people, especially women, to have, in case they're in a situation where they need to get out," she says. "It's really important to talk about saving money and having an exit strategy, worst case scenario."
3 Things You Should Do Before Living With an Ex
Bola Sokunbi, a finance expert and founder of Clever Girl Finance, echoes that sentiment. If you've decided to live with your ex in order to ride out your lease or plot your next move—and have established it's safe to do so—there are ways to maximize your mental and emotional sacrifice.
"It's important that you put the emotions aside, you get really objective, and you sit down with this person," Sokunbi says. 
When you decide to stick it out for a little longer, she advises you should discuss three things:
1. Come up with a timeline of when either of you will move out and what the consequences of that are.
Don't get stuck in apartment limbo. Decide on firm dates when your living situation will end, and figure out how it will be paid for. "Let's say you have to break the lease and somebody has to leave," Sokunbi says. "How are you going to split that cost?" 
2. Outline how bills are going to get paid until one or both of you moves out.
In a relationship, sometimes there aren't fine lines around who pays for what. Some couples split electric and cable bills, for example, and in other cases, one person might be paying all of the bills. "If you are exiting the relationship and you're living with that ex, you need to know what your financial obligation is going to be. You don't want any surprises when he or she says, 'Well I want 50 percent of the electric bill this month,' and you've never paid electric."
Now that you're no longer in a relationship, Sokunbi says you need to focus on the future. The first order of business is beginning to bulk up your emergency savings, especially since you're still saving money on rent. She advises taking advantage of the situation, and putting money away for the deposit on a new apartment or house. "Use that opportunity while you're still splitting costs to ramp up your savings as quickly as you can," Sokunbi says, "In case your ex-partner says they need to move out tomorrow."
After all the emotional turbulence that a breakup brings, plus the added stress of living with an ex, it might be tempting to get out of the house and indulge a bit. But Sokunbi warns against this, instead recommending you make the best of the situation by saving while you can. "Don't go breakup shopping," she says.
But still, even with all of the savings—is living with an ex for any amount of time worth it?
Hughes says she probably wouldn't try it again. Hawkins acknowledges the decision depends on the context of the breakup, but admits that it can work if you've set boundaries, like acknowledging that it's unfair to be seeing other people in that situation.
"My philosophy is that if you loved someone enough to move in with them, you should have enough love and respect for them to cohabitate for some time while you both figure out the best moves for you to make." Marisa says.
Moving is stressful enough while you're not going through a breakup, she explains. Adding heartbreak and a short timeline on top of a move could mean you'll make some less-than-ideal compromises in your apartment search.
"I say take your time," she says. "The discomfort is temporary, but a roach infested bottom-of-the-barrel-Craigslist find will stick with you forever."
If you or someone you know needs help, please call the National Domestic Violence hotline at 1-800-799-7233 or visit thehotline.org, where there is a chat-line manned 24/7.