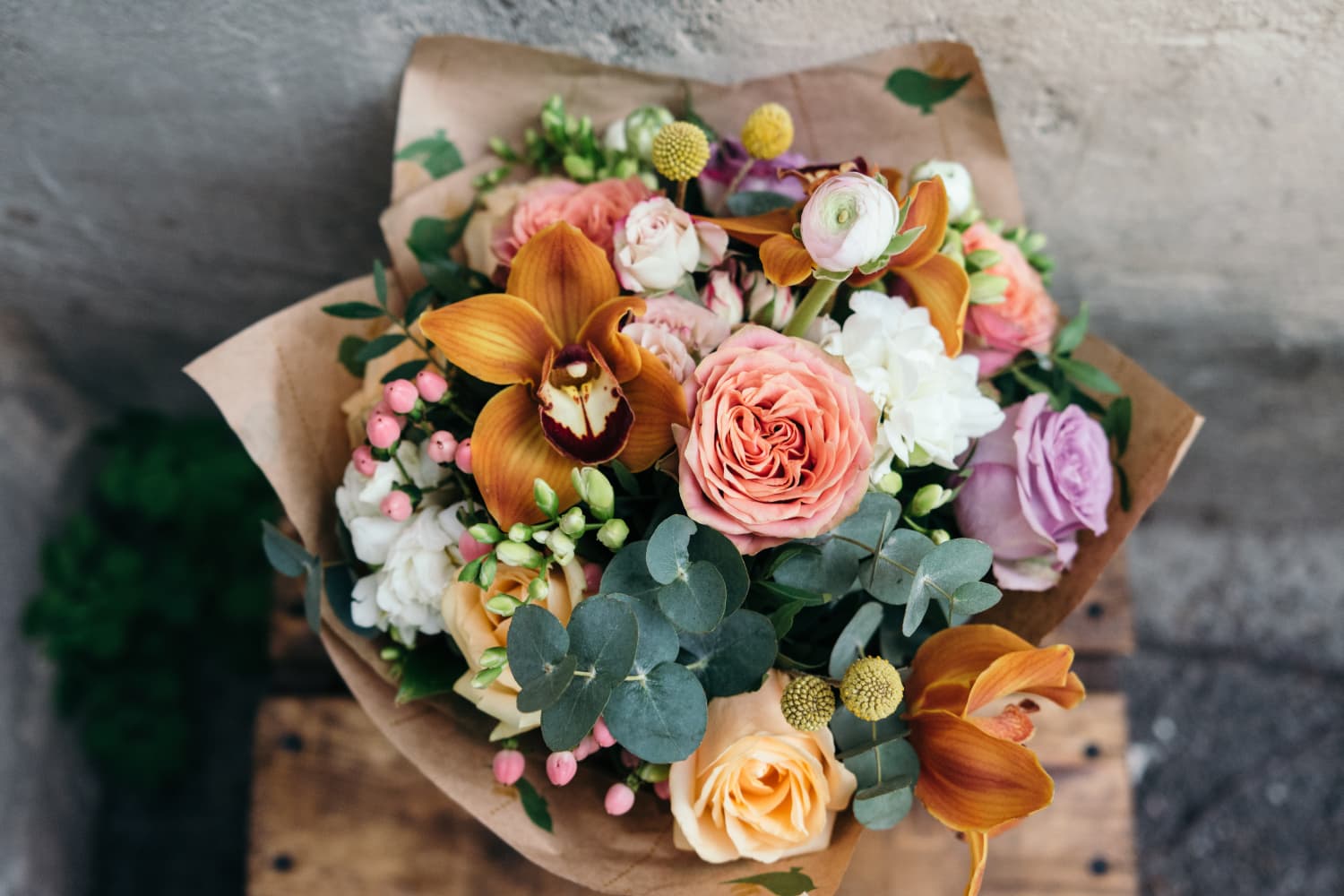 After starting to date her now-husband Chris, Jessica Wilken kept every single petal of every single flower he sent her way. They lived about an hour away from each other, so Chris often sent Jessica bouquets of red crimson roses (her favorite) along with little notes. When their relationship got serious, she began saving all the petals in hopes of incorporating the potpourri into their wedding someday.
"I thought it would be really cute to have it be my something old, and then repurpose it and have the sentiment as I'm walking down the aisle," Wilken told Apartment Therapy. "It's cascaded with the flowers of our courtship, and now we're onto the next chapter and getting married."
While planning their wedding, they were also moving into their first home together. So as Jessica and Chris were taking record of their belongings, the shoe boxes of petals collected over the past eight years were nowhere in sight. Jessica searched high and low in her parents house, too, looking through all her childhood things in her old bedroom, but came up empty handed.
One year after their wedding, Jessica went to her parents house—who were nearing retirement—to help get it in shape for selling. It was while she was clearing out her old closet that allllll the way in the back, the boxes of petals revealed themselves, and Jessica described the moment as "opening something at Christmas that you forgot about."
Although she didn't find them in time for their nuptials, the discovery still came with good timing: Jessica and Chris had just moved from their small Brooklyn apartment to a three-bedroom, two-bath home that had them buying almost all new furniture. "It doesn't feel like home right away because you don't have any story behind anything yet," said Jessica. "You don't have any memories behind the furniture, you just picked everything out of a catalogue. I have a handful of heirloom pieces from my parents, but the majority of the home did feel new."
So when she stumbled across the petals, Jessica wanted to put them on display in their new home together. "We had a birdcage for our notes and cards for our wedding, and I thought this was perfect! I can fill the birdcage, which was from our wedding so I'm repurposing decor, and I can put [the petals] on display while getting a whiff."
Jessica managed to store the petals in such a way that aged them extremely well. She kept the bulbs fully in tact and tucked them away in the cold, dark closet where they didn't mold. She had some knowledge of how to press petals from her sister, who did it often for journaling, and growing up her parents always had potpourri. 
After finishing the birdcage filled with petals and placed it on display, Jessica asked Chris what he thought of it, as she had never told him she saved all the petals. "He recognized the birdcage but didn't recognize the petals. He was like, 'wow, I can't believe you saved them and they're still in tact!'" recalled Jessica. It turns out the she even had some petals leftover after filling the birdcage, so she made little satchels of potpourri that are kept in their drawers. 
So, has Jessica continued to keep petals gifted from Chris and plan on doing more projects in the future? The answer is yes and yes. "My next thing will be wall art," said Jessica. "My husband and I are trying to family plan, and I was like, how cool would it be if we do wall art with their initials or name to hang it in their room?"