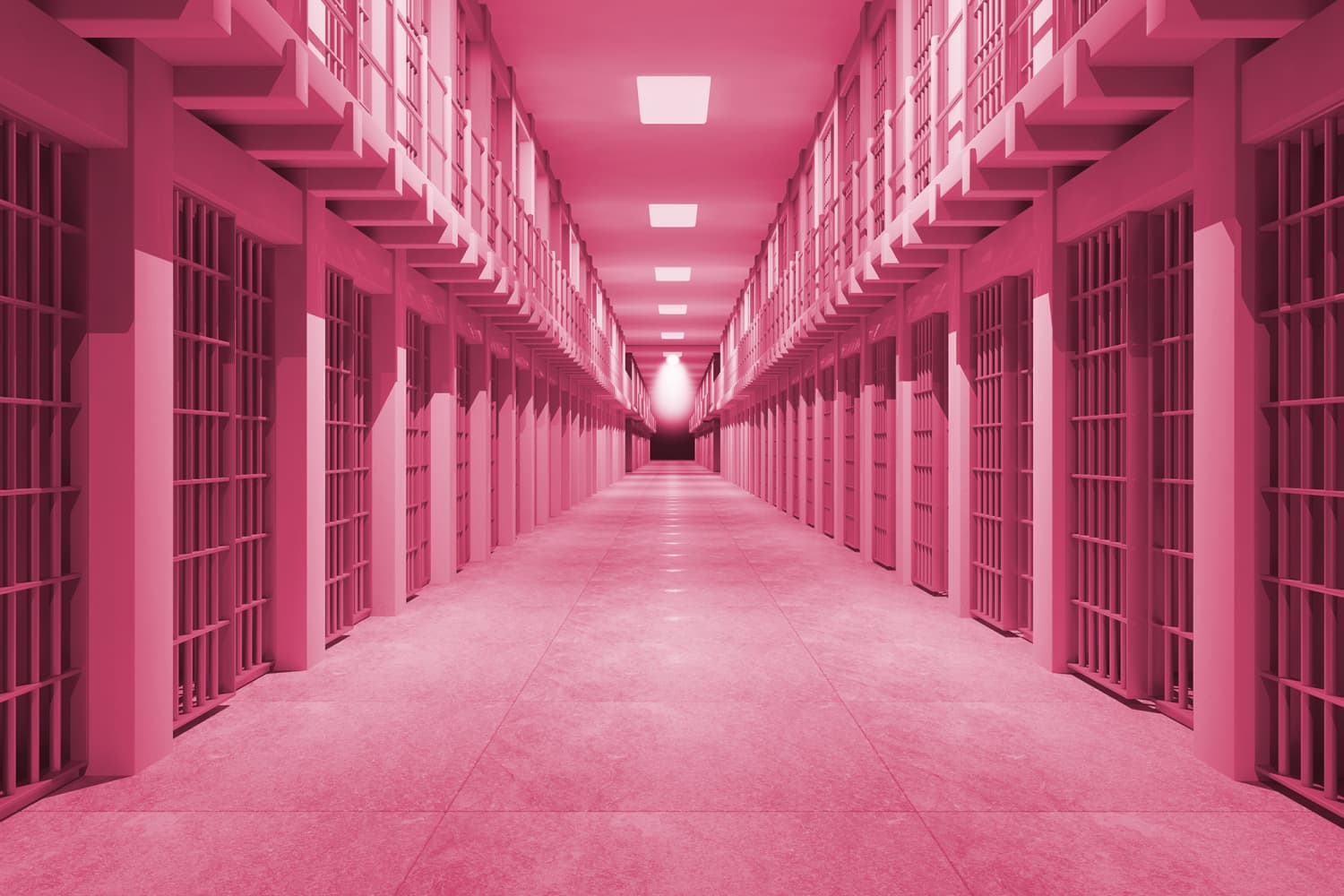 The color blue in all of its shades has long been associated with calmness. It evokes the sea, it's peaceful, and its coolness is often referenced in contrast to hot, fiery reds. But in reality, there's one specific hue that was created to reduce aggression and anxiety—and it's not blue at all.
Baker-Miller pink—or what you might better recognize as "Barbie Pink" or "Pepto Bismol Pink"—is commonly employed in hospitals, psychiatric institutions, and jail "drunk tanks." It was developed in the '70s by research scientist Alexander Schauss, who'd been studying human responses to the color pink.
"He convinced Baker and Miller, directors at a Naval academy, to experiment using the color pink in a correctional facility," explains color expert Amy Wax. Schauss had actually done a prior scientific study, where he showed that subjects were physically weaker after staring at a large square of pink paper (as opposed to blue), as demonstrated by their inability to resist having their outstretched arms forced down to their sides. "So Baker and Miller gave their permission to paint a holding cell at their facility pink, and once new inmates were exposed to the color, they were noticeably less aggressive and hostile. Baker-Miller pink is now the identity for this calming shade of pink, and the rest is history!"
What is at work exactly? According to Schauss himself, "The phenomenon affects the endocrine system, causing a tranquilizing effect on the muscle system," he writes in his study. "The effect can not be controlled by conscious or unconscious effort." Sure, not everyone may believe in this sensation, and subsequent copycat studies have shown mixed results. But it's no surprise that the hue continues to make an impression in the design world; Kendall Jenner even painted her home in the supposed "appetite suppressing" hue (the wall color is cute… but the jury's out on paint affecting your appetite). Still, "For color professionals who study the science of color, Baker-Miller pink is known to have a calming effect," Wax says. "As more design professionals open up to understanding how we are affected by color, the use of colors as a creative tool is becoming more popular." 
Interested in incorporating this bold, but potentially beneficial, color into your interiors? Scroll down for a handful of rooms dressed in shades similar to Baker-Miller pink from our AT house tours to help inspire your own calm, cool, and collected decorating endeavors at home. Even if the effect is negligible, calmness is a state of mind—so if the pink makes you feel some type of way, then go for it!
Dress up Your Bedroom Walls
Searching for an eye-catching hue to paint your bedroom that won't, well, keep you up at night? Take a cue from fashion designer Stella Rose Saint Clair and use pink in a bedroom to set a serene scene that'll help send you to snoozeville faster. She rounded out her set up with bright pink bedding, but an all white scheme will help you balance out the overall intensity of the look.
Consider It for Your Kitchen Cabinetry
Looking for an easy way to revamp your kitchen without breaking the bank? Follow in Christin's footsteps and simply paint your cabinet fronts in a bright but comforting shade like Baker-Miller pink, just as she did in her Swedish home. Color is back in a big way when it comes to cook spaces, so don't be afraid to go bold. And if you tire of this vibrant shade, you can always paint your cabinets again. 
Try Baker-Miller Pink Bedding
Not ready to commit to pink walls or painted built-in cabinetry just yet? No problem. You can sprinkle the soothing hue throughout your room with a couple of Baker-Miller pink-colored decorative pillows and a throw, as seen in Lara's Australian home.
Don't Forget Decorative Accents
A little pink goes a long way in a room. Case in point: Lesli's Charlottesville, Virginia, living room, where a pair of Baker-Miller pink colored table lamps brighten up a pale blue drawer unit without overpowering the entire display. Blue and pink work well together because they're almost complementary colors. Lesli doubled down with a pink chair and ottoman as well. The end result is a super soothing but still colorful sitting area.
With all of its anxiety-reducing effects, it's no wonder that Baker-Miller Pink is a popular nursery and play room color. A Pepto pink kid's room, like Jane's room in Los Angeles, creates a colorful scene with personality and potential pacifying perks.